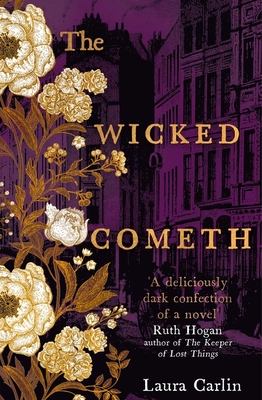 The Wicked Cometh (Paperback)
Hodder, 9781473661394, 352pp.
Publication Date: November 3, 2020
* Individual store prices may vary.
Description
'We have no need to protect ourselves from the bad sort because WE are the bad sort . . .'

'Beguiling' Stylist

The year is 1831. Down murky alleyways, acts of unspeakable wickedness are taking place and London's vulnerable poor are disappearing from the streets. Out of these shadows comes Hester White, a bright young woman who is desperate to escape these slums by any means possible.

When a chance encounter thrusts Hester into the beguiling world of the aristocratic Brock family, she leaps at the chance to improve her station in life. But whispers from her past slowly begin to poison her new existence, and lure her into the most sinister of investigations. As she finds herself dragged into the blackest heart of the city, little does she know that something more depraved than she could ever imagine is lurking. . .

'Carlin can tell a good story' Observer

'Contains lovely, lyrical writing . . . and a heady romance at its heart' Sunday Express

'A deliciously dark confection of a novel' Ruth Hogan
About the Author
Laura Carlin left school at 16 to work in retail banking and it was only after leaving her job to write full-time that she discovered her passion for storytelling and exploring pockets of history through fiction. She lives in a book-filled house in rural Derbyshire with her family (and a very naughty cat). The Wicked Cometh is her first novel.
Praise For The Wicked Cometh…
A captivating debut that brings the squalid and sinister Georgian London to life . . . will appeal to fans of vintage gothic à la Wilkie Collins and Sarah Waters—BookRiot

You can almost taste the gin and the soot . . . but we reckon you'll be enjoying it too much to care—Metro

This deliciously dark confection of a novel has as many twists and turns as the London backstreets of its setting and I devoured it in two sittings!—Ruth Hogan, author of THE KEEPER OF LOST THINGS

The darkest corners of Georgian London are gleefully drawn in this brilliant story—Emerald Street

Richly detailed with well-drawn characters and evocative language, THE WICKED COMETH is an entertaining piece of Victoriana-style literature that's sure to label Carlin as one to watch—Culture Fly

Laura Carlin earns every single comparison to Sarah Waters she's going to get. It's a sterling, historical, dark, twisty novel—Kaite Welsh, Radio 4 Open Book

Historical fiction with a lesbian slant usually begs comparison with Sarah Waters, but Carlin is more than up to the task as she carefully weaves an eerie, evocative tale where no one can be trusted and everyone - even Hester herself - has secrets—DIVA Magazine

Contains lovely lyrical writing . . . and a heady romance at its heart—Sunday Express

A delightful romp. I can't wait to see what Carlin writes next—Lauren James, author of THE NEXT TOGETHER

Splendidly diverting . . . Spirited and highly readable—Irish Times

Satisfying—The Times

Charming and a delight to read. An added bonus is that the cover of this book is one of the most beautiful I have ever seen.—Yorkshire Post

Carlin's great at conjuring up an image of darkest 1800s London, while her female characters are both of their time, while also being witty and modern—Stylist