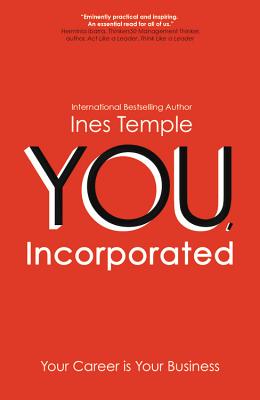 YOU, Incorporated (Paperback)
Your Career is Your Business
Nicholas Brealey, 9781473688858, 208pp.
Publication Date: October 30, 2018
* Individual store prices may vary.
Description
From career transition expert and bestselling author Ines Temple comes a concise, practical guide for job-seekers, career-changers, and career-builders on how to manage your career like a business with YOU as its most valuable asset.Organized into 5 digestible chapters, You, Incorporated is a practical guide to career success that zeroes in on 3 essential concepts that job-seekers, career builders and career changers need to know: No Job is Forever, Employability Equals Options, and Your Career is Your Business. In a refreshingly clear, no-nonsense style, Ines shares the lessons she has learned advising and coaching thousands of people to help them find their own "job utopias." In You, Incorporated, readers will find a down-to-earth, accessible approach to becoming more valuable to current employers while developing long-term personal competitiveness to attract future employers and seize new opportunities!
About the Author
Ines Temple is a career transition expert and best-selling author with a proven track record of success building her own platform and generating widespread interest in (and sales of) her Spanish-language book, Usted S.A. Empleabilidad y Marketing Personal, now in its fifteenth printing with over 100,000 sold. Ines has a robust social media presence with over 95,000 Facebook followers, 27,000 Twitter followers and nearly 30,000 LinkedIn followers. She has been recognized as among the top 30 business leaders in her home country of Peru and is among the top 3 business leaders, male or female, with the most online influence. She is a popular speaker at conferences and universities around the world and a guest columnist for several gobal magazines and newspapers with over 450 articles and video blogs published. Ines is an active member of YPO-WPO an international network of 25,000 top CEOs and other business leaders.
Praise For YOU, Incorporated: Your Career is Your Business…
"In this smart, insightful book, Ines Temple argues that many of us remain complacent (and unhappy) in our jobs as the world changes around us. The solution, she says, is to take charge of your career - and building on her 25 year experience in outplacement, she shows you how. Eminently practical and inspiring, You, Incorporated is an essential read for all of us."—Herminia Ibarra, Charles Handy Professor of Organizational Behavior at London Business School, Thinkers50 Management Thinker, author, Act Like a Leader, Think Like a Leader

"In You, Incorporated, career expert Ines Temple presents a simple, yet extremely powerful framework for futureproofing your job by improving your employability and building your personal brand. Follow the advice in Ines's book and watch your career take off!"—Peter Economy, bestselling author and The Leadership Guy on INC.COM

"Ines Temple has an extensive track record of dealing with people in a unique and special way, encouraging them to understand their own abilities and strengths, and positioning them for success in their careers throughout their lives. Her vast international experience is admirable. I learnt a lot from her and I enjoyed her magnificent book."—Fernando A. D'Alessio, Former Minister of Health in Peru, Founder, CENTRUM Graduate Business School in Lima, graduate, Advanced Management Program, Harvard Business School

"The world of work is changing fast. Are you ready? To succeed you will need to be truly accountable for your own career. The good news is that Ines Temple has written a terrific book that will be your personal roadmap. You, Incorporated is filled with practical insights and proven strategies that will help you accelerate your own career success."—Dr. Vince Molinaro, Leadership Adviser, author of the New York Times bestselling book, The Leadership Contract

"Temple has developed an insightful, relevant and timely formula for today's careerists. Her experience as a globally-respected career management expert has provided us with an invaluable window into the changing world of work, and creative survival strategies."—Steve Harrison, Chairman, Lee Hecht Harrison

"Ines teaches us how to adapt to an extremely competitive society where we are increasingly valued more by what makes us different than by what we have in common."—Hernando de Soto, Former CEO of UEC Swiss Bank Corp, Author, The Mystery of Capital

"Ines has masterfully summed up, in the five chapters of her book, all of the concepts that people who truly wish to increase their employability and on-the-job productivity will ever need."—Oscar Espinosa, CEO of Corporacion Ferreyros

"How can we maintain and improve our employability? This is the main question answered by You, Incorporated. Ines is a true authority on the subject."—David Fischman, Co-founder of Universidad Peruana de Ciencias Aplicadas, UPC

"You, Incorporated is for people who have a job as well as for those who don't. It is a resource for managers, human resource managers and, in fact, for anyone who seeks to improve their employability."—Jose de Bernardis, former CEO and member of various corporate boards, including LHH-DBM Peru

"The first thing I did after reading the book was encourage my four young, professional sons to read it and apply its teachings. They are still thanking me for that suggestion."—Alfonso Grados, former Peruvian Labor Secretary