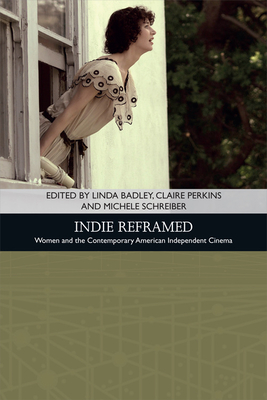 Indie Reframed
Women's Filmmaking and Contemporary American Independent Cinema (Traditions in American Cinema)
Hardcover

* Individual store prices may vary.
Other Editions of This Title:
Paperback (10/18/2016)
Description
With the consolidation of 'indie' culture in the 21st century, female filmmakers face an increasingly indifferent climate. Within this sector, women work across all aspects of writing, direction, production, editing and design, yet the dominant narrative continues to construe 'maverick' white male auteurs such as Quentin Tarantino or Wes Anderson as the face of indie discourse. Defying the formulaic myths of the mainstream 'chick flick' and the ideological and experimental radicalism of feminist counter-cinema alike, women's indie filmmaking is neither ironic, popular nor political enough to be readily absorbed into pre-existing categories. This ground-breaking collection, the first sustained examination of the work of female practitioners within American independent cinema, reclaims the 'difference' of female indie filmmaking. Through a variety of case studies of directors, writers and producers such as Ava DuVernay, Lena Dunham and Christine Vachon, contributors explore the innovation of a range of female practitioners by attending to the sensibilities, ideologies and industrial practices that distinguish their work - while embracing the 'in-between' space in which the narratives they represent and embody can be revealed.
Edinburgh University Press, 9781474403924, 320pp.
Publication Date: October 31, 2016
About the Author
Linda Badley is Professor of English and Film Studies at Middle Tennessee State University. She is the author of Film, Horror, and the Body Fantastic (1995), Writing Horror and the Body (1996), and Lars von Trier (2010), and the co-editor of Traditions in World Cinema (2006). With R. Barton Palmer, she co-edits Traditions in World Cinema and Traditions in American Cinema, companion series at Edinburgh University Press. Claire Perkins is Senior Lecturer in Film and Screen Studies at Monash University, Melbourne. She is the author of American Smart Cinema (Edinburgh University Press, 2012) and co-editor of U.S Independent Film After 1989: Possible Films (Edinburgh University Press, 2015), B Is for Bad Cinema: Aesthetics, Politics and Cultural Value (2014) and Film Trilogies: New Critical Approaches (2012). Michele Schreiber is Associate Professor of Film and Media Studies at Emory University. She is the author of American Postfeminist Cinema: Women, Romance and Contemporary Culture (Edinburgh University Press, 2014) and articles on postfeminist media and contemporary independent and Hollywood filmmakers. Her work has appeared in Journal of Film and Video and anthologies including American Independent Cinema: Indie, Indiewood and Beyond, Feminism at the Movies and Reclaiming the Archive: Feminism and Film History.