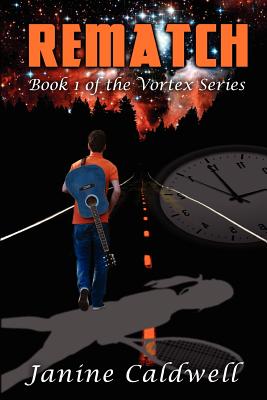 Rematch
Book 1 of The Vortex Series
Paperback

* Individual store prices may vary.
Description
Trent Astor is many things-orphan, runaway, musician. But what's most extraordinary about Trent is that he's a time traveler. His supernatural gift sends him on missions to the past to save unsuspecting victims from harm. However, when he fails to save the life of a young girl, his life changes in ways he could never have dreamed. At eleven-years-old, Cassie Moore suffered through a horrific shooting. Tragically scarred from the ordeal, the once promising tennis prodigy was forced to throw away all hope of a future in tennis. Now, as she begins her senior year of high school, the past continues to haunt her. She struggles to find herself, her self-esteem at an all time low. If only she could resolve the past, she might be able to move on with her life. She never imagined that could be possible until she meets the gorgeous new student in her PE class.
Createspace Independent Publishing Platform, 9781475004496, 238pp.
Publication Date: April 10, 2012
About the Author
Janine Caldwell received a BA in English from Cal Poly, San Luis Obispo. As a lifelong literature fanatic, she knew it was only a matter of time before she would become obsessed with writing her own work. With relatives like the Brothers Grimm and Anita Loos (Gentlemen Prefer Blondes), she figured fantasy writing had to be in her DNA. Janine currently lives in Anthem, Arizona with her husband and two sons. To follow Janine or learn more about her books: www.janinecaldwell.com www.twitter.com/J9fiction www.facebook.com/AuthorJanineCaldwell