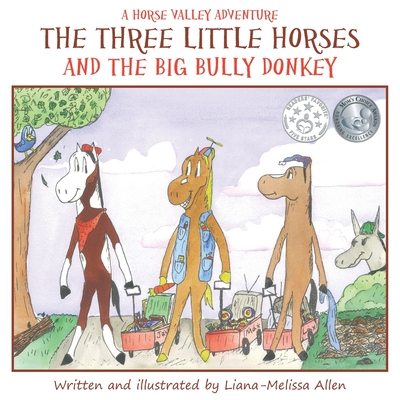 The Three Little Horses and the Big Bully Donkey (Paperback)
A Horse Valley Adventure (Book 1)
Createspace Independent Publishing Platform, 9781475109771, 36pp.
Publication Date: May 3, 2012
* Individual store prices may vary.
Description
FIVE STARS READERS' FAVORITE(R) and a MOM'S CHOICE AWARDS(R) Silver Medalist Winner honoring Excellence (Spanish Version: "Los Tres Caballitos y el Burro Bravo". Get both English and Spanish versions for ESL learning when reading together.) A children's picture book based on the classic fairy tale "The Three Little Pigs", with the themes of bullying, friendship, sibling rivalry, and self-reliance. "This book is full of beautiful illustrations and is part of the Horse Valley Adventure series. Liana-Melissa Allen has taken a children's fable and turned it into this wonderful tale that children will enjoy as they learn about bullying, independence, and sharing." --A Five Stars Readers' Favorite(R) partial review The tale features three young horse brothers who lose their house to a fire and are left alone and thrust into the reality of having to depend on themselves and each other against a bully donkey who wanders the forest wrecking homes and bullying the other animals. This warmhearted tale promotes strong values and has a fun premise. Children and young readers will be entranced as the characters come to life through Liana Allen's vibrant illustrations. A great read aloud story.
About the Author
A multiple MOM'S CHOICE AWARDS(R) Winner and FIVE STARS READERS' FAVORITE author/illustrator, Liana-Melissa Allen has written and illustrated eight popular books for children and youth. She is a cartoonist, writer, and pianist. "I love to create characters that range from the whimsical to the anamorphic goofballs, to the awesomely abnormal humans. I write and illustrate children's books including a picture book series for ages 5 to 10 called 'A Horse Valley Adventure'. 'Max's Day at School' is my latest and third book of the series. I also have a 'Horse Valley Toons' comic strip on my website that follows the comical adventures of my Horse Valley crew, Max, Jack, Lax, Donkey, and the young mischievous Twiddle and Dwiddle. My home is in Southern California with a playful yellow lutino budgie named Peeps that is always willing to help me when I get stuck on a project. Visit my website at LMABOOKS.COM for more about my books and to download some of my Horse Valley characters for your young ones to color...and also enjoy my cartoons and some of my jazz and classical piano while there!"