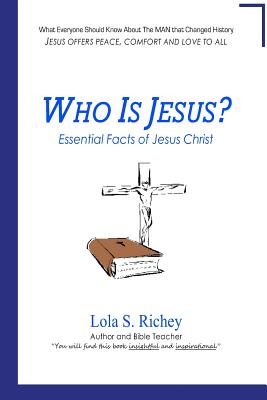 Who Is Jesus?: Essential Facts of Jesus Christ (Paperback)
Essential Facts of Jesus Christ
Createspace, 9781475150766, 116pp.
Publication Date: April 4, 2012
About the Author
Lola Richey is a native and lifelong resident of South Carolina. She is a believer in Jesus Christ. She is a graduate of Winthrop University in Rock Hill, South Carolina, with a Bachelor of Science in Business Administration, with an Accounting Concentration. Mrs. Richey obtained her law degree from the University of South Carolina School of Law (Juris Doctorate) and Masters of Taxation (LL.M.) from the University of Florida College of Law. Mrs. Richey is a Certified Public Accountant (CPA) licensed in the State of Maryland. She has also studied at Erskine Theological Seminary in Due West, South Carolina. She is a Gulf War Veteran serving as a Hospital Corpsman and as a United States Naval Officer (Supply Corp.). Mrs. Richey founded Praise Pure Ministry to teach people to wholeheartedly love and live God's Word. She has written numerous books and Bible studies, including Knowing the Gospel, Quick Church, The Essences of Love, and Understanding The Holy Spirit. Mrs. Richey is married to Rodney W. Richey and has two sons, Jonathan and Joseph. Please contact Mrs. Richey on Twitter @praisepure, email at care@praisepure.org or Facebook/praisepure.
Advertisement