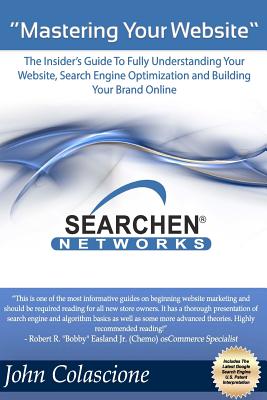 Mastering Your Website: Insider's Guide to Fully Understanding Your Website, Search Engine Optimization and Building Your Brand (Paperback)
Insider's Guide to Fully Understanding Your Website, Search Engine Optimization and Building Your Brand
Createspace Independent Publishing Platform, 9781475155662, 216pp.
Publication Date: April 16, 2012
About the Author
John Colascione, an acknowledged expert in search engine optimization, is the President and Chief Executive Officer of Searchen Networks Inc., an Internet Marketing and Search Engine Consultancy Firm in New York. He is also the founder, lead developer and Past President of Long Island Exchange Inc., a privately owned media company providing Long Islanders with a wealth of information, news and local business data. This five time award winning web site serves well over one million Long Islanders as well as several hundred thousand non locals per year. Qualifications: Ten (10+) years of web site management and marketing experience in the Internet industries involving web site development, management, online advertising, online marketing, search engine optimization, social media marketing, consulting, server administration, brand development, content relevant advertising, and database administration. Education: Studies at Hendricks Institute of Technology, a trade school which prepares students for the information technology world. Hendricks Institute has been recognized as a leading provider of: Graphic Communications, Web site and E-commerce development and 3D Animation technology training. John uses his advanced understanding of search engine algorithms, site optimization, social media marketing and the Internet to plan and develop online based services which provide a genuine consumer purpose while maintaining a foundation for generating revenue, experiencing growth and building brand value. John plays a crucial role in several online endeavors and believes the keys to any businesses success are found within hard work, persistence, determination and the ability to balance vision with practicality.
Advertisement