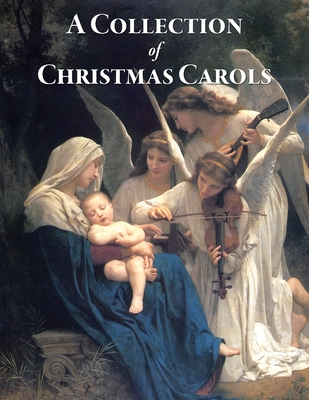 A Collection of Christmas Carols
Paperback

* Individual store prices may vary.
Description
A Collection of over 150 Christmas Carols arranged for voice or piano. MIDI files for each song, as well as a PDF of the entire manuscript is available here: http: //acollectionofchristmascarols.comThe entire list of carols is as follows: Ad cantus l titi -Adeste Fideles-All my heart this night rejoices-Alma Redemptoris Mater-Although at Yule it Bloweth Cool-The Angel Gabriel-Angels from the Realms of Glory-Angels We Have Heard on High-Angelus ad Virginem-As Lately We Watched-As With Gladness Men of Old-Auld Lang Syne-Ave Jesu Deus-Away in a Manger-The Babe of Bethlehem-Blessed be that Maid Marie-The Boar's Head Carol-Bring a Torch, Jeannette, Isabella -Carol for Christmas Day-Carol for Christmas Eve-A Carol for Christmas Eve-Carol of the Bells-Carol of the Birds-Carol of the Shepherds-A Child this day is born-Christ Was Born on Christmas Day-Christians, Awake, Salute the Happy Morn-Christmas Bells-Christmas Day-Christmas is Coming-A Christmas Round-Christmas Song-Christmas Time is Come Again-Chrystmasse of Olde-Come Thou Long Expected Jesus-Come, tune your heart-Come, ye lofty-Conditor alme siderum-Congaudeat turba fidelium-Corde Natus-The Coventry Carol-A Cradle-Song of the Blessed Virgin-Creator alme siderum-A day, a day of glory-Deck the Hall-Ding Dong Merrily on High-Earth today rejoices-Es Ist Ein Ros Entsprungen-The First No l-Flos de radice Jesse-The Friendly Beasts-From Church to Church-From far away-From Heaven High I Come to You-Fum Fum Fum-Gaudete-Glad Christmas Bells-Glorious, beauteous, golden-bright-Gloucestershire Wassail-God loved the world-God Rest You Merry, Gentlemen-God's dear Son-The Golden Carol-Good Christian Men, Rejoice-Good King Wenceslas-Hacia Bel n va una burra-Hail Holy Child, Lain In An Oxen Manger-Hark A Herald Voice is Calling-Hark The Herald Angels Sing-Ho Steward Bid my servants-The Holly and the Ivy-How Great Our Joy-Hymn for Christmas Day-I Heard the Bells on Christmas Day-I Saw Three Ships-Il est n le divin Enfant-In Bethlehem, that noble place-In Dulci Jubilo-In natali Domini-In terra Pax-In The Bleak Midwinter (both Darke and Holst)-The Incarnation-Infant Holy Infant Lowly-It Came Upon the Midnight Clear-Jacob's Ladder-Jesu, hail O God most holy-Jesus in the Manger-Jesus the Light of the World-Jingle Bells-Jolly Old Saint Nicholas-Joseph, O Dear Joseph Mine-Joy to the World-Kling Gl ckchen-L tentur Coeli-Lo, How a Rose E'er Blooming-Make we joy now in this fest-The Manger Throne-Masters in This Hall-Milford-Myn Lyking-New Prince, New Pompe-Noel Nouvelet-O Christmas Tree-O Come Divine Messiah-O Come, All Ye Faithful-O Come, Little Children-O Come, O Come, Emmanuel-O Du Frohliche-O Holy Night-O Little Town of Bethlehem-O Magnum Mysterium-O Tannenbaum-Of the Father's Love Begotten-On Jordan's Bank-On the Birthday of the Lord-Once in Royal David's City-Orientis Partibus-Past Three A Clock-Pat-a-Pan-Personent Hodie-Puer Natus in Bethlehem-Puer nobis nascitur-Quem Pastores-Ring out Wild Bells-Rise Up, Shepherds, And Follow-Riu Riu Chiu-The Sans Day Carol-The Seven Joys of Mary-Shepherds Shake Off Your Drowsy Sleep-Shiloh-Silent Night-Sleep, Holy Babe-The Son of God is born for all-Still Still Still-Stille Nacht-The Story of the Shepherd-The Stranger Star-Sussex Carol-Sweet was the song the Virgin sung-There's a Song in the Air-This Endris Night-To us is born a little Child-To Us This Morn a Child is Born-Tollite Hostias-The Truth from Above-Twas in a Cave on Christmas Morn-Twas in the winter cold-The Twelve Days of Christmas-Unto us is born a Son-Up Good Christen Folk and Listen-Veni, Veni, Emmanuel-The Virgin and Child-A Virgin Unspotted-Wachet Auf-The Waits' Song-The.
Createspace Independent Publishing Platform, 9781475217551, 212pp.
Publication Date: May 2, 2012