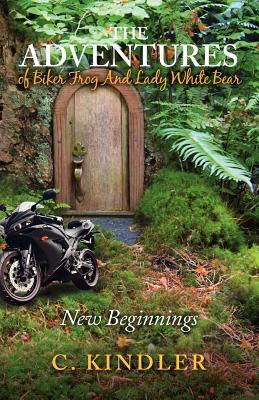 The Adventures of Biker Frog and Lady White Bear (Paperback)
New Beginnings
Createspace Independent Publishing Platform, 9781475266863, 72pp.
Publication Date: June 27, 2012
Other Editions of This Title:
Paperback (1/10/2017)
Paperback (7/28/2017)
* Individual store prices may vary.
Description
When a frog riding a solar powered motorcycle suffers an accident, he awakens in a magical land and is mistaken for a warrior. Reluctantly joining a an extraordinary new group of friends and allies, he goes on an epic journey to rescue a kidnapped king. Wildly imaginative and full of adventure, C. Kindler's chapter book will keep young readers enthralled as it imparts lessons of self- reliance and personal power. Biker Frog and his new solar powered motorcycle are off on a grand adventure to visit other frog ponds. Almost before the journey begins however, he swerves to miss hitting an incredibly large black deer with glistening golden antlers blocking his path.He is knocked unconscious . When he awakes, he finds himself in a land far more different and more magical than he could ever imagine.His wounds are tended to by Lady White Bear.He learns that she and Marlyn, the black deer are in search of a champion- and that champion is Biker Frog Lady White Bear tells him that her father, King Dannis of Bearmor has been kidnapped by the evil Hedgehog Army. After giving thought, Biker Frog agrees to aid the determined princess. They are quickly joined by a great white eagle named Pilar. Traveling across the land, Biker Frog and Lady White Bear gather allies and assemble a small army. They must plot a dangerous rescue and face the inevitable battle against the evil Hedgehog Army. Biker Frog will be forced to choose between old friendships and new before this adventure comes to an end.