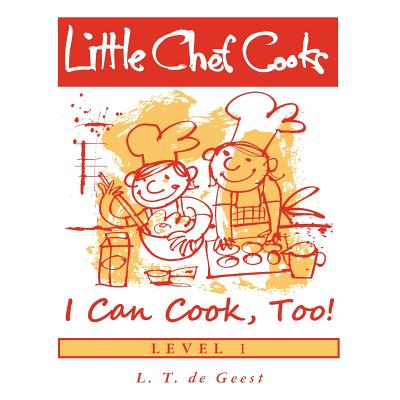 Little Chef Cooks I Can Cook, Too! (Paperback)
Createspace Independent Publishing Platform, 9781475287455, 42pp.
Publication Date: September 11, 2012
Description
Children love cooking The problem is finding a cookbook written for children that is geared specifically to their developmental abilities - until now. A fun, tasty, and esteem-building book that teaches children they are capable of cooking delicious treats, L. T. de Geest's first book in her three-part children's cookbook series is as much fun as you can have in the kitchen. Full of easy-to-use, skill-building recipes that are as instructional as they are tasty, she gives you all you need to help build your little one's confidence while producing delicious meals and snacks the whole family can enjoy. Using easy-to-follow recipes for such delicious dishes as Apple and Sultana Porridge Mix, Raspberry Ripple, Little Chef's Salad Platter, Ciabatta Fingers, Nutty Bananas, and Chilled Honey Fluffy, your child will learn to be confident in their cooking abilities and know that they can not only feed themselves but help feed the whole family too De Geest's groundbreaking book allows children to progress at their own pace, while also giving them the opportunity to be creative as they grow more confident in the kitchen. Full of empowering lessons and delicious delectables, Little Chef Cooks I Can Cook, Too will set your little chef on the path to a lifelong love of food and the kitchen while learning new and useful skills. Little Chef Cooks I Can Cook, Too is a Level One Little Chef Cooks cookbook, making it perfect for little chefs aged 21/2 years and older.
About the Author
A passionate advocate of children's cooking, L. T. de Geest is the founder of Little Chef Cooks. Little Chef Cooks brings together two of the great passions in her life: cooking and teaching. An experienced classroom teacher, de Geest believes cooking provides young children with extraordinary opportunities for learning and growth with children benefitting, not just through increased food knowledge, but also through increased mathematical, scientific, language, creative, and physical skills. De Geest lives in New Zealand where she is currently enjoying her time as a stay-at-home-mother of two enthusiastic little chefs. Little Chef Cooks I Can Cook, Too! is her first book.
Advertisement