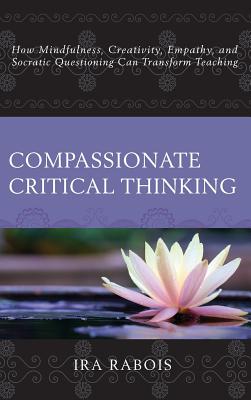 Compassionate Critical Thinking
How Mindfulness, Creativity, Empathy, and Socratic Questioning Can Transform Teaching
Hardcover

* Individual store prices may vary.
Other Editions of This Title:
Paperback (10/5/2016)
Description
Teachers can't add more minutes to a school day, but with mindfulness they can add depth to the moments they do have with students in their classroom. Compassionate Critical Thinking demonstrates how to use mindfulness with instructional effectiveness to increase student participation and decrease classroom stress, and it turns the act of teaching into a transformational practice. Many books teach mindfulness, but few provide a model for teaching critical thinking and integrating it across the curriculum. The purpose of this book is to show teachers how to create a classroom culture of compassionate critical thinking. When students feel a lack of meaning and purpose in their school lives, they resist learning. Using a Socratic style of inquiry, Rabois changes the classroom dynamic to encourage self-reflection, insight, and empathy. Vignettes capture dialogue between teacher and students to illustrate how mindfulness practices elicit essential questions which stimulate inquiry and direct discovery. What bigger mystery is there, what more interesting and relevant story, than the story of one's own mind and heart and how they relate us to the world?
Rowman & Littlefield Publishers, 9781475828818, 146pp.
Publication Date: October 14, 2016
About the Author
Ira Rabois recently retired from the Lehman Alternative Community School, a public secondary school in Ithaca, NY, where he taught English, Philosophy, History, Drama, Karate, and Psychology for 27 years. He earned a B.A. from the University of Michigan, a M.A.T. from SUNY-Binghamton, served in the Peace Corps, studied Zen and Japanese martial arts for 40 years with Hidy Ochiai, and took classes in meditation and Buddhist psychology at Namgyal Institute for Tibetan Studies, The Omega Institute with David Loy and Robert Thurman, healing meditation with the Consciousness Research and Training Project, and Proprioceptive Writing with Linda Trichter Metcalf and Tobin Simon.