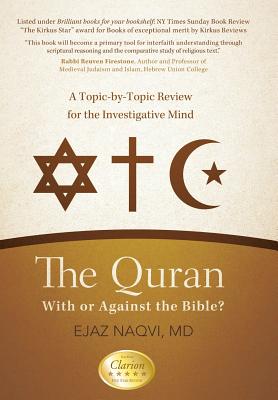 The Quran: With or Against the Bible?: A Topic-By-Topic Review for the Investigative Mind (Hardcover)
With or Against the Bible?: A Topic-By-Topic Review for the Investigative Mind
iUniverse, 9781475907759, 396pp.
Publication Date: June 7, 2012
Description
Too often we are tempted into thinking how wrong other people's religions and scriptures are, rather than focusing on what's right about our own.
We act like some of our politicians during election campaigns rather than following the teachings of our own holy books. Breaking the trend, author Dr. Ejaz Naqvi provides an objective, topic-by-topic review of the two most read books in the world-the Holy Bible and the Holy Quran.
The Quran: With or Against the Bible? addresses the key themes of the Quran and answers commonly asked questions in search of finding common ground:
Who wrote the Quran?
Who is the -God- of the Quran?
What is the Quranic view of the prophets, especially Moses and Jesus?
What does the Quran teach about interfaith relations?
Does the Quran promote peace and harmony between Muslims and the People of the Book, or does it promote violence?
How does the Quran compare to the Bible on important themes like worshipping God, the prophets, human rights, moral values, and fighting for justice and human dignity?
Does the Quran render women as second-class citizens?
Dispelling major myths, The Quran: With or Against the Bible? systematically analyzes and compares the similarities in the paths of guidance the two scriptures have bestowed upon mankind.
Advertisement