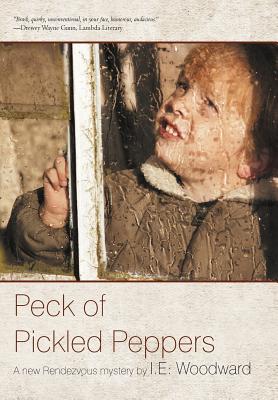 Peck of Pickled Peppers (Hardcover)
iUniverse, 9781475927047, 232pp.
Publication Date: June 4, 2012
* Individual store prices may vary.
Description
Timothy Evans-Barnes is three and lives with his fathers in an apartment above their bar and grill, The Pickled Pepper. His grandfather, Miss Jason, runs The Rendezvous, the most successful gay brothel and restaurant in the state. His great-grandfather prefers to be called Mom and wears daffodil aprons and bright yellow earrings; he manages a homeless shelter for that well-known Sripper-for-God, the Reverend Margie Bartholomew.
Timothy spends his days playing with his babysitter, Sandra Dee, and watching the cats who parade down Peters Street and Piper Avenue and the rats who hover around the alley trash bins. On the same day that Mike and Logan, his parents, discover he has learned a new word - something Miss Jason says he learned 'genetically' - Timmy becomes terrified that someone is being eaten by the rodent population.
Join the Rendezvous gang in this new adventure in mystery, and meet the latest members of the team: a Ringling Brothers clown, a laundromat owner who names her children for Hollywood stars, all four stooges, assorted professors, a fraternity stud, all following Miss Jason into rat infested tunnels while investigating murder.
This time Miss Jason might just get her merit badge in Detective. . .if it's designed by Donatella Versace
About The First Rendezvous Mystery, "RUBBER BABY BUGGY BUMPERS." . . this novel with its tongue twisting title seemingly came out of nowhere to land squarely on my list of favorites for this year. This is a book not to be missed.
Drewey Wayne Gunn, "Lambda Literary Review, " author of "The Gay Male Sleuth in Print and Film.