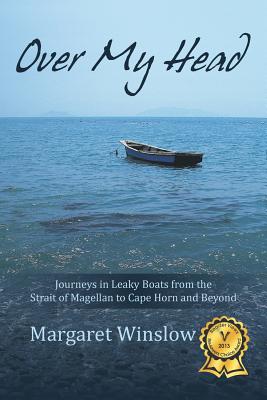 Over My Head
Journeys in Leaky Boats from the Strait of Magellan to Cape Horn and Beyond
Paperback

* Individual store prices may vary.
Other Editions of This Title:
Hardcover (10/26/2012)
Description
"...a pioneering female geologist explores the topography of South America and the shifting landscape of women in the sciences...A satisfying journey through 1970's sexual politics and the lands of the southernmost part of the Earth." -- Kirkus Reviews Somewhere near the bottom edge of the earth, a young woman attempts to balance on a slippery rock ledge. With her back pressed against an overhanging cliff face, her arms too weak to climb, and the tide rising at an alarming rate, there is nowhere to go. So how did she come to be alone on a sinking knife edge in Tierra del Fuego, halfway between the Beagle Channel and Cape Horn, seven thousand miles from New York? In her fascinating travel memoir, Margaret Winslow offers a compelling glimpse into her misadventures as an inexperienced geologist as she begins pioneering field research in southern South America. Beginning in the mid-1970s, Winslow details her unforgettable experiences that include clinging to a ledge alone as the tide rises over her boot tops, facing near-death experiences with killer whales, and encountering an antediluvian creature with a cavernous mouth and yellow teeth--all while tracing her evolution from an ill-prepared beginner to a competent leader. Over My Head captures one woman's historic journeys into uncharted fjords and trackless forests as she attempts to navigate through the almost exclusively male world of field geology and discovers she must learn to rely on her own inner compass in order to survive.
iUniverse, 9781475954319, 238pp.
Publication Date: October 26, 2012