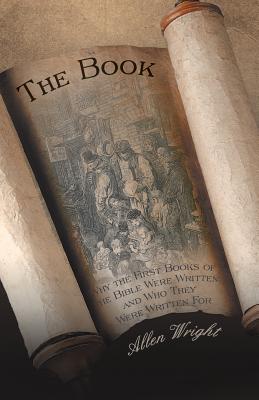 The Book
Why the First Books of the Bible Were Written and Who They Were Written for
Paperback

* Individual store prices may vary.
Other Editions of This Title:
Hardcover (3/28/2014)
Hardcover (2/18/2013)
Paperback (3/28/2014)
Description
This study, by author Allen Wright, offers an entertaining, informative, and fresh interpretation of the Bible's first books, Genesis through Kings II.
Part One compares two of the Bible's most familiar tales--Noah and the flood and David versus Goliath--with a much earlier ancient Mesopotamian text originally written in cuneiform long before the biblical writers sat down to their work.
Part Two analyzes each book of Genesis through Kings II coupled with the historical backdrop of the times. Learning how the biblical writers set about their business can help you stir up healthy and entertaining discussions among believers and nonbelievers alike; learn about ancient times and the conditions under which the first books of the Bible were written; And discover the true intention of the Bible, as well as its original intended audience.
The Book recounts how the early writers of the Bible went about saving their own civilization against overwhelming odds. See the Bible through a new lens, and return to modern life with a more enlightened understanding of the Bible's first books with The Book: Why the First Books of the Bible Were Written and Who They Were Written For.
iUniverse, 9781475972412, 206pp.
Publication Date: February 18, 2013