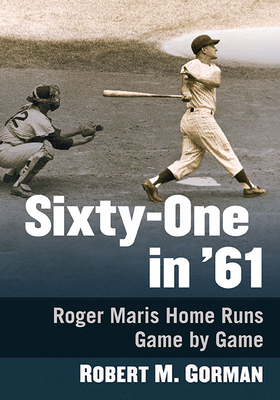 Sixty-One in '61
Roger Maris Home Runs Game by Game
Paperback

* Individual store prices may vary.
Description
Much has been written about Roger Maris and the historic summer of 1961 when he broke Babe Ruth's single-season home run record, yet little is known about the pitchers on the other side of the tale. One of the many knocks against Maris was that he faced inferior pitching in an American League watered down by expansion from eight to 10 teams. But was that really the case? Did Maris face has-beens and never-weres while Ruth confronted the cream of AL pitching? Who were these starters and relievers and how good were they? Drawing on first-hand accounts, interviews and a range of contemporary sources, this study covers each of Maris' 63 home runs that season, including the lost one and his game-winning World Series dinger. Biographies of each of his 48 victims cover the pitcher's career, pitching style and the circumstances of the game. Maris faced some really fine pitching that summer despite what many contended then--and now.
McFarland & Company, 9781476672625, 347pp.
Publication Date: December 26, 2019
About the Author
Robert M. Gorman is a retired university reference librarian with more than 40 years of professional research experience. He received the 2009 Sporting News-SABR Baseball Research Award for the book he and David Weeks wrote, Death at the Ballpark (McFarland, 2009; 2d ed. 2015). He lives in Rock Hill, South Carolina.