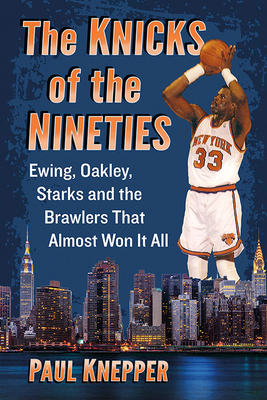 Knicks of the Nineties
Ewing, Oakley, Starks and the Brawlers That Almost Won It All
Paperback

* Individual store prices may vary.
Description
The Knicks of the 1990s competed like champions but fell short of their goal. An eclectic group who took divergent, in many cases fascinating paths to New York, they forged an identity as a rugged, relentless squad. Led by a superstar center Patrick Ewing and two captivating coaches--Pat Riley and Jeff Van Gundy--they played David to the Chicago Bulls' Goliath. Despite not winning a championship, they were embraced as champions by New Yorkers and their rivalries with the Bulls, Indiana Pacers and Miami Heat defined NBA basketball for a decade. Drawing on original interviews with players, coaches and others, this narrative rediscovers the brilliance of the Knicks, Ewing and his colorful supporting cast--Charles Oakley, John Starks, Larry Johnson and Latrell Sprewell--in the glory days of Madison Square Garden.
McFarland and Company, Inc., 9781476682815, 298pp.
Publication Date: September 1, 2020
About the Author
Attorney Paul Knepper was born and raised in New York and was previously a featured columnist for Bleacher Report. He lives in Austin, Texas.