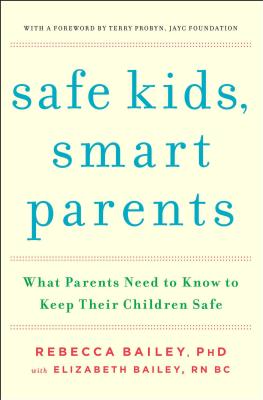 Safe Kids, Smart Parents (Paperback)
What Parents Need to Know to Keep Their Children Safe
Simon & Schuster, 9781476700441, 224pp.
Publication Date: June 11, 2013
* Individual store prices may vary.
Description
Leading family psychologist and personal therapist to Jaycee Dugard, Rebecca Bailey tells parents how to keep their children safe in this accessible, must-have guidebook, with a foreword by Terry Probyn, Jaycee's mother.

Whether their children are toddlers or teens, six years old or sixteen, whether they live in a rural town, suburb, or a bustling city, all parents worry about threats—from cyber-bullying to exploitation and abduction. What should they tell their children and when? What practical steps can they take to reduce the risks and keep their kids safe? Dr. Rebecca Bailey, with the assistance of her sister and registered nurse, Elizabeth, gives easily understood, easily followed answers.

Safe Kids, Smart Parents builds on Dr. Bailey's years of experience as a family psychologist helping real families deal with real situations. From abduction to abuse, Bailey explains how parents can speak to their kids about troubling topics while building their self-esteem and teaching them how to protect themselves. A smart, comprehensive, and easy-to-read resource, Safe Kids, Smart Parents is the most important book a parent can own.
About the Author
Rebecca Bailey, PhD is a leading family psychologist, and personal therapist to Jaycee Dugard. She is former director of the Sonoma Police Departments Youth and family services program, was a therapist educator for programs such as Marin County's DUI Program, and is the founder of Transitioning Families, a team of psychologists dedicated to Bailey's innovative ideas for helping families through crisis and difficult change. She continues to work with a variety of state and national organizations such as The National Center for Missing and Exploited Children. She has been interviewed by Diane Sawyer, Piers Morgan, and on Good Morning America. A graduate of The Wright Institute in Berkley, CA, Dr. Bailey now lives with her husband and five children in Northern California.

The mother of Jaycee Dugard, Terry Probyn has been in the media speaking about child safety, abduction, and victims' rights since her daughter's abduction in 1990. She is the founder of the Just Ask Yourself to Care Foundation (JAYC) to help families afflicted by abduction, and lives with her family in California.

Elizabeth Bailey, MSN, RN, CRNP is a nurse practitioner, and a graduate of Hampshire College and Santa Monica College. She worked previously as a associate producer on TV and movies for 20th Century Fox and Disney, but now lives with her family in Los Angeles.
Praise For Safe Kids, Smart Parents: What Parents Need to Know to Keep Their Children Safe…
"An invaluable and essential resource for parents and children that couldn't be more timely"
— Jaycee Dugard

"Safe Kids, Smart Parents is marvelously subtle, powerful, and straight forward. Pushing "safety, awareness and communication" always, it's not the standard how-to or rule book; rather a thought process book, beautifully written. With love and concern, it skillfully coaches parents, giving them the knowledge and ability to deal positively and effectively with their children's questions, and keep them safe.
In my 40 year practice as a child protection professional on local and national levels, this is the only book which prepares parents to really DO child protection parenting based on hard data and therapeutic practice. An amazing book that teaches and supports parents to promote child safety by emphasizing being alert and engaged. Really a must read in our times."
— John B. Rabun, founder and former Exec. Vice President and COO of the National Center for Missing & Exploited Children

"Every parent must read this book. It teaches how to help your child cope with the reality of predators while building self-confidence and avoiding unnecessary fear. Follow the Baileys' essential, wise, and practical advice to reduce the risk of exploitation, abduction, and victimization. The life you save may be your child's"
— Dr. Richard A. Warshak, author of Divorce Poison: How To Protect Your Family From Bad-mouthing and Brainwashing, Clinical

"Safe Kids, Smart Parents is an excellent resource and important book for parents of all children. Written by a psychologist who has helped families and children heal after abductions, child abuse, and other traumas, Safe Kids, Smart Parents helps parents understand the truth about child abductions, the importance of communication and knowledge, and explores ways to empower children to keep them safe. She provides excellent examples of actual risks of harm and how parents and their children can work together to reduce those risks."
— Dr. Philip Stahl, Ph.D., author of Parenting After Divorce

"[Safe Kids, Smart Parents is] not to be ignored."

"Family psychologist Bailey affirms that the ultimate goal of abduction and exploitation awareness is not to induce paranoia, but to make children feel loved, and for parents to trust that their kids are making safe choices... Bailey's communication strategy suggests a proactive approach and will help parents build the kind of trust that will encourage kids to speak up."