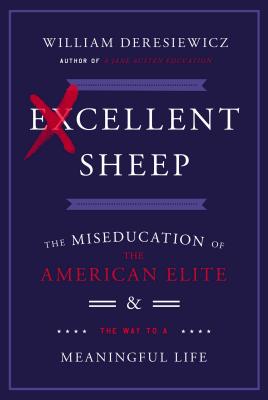 Excellent Sheep (Hardcover)
The Miseducation of the American Elite and the Way to a Meaningful Life
Free Press, 9781476702711, 256pp.
Publication Date: August 19, 2014
Other Editions of This Title:
Digital Audiobook (8/18/2014)
Paperback (5/26/2015)
Compact Disc (8/19/2014)
MP3 CD (8/19/2014)
Compact Disc (8/19/2014)
* Individual store prices may vary.
Description
A groundbreaking manifesto for people searching for the kind of insight on leading, thinking, and living that elite schools should be—but aren't—providing.

As a professor at Yale, Bill Deresiewicz saw something that troubled him deeply. His students, some of the nation's brightest minds, were adrift when it came to the big questions: how to think critically and creatively, and how to find a sense of purpose.

Excellent Sheep takes a sharp look at the high-pressure conveyor belt that begins with parents and counselors who demand perfect grades and culminates in the skewed applications Deresiewicz saw firsthand as a member of Yale's admissions committee. As schools shift focus from the humanities to "practical" subjects like economics and computer science, students are losing the ability to think in innovative ways. Deresiewicz explains how college should be a time for self-discovery, when students can establish their own values and measures of success, so they can forge their own path. He addresses parents, students, educators, and anyone who's interested in the direction of American society, featuring quotes from real students and graduates he has corresponded with over the years, candidly exposing where the system is broken and clearly presenting solutions.
About the Author
William Deresiewicz was a professor at Yale until 2008. He is the author of the landmark essays "The Disadvantages of an Elite Education" and "Solitude and Leadership" and is a frequent speaker on campuses around the country. A contributing writer for The Nation and a contributing editor for The New Republic and The American Scholar, he is the author of A Jane Austen Education: How Six Novels Taught Me About Love, Friendship, and the Things That Really Matter. Visit BillDeresiewicz.com.
Praise For Excellent Sheep: The Miseducation of the American Elite and the Way to a Meaningful Life…
"In Excellent Sheep, William Deresiewicz sets out to unnerve the current and future college students of America (and their parents). He succeeds brilliantly, with an indictment of elite education that should launch a thousand conversations. Read this book to remember what learning should be, and then pass it along to the next sheep who should leave the flock behind."
— Emily Bazelon, author of Sticks and Stones: Defeating the Culture of Bullying and Rediscovering the Power of Character and Empathy

"This is a book of great importance to our society. It deserves to transform our understanding of integrity and achievement and success. William Deresiewicz is a genuine humanist with a profound faith in the promise of democracy, and he has an uncommon gift for wisdom without platitudes. Excellent Sheep is a withering analysis of the transactional spirit that rules American education and American life, and an inspiring example of a better ideal. A true teacher speaks here. He has my admiration and my gratitude."
— Leon Wieseltier

"William Deresiewicz's book is in and of itself a higher education, and to read it is to learn what's a college for. The author is an inspired teacher, and his lesson is of a truth sorely needing to be told."
— Lewis Lapham

"William Deresiewicz's Excellent Sheep is a searing and important critique of our morally bankrupt educational system. He argues, correctly, that colleges and universities, awash in corporate money and intend on churning out corporate managers and conformists rather than scholars, have betrayed not only their mission, but the students they purport to teach and by extension the wider society. Independent thought is subversive, uncomfortable and lonely. It requires us, as Deresiewicz points out, to challenge and question reigning assumptions rather than kneel before them. Deresiewicz's book is not so much a call for reform as for revolt."
— Chris Hedges, Pulitzer Prize-winning journalist and author, with Joe Sacco, of Days of Destruction, Days of Revolt

"William Deresiewicz is one of America's best young public intellectuals. He has written a passionate, deeply informed, and searing critique of the way we are educating our young. Whether you agree or disagree - and I found myself doing both - you must read this book. It should spark a great debate on America's campuses and beyond."
— Fareed Zakaria, author of The Post-American World

"Excellent Sheep is likely to make…a lasting mark…for three reasons. One, Mr. Deresiewicz spent 24 years in the Ivy League, graduating from Columbia and teaching for a decade at Yale….He brings the gory details. Two, the author is a striker, to put it in soccer terms. He's a vivid writer, a literary critic whose headers tend to land in the back corner of the net. Three, his indictment arrives on wheels: He takes aim at just about the entirety of upper-middle-class life in America…. Mr. Deresiewicz's book is packed full of what he wants more of in American life: passionate weirdness."
— Dwight Garner

"It might surprise the countless students competing for admission to Harvard, Yale, and Stanford that they could be fighting for a dubious prize. But in this probing indictment, a former Yale professor accuses America's top universities of turning young people into tunnel-visioned careerists, adept at padding their résumés and filling their bank accounts but unprepared to confront life's most important questions. . . . An urgent summons to a long-overdue debate over what universities do and how they do it."
— Bryce Christensen

"Welcome to what is sure to be the most polarizing education and parenting book since Amy Chua's Battle Hymn of the Tiger Mom."
— Town & Country

"This refreshingly barbed indictment of America's prestige-education addiction reveals what college students are really getting out of all that work, all that struggle, all that stress – and all those tuition loans."
— MORE Magazine

"Excellent Sheep challenges parents to break from the herd mentality, to question what we really want from our children, who we really want them to be. The book filled me with both hope that there could be a more authentic, creative way to raise a new generation of thinkers--and with the courage to try to find it."
— Peggy Orenstein, author of Cinderella Ate My Daughter

"Deresiewicz's critique of America's most celebrated schools as temples of mercenary mediocrity is lucid, sharp-edged, and searching … he poses vital questions about what college teaches—and why."
— Publishers Weekly

"An unquestionably provocative book that hopefully leads to productive debate."
— Kirkus

"Not only does Deresiewicz speak with candor about the ins and outs of the educational hierarchy from an insider's point of view, but he prompts some serious questions about the potential for reform and what we as parents can do to encourage our children from a young age to change the way that they're learning, and as a result, what they take from the world in exchange. A much recommended read, especially for those currently with or planning to have children."
— Briana Burns

"[A] good case that these colleges are failing in their most essential mission: to help kids "build a self."
— Mother Jones

"The ex-Yale professor effectively skewers elite colleges, their brainy but soulless students (those 'sheep'), pushy parents and admissions mayhem."
— People Magazine

"Deresiewicz offers a vision of what it takes to move from adolescence to adulthood . . . it is only through introspection, observation, connecting the head and the heart, making meaning of experience and finding an organizing purpose that you build a unique individual self. . . . [Deresiewicz] reminds us what a moral education looks like. That is largely abandoned ground."
— David Brooks

"Unofficial required reading at selective schools."
— Jennifer Schuessler

"[A] biting critique of higher education…This is a book that begs to be argued with."
— The San Francisco Chronicle

"A sharp analysis of the dark side of the lot of a high-achieving student being groomed for a place in America's meritocracy."
— The Seattle Times

"Some of the solutions he offers will doubtless provoke parents currently shelling out thousands of dollars for SAT tutors."
— The Wall Street Journal

"[Deresiewicz] has written a polemic against the transactional values of American elite education, the helicopter parents and early-admissions frenzy that annually feed overachieving teenagers into the elite colleges and universities."
— The Chicago Tribune

"Anyone who cares about American higher education should ponder this book."
— The New York Times Book Review

"[Deresiewicz] is a charismatic and elegant writer."
— The New Yorker

"[I]t's hard not to agree with the forest of [Deresiewicz's] argument, that when it comes to selecting, educating, and sending our elite into the world to do what they will do, something is seriously messed up."
— Inside Higher Ed

"Deresiewicz's book is a brilliant and devastating critique of America's higher education system – especially its highly-selective "elite." Anyone considering college today should read it with close attention."
— Village News

"Deresiewicz is an engaging writer."
— The Chicago Reader

"Deresiewicz' central observation that Ivy League students lack purpose should resonate in our Ivy ears. His harrowing characterization of the modern elite student as 'anxious, timid and lost, with little intellectual curiosity and a stunted sense of purpose' is honestly not that far from the truth. Deresiewicz exhaustively criticizes the institutions for their lack of true diversity and inability to engage student's 'souls'."
— The Cornell Daily Sun

"Anyone interested in higher education would benefit from reading this hard-hitting and passionate book."
— The Charlotte Observer
or
Not Currently Available for Direct Purchase