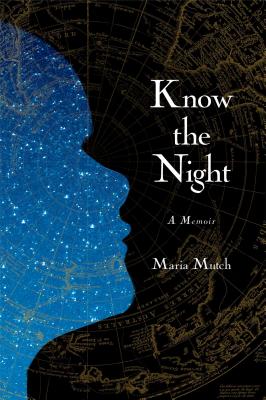 Know the Night
A Memoir of Survival in the Small Hours
Hardcover

* Individual store prices may vary.
Description
This soul-stirring debut memoir explores the experience of isolation and the miraculous power of care and communication in its midst.

In this soul-stirring debut memoir, Maria Mutch explores the miraculous power that care and communication have in the face of the deep, personal isolation that often comes with disability. A chronicle of the witching hours between midnight and six a.m., this meditative book takes place during the twoyear period in which Mutch's son Gabriel, who is autistic and also has Down syndrome, rarely slept through the night. In this tapestry composed of interwoven memories, we see both Gabriel's difficult childhood and Maria's introduction to the world of multiple disability parenting.

As a counterpoint to Gabriel's figurative isolation is the story of Admiral Richard Byrd, the polar explorer who journeyed alone into the Antarctic wilderness in the 1930s. His story creates a shared and powerful language for the experience of feeling alone.

In these three characters—mother, son, and explorer—Mutch reveals overlapping and layered themes of solitude that, far from driving us apart, enlighten, uplift, and connect.
Praise For Know the Night: A Memoir of Survival in the Small Hours…
Praise for Know the Night

"You'll be rewarded with the sense that the self is a miraculous catastrophe. . . . [Know the Night is] riveting, breathtaking."
— FLARE

"One of the most idiosyncratic memoirs I've ever read. . . . Superb writing and linguistic flair."
— PSYCHOLOGY TODAY

"A beautiful, singular book, one that someone who's planning, say, a prolonged stay in a godforsaken place might consider bringing along so they don't feel quite so alone."
— THE GLOBE AND MAIL

"Mutch's prose is electric."
— NATIONAL POST

"Know the Night appears like an aurora borealis in the book firmament."
— HALIFAX CHRONICLE HERALD

"There are moments of heartrending grief, such as when Gabriel says his last words . . . but it's Mutch herself, revealing her struggle to survive as a person, that leaves you astonished."
— OPRAH.COM

"An exhibition of literary eloquence, a tale set in darkness, but filled with light, and a moving debut memoir about maternal love—its beauty and strength, its complications and contradictions, and most importantly, its boundlessness."
— BUSTLE

"[A] poetic, elegant, and intense account."
— BOOKLIST

"Wise . . . a compassionate picture."
— PUBLISHERS WEEKLY

"[A] hopeful story . . . absorbing and creatively rendered."
— KIRKUS REVIEWS

"An impressive debut for author Maria Mutch, whose literary memoir maintains that magical balance between lyricism and realism. . . . Very universal and lovely, and utterly worth the read."
— THE MASTERS REVIEW

"From the moment I opened this book, I felt pulled into a uniquely scintillating world, one built of ice crystals, poetic aurorae, starscapes shimmering with jazz, and a boy whose body sings and storms through the night. Mutch writes gorgeously, transcendently, but with the hard packed earth of wisdom underfoot. For anyone who has ever walked the night with their child or their fragile self, there is company here. And for anyone curious to know what love and grace feel like when they are pressed into pages, this is your book."
— ALISON WEARING, author of Honeymoon in Purdah and Confessions of a Fairy's Daughter

"Know the Night is a wonderful book. Thoughtful and poetic and moving, sometimes troubling and sad, without ever being gloomy. Deeply personal, but enriched by the juxtaposition of Byrd's struggle with solitude and the long polar night. It has stayed with me, and I'm grateful to have been taken along on the author's journey."
— MARY SWAN, author of Ghosts and The Boys in the Trees

"Know The Night offers a magnificent vision of amother's love—a love sculpted from jazz and ice and dreams; a love largeenough to hold the darkness between midnight and dawn, large enough to holdmultiple diagnoses and the vast margins of what they can't describe—large enough to hold the story of a polar explorer and his months alone in anotherkind of night. This memoir finds a candid, capacious language—always curious,often stunning—for the states of mystery and wonder at its core."
— LESLIE JAMISON, author of The Gin Closet and The Empathy Exams

"A moving memoir of maternal love and devotion, Know the Night, explores isolation and loneliness in beautifully imagistic prose. The sleepless parent of a wordless child, Maria Mutch finds solace in the experience of explorer Admiral Richard Byrd as he struggled alone in continual night at the South Pole. Mutch weaves Byrd's fascinating narrative like a spell into her own deeply affecting story of mothering a child with autism and Down Syndrome. This is a book full of hope, light, and companionship for surviving the small hours of the night."
— KELLE GROOM, author of I Wore the Ocean in the Shape of a Girl

"Mutch details her life in the wee hours of the morning and eloquently draws parallels between the challenges of raising a child with significant disabilities and Byrd's experiences while utterly alone on his South Pole expedition. This fascinating thought-provoking book provides a unique opportunity to understand the love between a mother and child, and how that bond creates both chaos and strength. It should be required reading for anyone who works with a child with disabilities and recommended reading for everyone else. It is educational, entertaining, and absolutely unique. I guarantee you will enjoy every sentence of this book. Know the Night is such a literary gift."
— LYNN KERN KOEGEL, PhD, author of Overcoming Autism
Simon & Schuster, 9781476702742, 224pp.
Publication Date: March 25, 2014
About the Author
Maria Mutch's memoir, Know the Night, was a finalist for both the Governor General's Literary Awards and the Kobo Emerging Writer Prize, and was listed in The Globe and Mail's Top 100 and Maclean's Best Reads. Her debut short story collection, When We Were Birds, received stellar reviews. Her writing has appeared in Guernica, The Malahat Review, and Poets & Writers. She lives in Rhode Island with her husband and two sons. Visit her at MariaMutch.com or follow her on Twitter @Maria_Mutch.
or
Not Currently Available for Direct Purchase