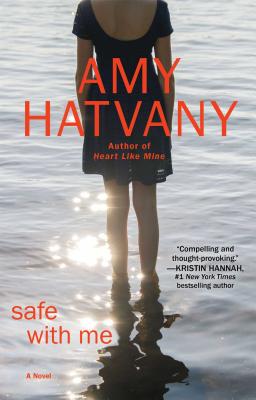 Safe with Me
A Novel
Paperback

* Individual store prices may vary.
Other Editions of This Title:
Digital Audiobook (3/3/2014)
Description
A "compelling and thought-provoking" (Kristin Hannah) novel about two mothers and one daughter who are linked by tragedy and bound by secrets, from the acclaimed author of Heart Like Mine.

The screech of tires brought Hannah Scott's world as she knew it to a devastating end. A year after she signed the papers to donate her daughter's organs, Hannah is still reeling with grief when she unexpectedly stumbles into the life of the Bell family, whose fifteen-year-old daughter, Maddie, survived only because Hannah's daughter had died. Mesmerized by this fragile connection to her own daughter and afraid to reveal who she actually is, Hannah develops a surprising friendship with Maddie's mother, Olivia.

The Bells, however, have problems of their own. Once on the verge of leaving her wealthy but abusive husband, Olivia now finds herself bound to him in the wake of the transplant that saved their daughter's life. Meanwhile, Maddie, tired of the limits her poor health puts upon her and fearful of her father's increasing rage, regularly escapes into the one place where she can be anyone she wants: the Internet. But when she is finally healthy enough to return to school, the real world proves to be just as complicated as the isolated bubble she had been so eager to escape.

A masterful narrative shaped by nuanced characters whose delicate bonds are on a collision course with the truth, Safe with Me is a riveting triumph.
Praise For Safe with Me: A Novel…
"A deftly crafted story… Hatvany compels readers to examine a diverse number of issues—death, organ donation, single parenthood, abuse, self-respect—and handles each topic with sensitivity and compassion."
— Kirkus on Safe With Me

"Beautifully developed characterizations."
— Seattle Times

"A stirring portrait of two moms, linked by tragedy, who rescue each other in more ways than one."
— Good Housekeeping

"Hatvany does a marvelous job of not letting the plot get too maudlin or 'ripped from the headlines,' and her characters have warmth and depth. Readers will find themselves cheering for these women. A good pick for women's-fiction fans, particularly those who enjoy the realistic stories of Emily Giffin and Kristina Riggle."
— Booklist

"In Amy Hatvany's capable hands, richly drawn characters explore everything that is complex, difficult, powerful and poignant about being a mother, a daughter, a friend. Safe With Me is an extraordinary look behind the curtain into the very private pains of women, and the hope that endures when you survive the unthinkable. It will remind you that the human spirit can triumph over all, and you will wish you could reach directly into these pages and hug the heroines."
— Stacey Ballis

"Amy Hatvany is a strong new voice in contemporary women's fiction. Safe With Me is a compelling, thought-provoking novel about three women learning from each other as they navigate through a terrain filled with both tragedy and opportunity."
— Kristin Hannah

"Beautiful and deeply moving, Amy Hatvany writes about the tangled web of family in a way that makes you laugh, cry, cheer and ache. This book has so much heart."
— Sarah Jio

"Equally heartbreaking and heart-pounding, Amy Hatvany's SAFE WITH ME puts her in the very fine company of Jodi Picoult as an author who takes tender real-life moments and compels the reader to care until the very last page. A book that will stick with you for days."
— Allison Winn Scotch

"The novel explores myriad themes sure to appeal to fans of women's fiction: love and loss, parenthood, grief, friendship, and complex family dynamics. Hatvany's compassion for each female character is evident throughout, and readers will find their hearts, at times, breaking in three."
— Booklist

"The voices are so down-to-earth and familiar and the events so much like real life that readers will feel like they know the characters…An uplifting and heartwarming experience."
— Kirkus Reviews

"By turns gripping and revelatory, Heart Like Mine is a sympathetic exploration of blended family dynamics. In her affecting new novel, Amy Hatvany pulls no punches; her characters grapple with life's big moments—marriage, parenthood, death—but she renders each of them with compassion and understanding. Heart Like Mine tells an honest, hopeful story that resonates in all the best ways."
— Jillian Medoff

"Heart Like Mine fearlessly explores men and women desperate to measure up to the rigors of parenthood, but still failing their children. Hatvany bring sympathy and compassion to the page, while never losing sight of the damage children suffer when their parents make bad decisions."
— Randy Susan Meyers

"A heartfelt, moving story about the lasting effects of grief amidst family bonds and breakups, and the healing powers of love, honesty, and acceptance. Hatvany writes with such wise compassion for every one of her characters."
— Seré Prince Halverson

"A palpable love story, emotional search for and acceptance of a lost parent, and a bittersweet ending make for an enveloping, heartfelt read."
— Publishers Weekly

"There are no storybook perfect endings here, but this compelling novel raises the possibility of a hopeful way forward."
— The Seattle Times

"Will delight readers…vivid and written with a depth of feeling."
— Library Journal

"Compelling…a fascinating look at mental illness—the exuberance and self-loathing, creativity and destruction that then reverberate against the lives of family and loved ones."
— Juliette Fay

"Like a gorgeous dark jewel, Hatvany's novel explores the tragedy of a mind gone awry, a tangled bond of father and daughter, and the way hope and love sustain us. It does what the best fiction does: it makes us see and experience the world differently."
— Caroline Leavitt

"I'm telling everyone about Best Kept Secret. It's the realistic and ultimately hopeful story of Cadence, whose glass of wine at the end of the day becomes two…then…three…then a bottle. I love that Cadence feels so familiar, she could be my neighbor, my friend, or even my sister."
— Jennifer Weiner

"I was transfixed by Cadence and her heart-wrenching dilemma. The writing is visceral, the problems are real, and there are no clear solutions. You won't want to put it down."
— Emily Giffin
Washington Square Press, 9781476704418, 352pp.
Publication Date: March 4, 2014
About the Author
Amy Hatvany is the author of nine novels, including It Happens All the Time, Somewhere Out There, and A Casual Encounter. She lives in Seattle, Washington with her family.
Consider the title of the novel, and the idea of safety—both of a physical and emotional nature—in the story. Who is keeping whom safe in this book?
If you had been in Hannah's position, do you think you could have donated your child's organs? Why or why not?
Did Olivia and James's relationship change how you viewed domestic abuse? Does Olivia match your vision of an abuse victim?
What is the book saying about the relationship between one's physical exterior and their emotional and psycho- logical state? How does each character try to project an outward appearance that is different from their internal feelings?
Read the novel's epigraph as a group. What does the concept of destiny, or fate, mean to you?
Olivia has many reasons for not leaving James, not the least of which are financial. Consider the power dynamics at play in their marriage. How does James make Olivia feel helpless—and how does he also make her feel special?
Dishonesty is a theme throughout the novel. Do you think that there are degrees of dishonesty? For example, is there a difference between fabricating a story and obscuring the truth? What qualifies as lying? And is dishonesty that has good intentions more excusable?
Turn to page 177, and as a group, read the scene where James brings Olivia breakfast in bed. Can you empathize with Olivia's thinking that, "even though she knows better, even though she's been through this with him a hundred times before, Olivia can't help but wonder if she really needs to leave him after all."
Maddie's experience at the mall with Hailey and her friends highlights the perils of being a teenage girl. Do you have any memories from this age that are similar? Do you think the challenges of being an adolescent girl have inherently changed?
On page 182, Olivia acknowledges that she worries some- times, "that Maddie spends so much time interacting with what other people's imaginations have dreamed up that she'll never learn to imagine things on her own." For those of you who have children, do you worry about this as well?
Discuss the role that technology plays in this narrative. In what ways does it have an empowering, connective impact? In what ways does it have a distancing effect?
or
Not Currently Available for Direct Purchase