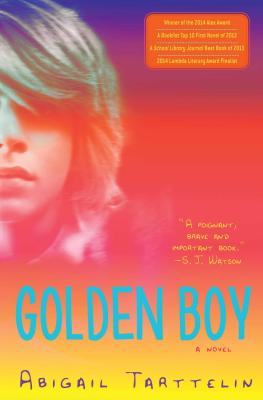 Golden Boy
A Novel
Paperback

* Individual store prices may vary.
Other Editions of This Title:
Digital Audiobook (5/20/2013)
Digital Audiobook (5/8/2013)
Description
"This is a gripping and fully-realized novel." —Emily St. John Mandel, National Book Award-nominated author of Station Eleven


2014 LAMBDA LITERARY AWARD FINALIST
WINNER OF THE 2014 ALEX AWARD
BOOKLIST TOP 10 FIRST NOVEL OF 2013
SCHOOL LIBRARY JOURNAL BEST BOOK OF 2013

Max Walker is a golden boy. Attractive, intelligent, and athletic, he's the perfect son, the perfect friend, and the perfect crush for the girls in his school. He's even really nice to his little brother. Karen, Max's mother, is determined to maintain the façade of effortless excellence she has constructed through the years, but now that the boys are getting older, she worries that the façade might soon begin to crumble. Adding to the tension, her husband Steve has chosen this moment to stand for election to Parliament. The spotlight of the media is about to encircle their lives.

The Walkers are hiding something, you see. Max is special. Max is different. Max is intersex. When an enigmatic childhood friend named Hunter steps out of his past and abuses his trust in the worst possible way, Max is forced to consider the nature of his well-kept secret. Why won't his parents talk about it? What else are they hiding from Max about his condition and from each other? The deeper Max goes, the more questions emerge about where it all leaves him and what his future holds, especially now that he's starting to fall head over heels for someone for the first time in his life. Will his friends accept him if he is no longer the Golden Boy? Will anyone ever want him—desire him—once they know? And the biggest one of all, the question he has to look inside himself to answer: Who is Max Walker, really?

Golden Boy is a novel you'll read in one sitting but will never forget; at once a riveting tale of a family in crisis, a fascinating exploration of identity, and a coming-of-age story like no other.
Praise For Golden Boy: A Novel…
"Abigail Tarttelin is a fearless writer. In Golden Boy, she balances a harrowing coming of age with a deeply compassionate portrait of a family in crisis, and the result is sometimes brutal, often tender, and always compelling. This is a gripping and fully-realized novel."
— Emily St. John Mandel, National Book Award nominated author of Station Eleven

"Abigail Tarttelin has written an unforgettable novel. Golden Boy pulls you in from the very first page and holds you tight, gripping you by the throat and not letting go until it reaches its brilliant and masterful conclusion. Max Walker is the golden boy, and you will root for him, cry for him, fear for him, at times get angry at him but guaranteed you will never forget him. Not ever. The characters who make up Max's universe, from determined Karen, to distant Steve, to a deceitful Hunter, are all written in a perfect pitch. The dialogue is real, the pace is stealth bomber fast, and the plot never lets up. Tarttelin has blasted it out of the park in her first at bat here in the States. She has written a novel that goes beyond the page and reaches into a reader's heart and stays there, never to leave, never to be forgotten. Golden Boy is that good of a novel, and Tarttelin is that gifted of a writer. This book simply deserves to be read and treasured."
— Lorenzo Carcaterra, author of Sleepers and Wolf

"Golden Boy is at once meditative and swift, a coming-of-age tale about the difficulties of growing up amid shame and secrets and success. Abigail Tarttelin writes with a sharp-eyed grace in this fascinating, heartfelt gem of a novel."
— Dean Bakopoulos, author of My American Unhappiness

"Golden Boy is terrific. A poignant, brave and important book."
— S.J. Watson, author of Before I Go To Sleep

"Gritty yet humane, startlingly modern yet utterly timeless, Golden Boy hits all the deepest, biggest novelistic notes—family, identity, tragedy and hope—without the merest hint of strain. In Abigail Tarttelin's American debut, she has already proven herself to be a writer of extraordinary empathy and incredible wisdom... and she makes it look so easy. Tarttelin is the real deal."
— Rachel Shukert, author of Starstruck and Everything Is Going To Be Great

"A dramatic, thoroughgoing investigation of the complexities of sexuality and gender.... A warmly human coming-of-age story, thanks to the fact that Max is such an appealing character. And so his desperate search for identity is gripping, emotionally engaging, and genuinely unforgettable."
— Booklist (starred)

"Gripping and beautifully-written, Abigail Tarttelin's Golden Boy is a courageous and profound exploration of social and sexual identity and its world of manifold complexities and challenges."
— Sahar Delijani, author of Children of the Jacaranda Tree

"...gripping..."
— Cosmopolitan

"Tarttelin writes sensitively about how an intersex child might cope with the heightened emotions of adolescence."
— Entertainment Weekly

"...intense and fearless.... With empathy and imagination, Tarttelin describes an adolescent search for identity made monstrous by Max's uncertainty over that self-identifier most of us take for granted: am I a man or a woman?"
— Publishers Weekly

"Teens will love kindhearted Max, whose journey through adolescence is a nightmare few will experience."
— School Library Journal (A Best Book of 2013)
Atria Books, 9781476705811, 352pp.
Publication Date: August 19, 2014
About the Author
Abigail Tarttelin is a writer, an actress, and the book editor for Phoenix magazine in the UK. Her novel, Golden Boy, received a 2014 Alex Award and was a finalist for the 2014 Lambda Literary Award. She lives in London. Find out more at AbigailTarttelin.com.