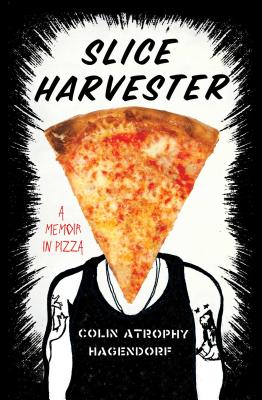 Slice Harvester
A Memoir in Pizza
Hardcover

* Individual store prices may vary.
Other Editions of This Title:
Paperback (11/8/2016)
Compact Disc (8/11/2015)
MP3 CD (8/11/2015)
Description
One of NPR's Best Books of 2015

Over the course of two years, a twenty-something punk rocker eats a cheese slice from every pizzeria in New York City, gets sober, falls in love, and starts a blog that captures headlines around the world—he is the Slice Harvester, and this is his story.

Since its arrival on US shores in 1905, pizza has risen from an obscure ethnic food to an iconic symbol of American culture. It has visited us in our dorm rooms and apartments, sometimes before we'd even unpacked or painted. It has nourished us during our jobs, consoled us during break-ups, and celebrated our triumphs right alongside us.

In August 2009, Colin Hagendorf set out to review every regular slice of pizza in Manhattan, and his blog, Slice Harvester, was born. Two years and nearly 400 slices later, he'd been featured in The Wall Street Journal, the Daily News (New York), and on radio shows all over the country. Suddenly, this self-proclaimed punk who was barely making a living doing burrito delivery and selling handmade zines had a following. But at the same time Colin was stepping up his game for the masses (grabbing slices with Phoebe Cates and her teenage daughter, reviewing kosher pizza so you don't have to), his personal life was falling apart.

A problem drinker and chronic bad boyfriend, he started out using the blog as a way to escape—the hangovers, the midnight arguments, the hangovers again—until finally realizing that by taking steps to reach a goal day by day, he'd actually put himself in a place to finally take control of his life for good.
Praise For Slice Harvester: A Memoir in Pizza…
"Slice Harvester stands out from the pack…wry, witty, surprisingly insightful…[Hagendorf's] ability to veer from the profane to the profound in the same sentence is as unique as it is grounded in the punk-lit tradition. Among all the things that Slice Harvester seeks and succeeds to be, it's a love letter to Manhattan — one stained with spilled beer and cigarette burns, but still. It's also about chasing ideals, romantic as well as culinary, and how that can be both noble and annihilating. Mostly, though, it's a rumination on innocence, and the loss thereof. Deep stuff for a book that started out as a pizza blog. Then again, as Slice Harvester so compellingly proposes, the plain old pizza pie is actually a blank canvas upon which we can, and should, project anything we wish."

"This is the kind of book I want to make a gift of to everyone I know—lost, found, gluten-intolerant, cheeseheads. Heck, all of them need to read this! Everyone has something to gain from this tale of blackouts, almost burning out and too-burned crusts."

"A powerful, unique blend of a better-late-than-never coming-of-age story and account of a recovering that is both involving and affecting. … Slice Harvester deftly outgrows the high concept nature of its roots and delivers something altogether winning, the perfect balance of crust, cheese and sauce, exactly what a reader craves."

"Hagendorf's popular Slice Harvester blog chronicled his quest to eat and review a slice of cheese pizza from every pizzeria in Manhattan. In this entertaining memoir, he mashes up that journey with the topics of addiction, family, punk rock, nostalgia, and love. … Full of drinking binges, colorful characters from the punk scene, and random asides, like comparing a slice to Anthony Kiedis, the narrative takes readers on a roller-coaster ride."

"Slice Harvester by Colin Atrophy Hagendorf is a must-read for every New Yorker, city visitor, and/or pizza lover. … Replete with detail, sarcasm, and poignancy, this "memoir in pizza" is (perhaps surprisingly) the furthest thing from trivial."

"It speaks to me man. It's about New York and pizza and getting your shit together. That's what I'm about and what I'm trying to be about."
— Himanshu Suri, rapper

"Colin's memoir is a rare story, both funny and heavy, using his trajectory as pizza blogger/zinester to pick apart his his own self growth, and also channel a social and political subtext you would expect from someone raised on a critical punk worldview."
Simon & Schuster, 9781476705880, 224pp.
Publication Date: August 11, 2015
About the Author
Colin Atrophy Hagendorf is an adult punk rocker and aspiring long-term sober guy. He loves eating pizza, working to dismantle systematic structures of oppression, and carefree afternoon naps. He collects obscure riot grrrl 7"s and 70s paperback editions of Sam Delany novels. He lives in Queens with three cats.
or
Not Currently Available for Direct Purchase