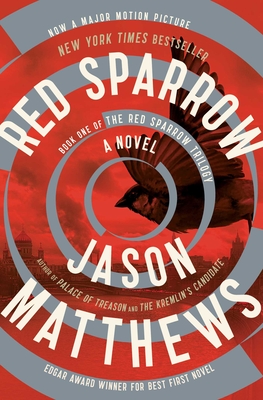 Red Sparrow
A Novel (The Red Sparrow Trilogy #1)
Paperback

* Individual store prices may vary.
Other Editions of This Title:
Hardcover, Large Print (9/1/2013)
Description
Now a major motion picture starring Jennifer Lawrence and Joel Edgerton!

In the tradition of John le Carré, the bestselling, impossible-to-put-down, espionage thriller that is "a primer in twenty-first century spying" (The New York Times Book Review), written with the insider detail that only a veteran CIA operative could know—and shortlisted for an Edgar Award.

State intelligence officer Dominika Egorova struggles to survive in the cast-iron bureaucracy of post-Soviet intelligence. Drafted against her will to become a "Sparrow," a trained seductress in the service, Dominika is assigned to operate against Nathaniel Nash, a first-tour CIA officer who handles the CIA's most sensitive penetration of Russian intelligence. The two young intelligence officers, trained in their respective spy schools, collide in a charged atmosphere of tradecraft, deception, and, inevitably, a forbidden spiral of carnal attraction that threatens their careers and the security of America's most valuable mole in Moscow. Seeking revenge against her soulless masters, Dominika begins a fateful double life, recruited by the CIA to ferret out a high-level traitor in Washington; hunt down a Russian illegal buried deep in the US military and, against all odds, to return to Moscow as the new-generation penetration of Putin's intelligence service. Dominika and Nathaniel's impossible love affair and twisted spy game come to a deadly conclusion in the shocking climax of this electrifying, up-to-the minute spy thriller.

Taking place in today's Russia, still ruled with an iron fist by Prime Minister Vladimir Putin, Red Sparrow displays author Jason Matthews's insider knowledge of espionage, counter-espionage, surveillance tradecraft, recruiting spies, interrogation, and intelligence gathering. As The Washington Post hails, this is a "sublime and sophisticated debut…a first-rate novel as noteworthy for its superior style as for its gripping depiction of a secretive world."
Praise For Red Sparrow: A Novel (The Red Sparrow Trilogy #1)…
"Jason Matthews, who became an authority on the Kremlin during his 33 years as a CIA operations officer, has written an espionage novel, Red Sparrow, in which Putin makes a cameo -- read it and you too may conclude that no one on the planet knows the Russian president better. You too may also conclude that Red Sparrow is the best espionage novel you've ever read."
— Keith Thomson

"Veteran CIA operative-turned-novelist Matthews keeps the trouble popping in Red Sparrow, but relentless drama is just one of the high points of this sublime and sophisticated debut… Red Sparrow isn't just a fast-paced thriller — it's a first-rate novel as noteworthy for its superior style as for its gripping depiction of a secretive world. While many former CIA agents and MI6 operatives have turned to writing fiction in retirement, Matthews joins a select few who seem as strong at their second careers as at their first."
— Art Taylor

"A primer in 21st-century spying. Matthews' former foes in Moscow will be choking on their blinis when they read how much has been revealed about their tradecraft...terrifically good."
— The New York Times Book Review

"A smart, intriguing tale rooted in his own experience...Fans of the genre's masters including John Le Carre and Ian Fleming will happily embrace Matthews' central spy."
— USA Today

"This debut novel from a 33-year CIA veteran delivers action as pulse-pounding as it is authentic."
— New York Post

"Matthews's exceptional first novel will please fans of classic spy fiction…The author's 33-year career in the CIA allows him to showcase all the tradecraft and authenticity that readers in this genre demand…[a] complex, high-stakes plot."
— Publishers Weekly, starred review

"The author, a veteran CIA field agent, liberally salts his thriller with realistic tradecraft, horrific villainy, and stunning plot twists as the opponents vie for control…An intense descent into a vortex of carnal passion, career brutality, and smart tradecraft, this thriller evokes the great Cold War era of espionage…Readers of bloodthirsty spy and suspense will welcome this debut from a writer who supersizes his spies."
— Library Journal, starred review

"Many spy novelists, including Ian Fleming and John le Carré, actually worked as intelligence agents. Add to that list Jason Matthews, whose 33 years as a CIA field operative enriches his first novel with startling verisimilitude…That sense of authenticity, along with vividly drawn characters, much detail about tradecraft, and an appropriately convoluted plot make this a compelling and propulsive tale of spy-versus-spy…Red Sparrow is greater than the sum of its fine parts. Espionage aficionados will love this one."
— Booklist, starred review

"Matthews' first novel, a globe-trotting spy thriller, features enough action to satisfy even the most demanding of adrenaline junkies…The author's CIA background and the smart dialogue make this an entertaining tale for spy-novel enthusiasts."
— Kirkus

"Not since the good old days of the Cold War has a classic spy thriller like Red Sparrow come along. Jason Matthews is not making it up; he has lived this life and this story, and it shows on every page. High-level espionage, pulse-pounding danger, sex, double agents and double crosses. What more can any reader want?"
— Nelson DeMille

"A great and dangerous spy-game is being played today between Russian intelligence and the CIA. Very few people know about it, including many of our politicians in Washington. But Jason Matthews does, and his thrilling Red Sparrow takes us deep inside this treacherous world. He's an insider's insider. He knows the secrets. And he is also a masterful story-teller. I loved this book and could not put it down. Neither will you."
— Vince Flynn

"I read till eleven and woke up at five a.m. to finish this book. If it doesn't supplant The Girl with the Dragon Tattoo as the next mammoth read, ad if it doesn't take its place alongside le Carré's The Spy Who Came in from the Cold, the love of literature and jaw-dropping thrills really is dead. I learned more about the former Soviets and the new Russians, and about our US of A, than I ever gleaned from the hardest-working journalists today. Halfway through, I was afraid Vladimir Putin would find out I was reading Red Sparrow and have me arrested. I have not read a more exciting, gripping novel in a long time."
— Doug Stanton

"All the tradecraft and cat-and-mouse tension of a classic spy thriller— a terrific read."
— Joseph Kanon
Scribner, 9781476706139, 464pp.
Publication Date: December 9, 2014
About the Author
Jason Matthews was an officer of the CIA's Operations Directorate. Over a thirty-three-year career he served in multiple overseas locations, spoke six foreign languages, and engaged in clandestine collection of national security intelligence, specializing in denied-area operations. Matthews conducted recruitment operations against Soviet–East European, East Asian, Middle Eastern, and Caribbean targets. As Chief in various CIA Stations, he collaborated with foreign partners in counterproliferation and counterterrorism operations. His first novel, Red Sparrow, won the Edgar Award for Best First Novel and was made into a major motion picture starring Jennifer Lawrence. He continued the Red Sparrow trilogy with Palace of Treason and The Kremlin's Candidate. Jason Matthews passed away in 2021.