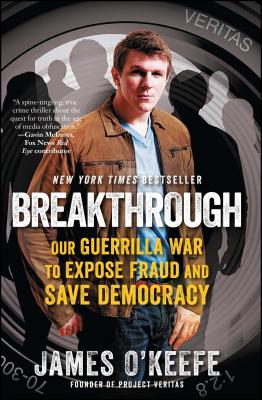 Breakthrough
Our Guerilla War to Expose Fraud and Save Democracy
Paperback

* Individual store prices may vary.
Other Editions of This Title:
Hardcover (6/18/2013)
Description
In this New York Times bestseller, controversial ambush journalist James O'Keefe takes a hard-hitting look at how the media and government conspire to protect the status quo: "A spine-tingling, true crime thriller about the quest for truth in the age of media obfuscation" (Gavin McInnes, FOX News contributor).

Hailed by David Weigel in Slate as having "had more of an impact on the 2012 election than any journalist," James O'Keefe is young, brash, and provocative: a new breed of guerrilla reporter for the twenty-first century. He and his associates have famously infiltrated some of America's most protected organizations and institutions. Now, in Breakthrough, O'Keefe chronicles the harrowing undercover investigation that opened America's eyes to the chicanery of its state houses and the duplicity of the White House during one of the most compromised election campaigns in our nation's history: the 2012 presidential race.

Of all his controversial sting operations, this was the one that his late mentor, Andrew Breitbart, called "his most consequential." While still on federal probation, O'Keefe organized an army of citizen journalists, planned a series of video stings to reveal the American system's vulnerability to voter fraud, and went nose to nose with the most powerful political machine in the world. Along the way, O'Keefe found disheartening evidence that Americans are not nearly as free as we may believe, but also showed just how much real change ordinary citizens can bring about when they are willing to risk the wrath of the powerful.

Free of ideology, Breakthrough is at its core a clarion call for a more ethical society. Despite being vilified and libeled by an establishment media dedicated to suppressing the truth, James O'Keefe has dared to break through the firewall and reshape public opinion by showing things as they really are.
Praise For Breakthrough: Our Guerilla War to Expose Fraud and Save Democracy…
"O'Keefe's new book Breakthrough is a spine-tingling, true crime thriller about the quest for truth in the age of media obfuscation… his book reads more like Gulliver's Travels than a story about political journalism."
— Gavin McInnes, Fox News Red Eye Contributor

"The new book by James O'Keefe, makes clear this problem to armchair patriots who think someone else is better qualified to engage in direct action. It is a how-to guide for a modern activist craving a blueprint for action."
— J. Christian Adams, publisher of PJ Media

"Code Veritas: James O'Keefe is back...This intellectual heir to Andrew Breitbart has produced a devastating attack on the smeary leftist establishment."
— Roger Kimball, editor-in-chief of The New Criterion and publisher of Encounter Books

"In 320 gripping pages, 28-year-old O'Keefe describes being thrust under the national microscope…O'Keefe's book—which serves simultaneously as a memoir, a manifesto, a tell-all and an activist handbook—the reader watches a young man grow up, wise up and toughen up."
— Chris Moody, Yahoo News

"Fast-paced enough to be a summer beach read, yet substantial enough to stand as a serious criticism of government and media, O'Keefe's tale of his whirlwind past four years will have your stomach churning and your blood boiling, but in the end will make you want to stand up and cheer. A splendid change of pace from the standard format political books follow. [His] raw, genuine, and tightly focused rage is the beating heart of Breakthrough, and sets it apart within its genre…Breakthrough is a call-to-action and a playbook for aspiring citizen journalists."
— Watchdog Wire

"Upstart James O'Keefe has dealt a major blow to the establishment." (George Stephanopoulos) . . . "Go watch this video. It's enlightening, it's enraging." (Governor Chris Christie, on the NJEA video) . . . "What I know is that what I saw on those videos was certainly inappropriate."--(President Obama on the ACORN videos) . . ."I'd say this is a grand slam home run." (Rush Limbaugh, on the NPR investigation) . . . "James O'Keefe is dismissed as a 'conservative activist,' but he's doing something much worse—journalism." (The New York Post) . . . "O'Keefe aims to discredit us." (Bill Keller, executive editor of The New York Times) . . . "O'Keefe is courageous." (Glenn Beck) . . . "A latter-day Mike Wallace." (Dennis Miller) . . . "The Ashton Kutcher of the Conservative Movement." (Jon Stewart) . . . "He is already well on his way to being one of the great journalists and deserves a Pulitzer." (Andrew Breitbart)
— What the Right and the Left are saying about James O'Keefe
Threshold Editions, 9781476706184, 352pp.
Publication Date: June 17, 2014
About the Author
James E. O'Keefe III gained major national attention for his release of video recordings of workers at ACORN offices in 2009, his arrest in early 2010 at the office of Senator Mary Landrieu, and his release of videos of NPR executives in 2011. In June 2010, O'Keefe formed Project Veritas, an organization with the stated mission to "investigate and expose corruption, dishonesty, self-dealing, waste, fraud, and other misconduct."
or
Not Currently Available for Direct Purchase