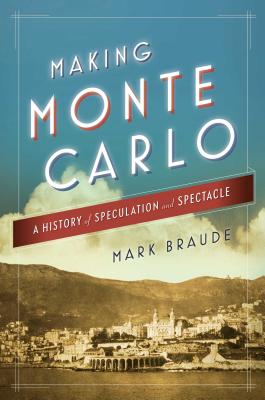 Making Monte Carlo
A History of Speculation and Spectacle
Hardcover

* Individual store prices may vary.
Other Editions of This Title:
Paperback (4/25/2017)
Description
A rollicking narrative history of Monte Carlo, capturing its nineteenth-century rise as the world's first modern casino-resort and its Jazz Age heyday as infamous playground of the rich.

Monte Carlo has long been known as a dazzling playground for the rich and famous. Less well known are the shrewd and often ruthless strategies that went into creating such a potent symbol of luxury and cosmopolitan glamour. As historian Mark Braude reveals in his entertaining and informative Making Monte Carlo, the world's first modern casino-resort started as an unlikely prospect—with the legalization of gambling in tiny Monaco in 1855—and eventually emerged as the most glamorous gambling destination of the Victorian era. The resort declined in the wake of WWI, and was reinvented, again, to suit the styles and desires of the new Jazz Age tastemakers, such as F. Scott and Zelda Fitzgerald, Gerald and Sarah Murphy, and Coco Chanel.

Along the way, we encounter a colorful cast of characters, including the fast-talking Francois Blanc (a professional gambler, stock market manipulator, and founder of Monte Carlo); Basil Zaharoff (notorious munitions dealer and possible secret owner of the casino in the 1920s); Elsa Maxwell (a brash society figure and Hollywood maven, hired as the casino's publicist); Réné Léon (a visionary Jewish businessman, who revitalized the resort after WWI); Jean Cocteau, Pablo Picasso, and other satellite members of Serge Diaghilev's Ballet Russes dance company; as well as Cole Porter, Ernest Hemingway and other American expats who 'colonized' the Riviera in the 1920s.

A rollercoaster history of how a small, rural town grew into the prosperous resort epicenter of the late nineteenth century and rose again to greatness out of the ashes of WWI, Making Monte Carlo is a classic rags-to-riches tale set in the most scenic of European settings.
Praise For Making Monte Carlo: A History of Speculation and Spectacle…
"[An] entertaining history of 'speculation and spectacle'… [a] vivid, detailed narrative."

"[A] stirring account of the creation of Monte Carlo and its rapid rise…Braude's fluent and fast-paced writing style is ideally suited to his subject matter, which is all about vision, speed of thought and execution…this is such an overlooked history — one that Belgian author Luc Sante justifiably describes in the book's blurb as being 'as capacious and dramatic as a 19th-century thriller.'"

"Mark Braude illuminates the unsavory dealings and outright flimflam that underlay the development of this out-of-the-way principality on the French Riviera. Braude's well-researched and deftly written history whisks the reader through Monte Carlo's colorful past."

"It was a wily Frenchman—and former cardsharp—who understood that by giving gambling an aura of class, royalty, millionaires and any number of fools could be persuaded to part with their money … Making Monte Carlo [is] an anecdotal story of how it came about by Mark Braude, a lecturer in history at Stanford … it is evident that the business model created by [the resort's founder] Blanc 150 years ago has stood Monaco in good stead … when it comes to Monte Carlo, there is never 'no more bets.'"

"Fascinating book…absorbing narrative…firm grounding of anecdote, fact and interpretation in impeccable sources, as revealed in the more than 50 pages of notes…One of the many delicious stories Mr. Braude has included is the pivotal role that this iconic train deluxe played in making Monte Carlo not merely a destination on the Riviera, but the destination, only one among many such delights in a book which pulsates with them."

"Lurid tales of crime and aristocratic extravagance ... Braude describes how savvy impresarios actualized an illusion of their own devising: Monaco as a glamorous oasis in which 'sun-kissed lives played out on clay courts and under canvas sails.' ... The primary pleasure in Making Monte Carlo comes from watching the various eccentrics, lowlifes, high-rollers, and famous artists stroll in to take a seat at the table."

"It's half the size of Central Park — and one of the wealthiest places on the planet. Now Braude tells how a Victorian-era gambling impresario transformed a sleepy village in resource-free Monaco into a glittering, casino-filled playground for the rich and famous — long before Las Vegas was even a dream."

"[A] fascinating new book…dazzling cameos from a rich cast of characters."

"An engrossing examination of how politics, personality, and publicity coalesced to transform a sleepy village into a luxurious playground populated with casinos and beautiful people…Braude admirably balances the political machinations with the glamorous aspects of Monte Carlo in his story"

"This book is full of great adventures and adventurers, schemes grand and small, and always money, lost and gained and lost again. Braude knows Monaco well and brings it to glamorous life. … A fascinating look at a much-dreamed-about location and how it came to be."

"In his first book, about 'how we create places largely through the stories we tell about them,' Braude (History and Urban Studies/Stanford Univ.) takes us on a brisk historical tour of the marketing and selling of the small principality of Monaco and its famous city… A well-researched, dramatic rags-to-riches urban tale."

"Braude takes an intriguing look at the creation of Monte Carlo through the people and their stories, sometimes true and sometimes exaggerated, which helped make the place what it is today. Those interested in the history of modern Europe, specifically the individuals involved in defining its most popular locales, will enjoy this book."

"Monte Carlo is a place that lives at the edge of our collective imagination: the locus of sensational daring and spectacular wealth. Mark Braude's fluent, detailed account puts flesh on those bones, revealing a largely overlooked history as capacious and dramatic as a nineteenth-century thriller."
— Luc Sante, author of Low Life and The Other Paris

"Part thriller, part historical narrative, Braude's tale is a must-read for anyone interested in money, power and scandal, which is just about any of us. Writing with breezy prose and authoritative research, Braude delves into the seedy world behind Monte Carlo's glitter with gusto. In Making Monte Carlo, we learn not just of the fascinating tapestry of characters who made Monte Carlo a storied mecca for light and dark, but how the town set the stage for so many other recreational playgrounds through history and that we enjoy today."
— Mary Pilon, author of The Monopolists

"In Making Monte Carlo, Braude masterfully tells the story of how princes, profit-seekers, and press agents created luxurious Monte Carlo in resource-poor Monaco. Making expert use of source material, he builds a highly readable, engaging narrative that traces the resort's origins, its Belle Époque glory, and its adjustment to the tensions of the twentieth century. Connecting the rise and evolution of Monte Carlo with the larger social and cultural forces that shaped the era, Making Monte Carlo is a compelling, enlightening read."
— David G. Schwartz, author of Roll the Bones: The History of Gambling

"Braude's deftly written Making Monte Carlo is social and cultural history at its best. Above all, it is an object lesson in the modern art of promotion. Contrary to Sam Spade, Braude demonstrates that nothing quite pays off like the stuff that dreams are made of."
— Kenneth E. Silver, author of Making Paradise: Art, Modernity, and the Myth of the French Riviera

"Everyone is familiar with Monte Carlo as the playground of the rich. But how did it get to be this way? This book charts the history of how the city developed from the first casino resort in the 19th century to the epitome of cosmopolitan cool."
Simon & Schuster, 9781476709697, 304pp.
Publication Date: April 12, 2016
About the Author
Mark Braude teaches history and urban studies at Stanford University. He holds a PhD in History from the University of Southern California and a Master's in French Studies from New York University. He has been a columnist for The Globe and Mail and has written for The Daily Beast and other publications. Mark was born in Vancouver and lives in San Francisco with his wife. Making Monte Carlo is his first book.
or
Not Currently Available for Direct Purchase