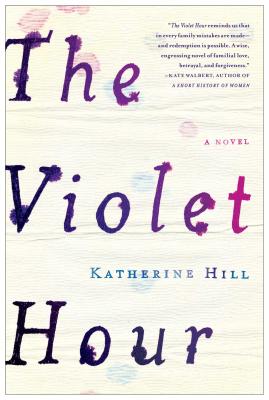 The Violet Hour
A Novel
Hardcover

* Individual store prices may vary.
Other Editions of This Title:
Paperback (8/12/2014)
Description
A pitch-perfect, emotionally riveting debut novel about the fracturing of a marriage and a family—from an award-winning young writer with superb storytelling instincts.

A pitch-perfect, emotionally riveting debut novel about the fracturing of a marriage and a family – from an award-winning young writer with superb storytelling instincts.

Life hasn't always been perfect for Abe and Cassandra Green, but an afternoon on the San Francisco Bay might be as good as it gets. Abe is a rheumatologist, piloting his coveted new boat. Cassandra is a sculptor, finally gaining modest attention for her art. Their beautiful daughter, Elizabeth, is heading to Harvard in the fall. Somehow, they've made things work. But then, out of nowhere, they plunge into a terrible fight. Cassandra has been unfaithful. In a fit of fury, Abe throws himself off the boat.

A love story that begins with the end of a marriage, The Violet Hour follows a modern family through past and present, from the funeral home in the Washington suburbs where Cassandra and her siblings grow up to the San Francisco public health clinic where Abe and Cassandra first meet. As the Greens navigate the passage of time—the expectations of youth, the concessions of middle age, the headiness of desire, the bitterness of loss—they must come to terms with the fragility of their intimacy, the strange legacies they inherit from their parents, and the kind of people they want to be. Exquisitely written, The Violet Hour is the deeply moving story of a family suddenly ripped apart, but then just possibly reborn.
Praise For The Violet Hour: A Novel…
"Rewarding...Assured...as with the family members in Jonathan Tropper's This Is Where I Leave You...Elizabeth's relatives are not always well-behaved...[but] their petty grievances are as fun as real grief is devastating. Thanks to Hill's assured voice, the Fabricants' occasional flashes of harmony and humor will leave you with the charmed feeling of having seen a rainbow over the Beltway."
— Elisabeth Egan

"A gripping debut…"
— Sue Corbett

"A bittersweet tale of breakup and forgiveness, this debut novel begins at the end of a marriage and journeys back through time to explore why the relationship slowly frayed."
— Abbe Wright

"The Violet Hour succeeds.…The story of this family—at once alien and familiar, pitiable and impressive—is rendered with candor and economy."
— Derek Askey

"Hill is particularly capable as a manufacturer of taut, precise imagery, which she most effectively unleashes here as the book's first plot point takes its turn….Hill is most persuasive as a writer when she defines and explores relentless internal conflicts and divisions.…The Violet Hour is filled with controlled and yet expansive prose."
— Nathaniel Popkin

"In Hill's debut, members of a troubled family converge to celebrate a milestone, with unexpected results.…Hill has produced an unusual retrospective of a family torn apart by divorce and infidelity and so keenly affected by the immediate events in their lives that they are only barely aware of what's transpiring around them.…[A] disturbing story but one that offers a glimmer of hope."

"Hill handles the intimacy of family ties with care and tenderness. Readers who enjoyed Jonathan Franzen's Freedom will relate as Hill's characters similarly and systematically unravel from each other."

"Katherine Hill's The Violet Hour reminds us that in every family mistakes are made—and redemption is possible. A wise, engrossing novel of familial love, betrayal, and forgiveness."
— Kate Walbert, author of A Short History of Women

"Like Sue Miller and Alice Hoffman, Katherine Hill limns the commonplace dreams and sorrows of the restless middle class. Ranging from post-grad San Francisco in the '70s to post-9/11 Manhattan, The Violet Hour is an old-fashioned family romance."
— Stewart O'Nan, author of Last Night at the Lobster and Emily, Alone

"The Violet Hour is an altogether entrancing novel. Katherine Hill's fresh, intelligent voice and extraordinary skill take an age-old theme—three generations of an unhappy family—and make it original, poignant and luminous. I was sorry when their story ended!"
— Lynne Sharon Schwartz, author of Disturbances in the Field and Two-Part Inventions

"Katherine Hill's The Violet Hour is a brilliant meditation on the supreme mystery of marriage, haunted family legacies, and the fragility of happiness, all rendered in prose as kinetic and lyric as the sea. A debut that reads more like a master work, The Violet Hour is a revelatory and unforgettable novel."
— Laura van den Berg, author of What the World Will Look Like When All the Water Leaves Us

"Katherine Hill's intensely real characters—members of a family who live in a funeral home—have texture and thickness, and are as aware of their past as of the present moment. Lovable even when they are foolish, they make risky choices while looking straight at hard truths."
— Alice Mattison, author of When We Argued All Night
Scribner, 9781476710327, 368pp.
Publication Date: July 16, 2013
About the Author
Katherine Hill is a graduate of Yale University and holds an MFA from the Bennington Writing Seminars. Her writing has been published by AGNI, The Believer, Bookforum, Colorado Review, The Common, n+1, and the San Francisco Chronicle. She is an assistant editor at Barrelhouse,and lives with her husband in Princeton, New Jersey.
or
Not Currently Available for Direct Purchase