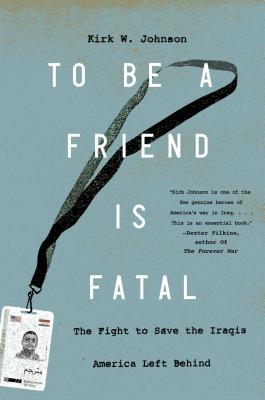 To Be a Friend Is Fatal (Hardcover)
The Fight to Save the Iraqis America Left Behind
Scribner, 9781476710488, 352pp.
Publication Date: September 3, 2013
Other Editions of This Title:
Compact Disc (9/3/2013)
MP3 CD (9/3/2013)
Paperback (10/7/2014)
Compact Disc (9/3/2013)
* Individual store prices may vary.
Description
The stunning memoir of "one of the few genuine heroes of America's war in Iraq" (Dexter Filkins), a rare glimpse into the perspective of the Iraqi people, and a searching exploration of America's moral obligations to those Iraqis who stepped forward to help.

In January 2005 Kirk Johnson, then twenty-four, arrived in Baghdad as USAID's only Arabic-speaking American employee. Despite his opposition to the war, Johnson felt called to civic duty and wanted to help rebuild Iraq.

Appointed as USAID's first reconstruction coordinator in Fallujah, he traversed the city's IED-strewn streets, working alongside idealistic Iraqi translators—young men and women sick of Saddam, filled with Hollywood slang, and enchanted by the idea of a peaceful, democratic Iraq. It was not to be. As sectarian violence escalated, Iraqis employed by the US coalition found themselves subject to a campaign of kidnapping, torture, and assassination.

On his first brief vacation, Johnson, swept into what doctors later described as a "fugue state," crawled onto the ledge outside his hotel window and plunged off. He would spend the next year in an abyss of depression, surgery, and PTSD—crushed by having failed in Iraq.

One day, Johnson received an email from an Iraqi friend, Yaghdan: People are trying to kill me and I need your help. After being identified by a militiaman, Yaghdan had emerged from his house to find the severed head of a dog and a death threat. That email launched Johnson's now seven-year mission to get help from the US government for Yaghdan and thousands of abandoned Iraqis like him. The List Project has helped more than 1,500 Iraqis find refuge in America. To Be a Friend Is Fatal is Kirk W. Johnson's unforgettable portrait of the human rubble of war and his efforts to redeem a shameful chapter of American history.
About the Author
Kirk W. Johnson has become the leading public voice on the plight of America's Iraqi allies. A graduate of the University of Chicago, Fulbright Scholar, and recipient of fellowships from the American Academy in Berlin and Yaddo, his writing has appeared in The New York Times, The Washington Post Magazine, Los Angeles Times, and Foreign Policy. Founder of the List Project, Johnson lives in Somerville, Massachusetts.
Praise For To Be a Friend Is Fatal: The Fight to Save the Iraqis America Left Behind…
"Kirk Johnson is one of the few genuine heroes of America's war in Iraq.... Johnson's story is about America's shame, and also its honor. This is an essential book."
— Dexter Filkins, Pulitzer Prize-nominee, New Yorker staff writer, and author of The Forever War

"I have long been an admirer of Kirk Johnson--for his humanitarian advocacy on behalf of forgotten Iraqis and for his honest and poetic writing…. His is a story that arcs from charity to futility to pain to charity again, and how much he needs to tell it equals how much it deserves to be read."
— David Finkel, Pulitzer Prize-winning journalist and author of The Good Soldiers

"What is so intriguing about this beautifully written book is that while it is a scathing critique of America's policy toward Iraq, it is not one of your usual policy books. To Be a Friend is Fatal is a deeply personal and poignant story about how one young American's passion and curiosity lead him to a distant and troubled land, where his empathy and sense justice prevent him from giving up on the people abandoned by the U.S. government."
— Azar Nafisi, New York Times-bestselling author of Reading Lolita in Tehran

"[A] truly incredible story."
— Ira Glass, "This American Life"

"From the ruins of the war in Iraq and his own broken body, Kirk Johnson made it his cause to redeem the one American promise to Iraqis that honor required us to keep. He tirelessly fought the political resistance and bureaucratic indifference of two administrations. His account is riveting, darkly funny, heroic, and shaming."
— George Packer, author of The Assassins' Gate and The Unwinding

"Johnson makes sharp criticisms.... A well-written account of one man's righteous quest to overcome government bureaucracy."

"It is difficult to imagine a book more urgent than this."
— Rayyan Al-Shawaf

"The well-written book - the author is an honest, engaging and indomitable guide - warrants a special place in nonfiction shelves."
— John Kael Weston

"A searing account."

"This authentic patriot has written a must-read memoir."
— Trudy Rubin

"Kirk W. Johnson's rage-inducing account of government indifference is a tale of lost innocence that, in our American twilight, feels devastatingly allegorical."
— Megan O'Grady

"A poignant story…a fascinating and intimate look at the inner workings of military occupation and its effects."

Harrowing.
or
Not Currently Available for Direct Purchase