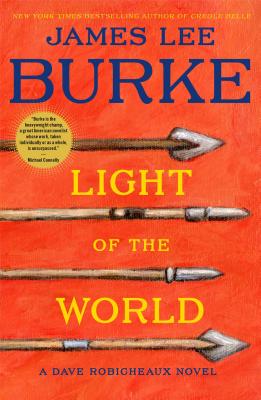 Light of the World
A Dave Robicheaux Novel
Hardcover

* Individual store prices may vary.
Other Editions of This Title:
Digital Audiobook (7/22/2013)
Digital Audiobook (7/22/2013)
Digital Audiobook (10/2/2013)
Paperback (10/23/2018)
CD-Audio (7/23/2013)
Mass Market (6/24/2014)
Hardcover, Large Print (8/7/2013)
Paperback, Large Print (7/1/2014)
Description
"America's best novelist" (The Denver Post) and "the reigning champ of nostalgia noir" (The New York Times Book Review) introduces his most evil character yet in the twentieth thriller in the bestselling Dave Robicheaux series.

Louisiana Sherriff's Detective Dave Robicheaux and his longtime friend and partner Clete Purcel are vacationing in Montana's spectacular Big Sky country when a series of suspicious events leads them to believe their lives—and the lives of their families—are in danger. In contrast to the tranquil beauty of Flathead Lake and the colorful summertime larch and fir unspooling across unblemished ranchland, a venomous presence lurks in the caves and hills, intent on destroying innocent lives. First, Alafair Robicheaux is nearly killed by an arrow while hiking alone on a trail. Then Clete's daughter, Gretchen Horowitz, whom readers met in Burke's previous bestseller Creole Belle, runs afoul of a local cop, with dire consequences. Next, Alafair thinks she sees a familiar face following her around town—but how could convicted sadist and serial killer Asa Surette be loose on the streets of Montana? Surrette committed a string of heinous murders while capital punishment was outlawed in his home state of Kansas. Years ago, Alafair, a lawyer and novelist, interviewed Surette in prison, aiming to prove him guilty of other crimes and eligible for the death penalty. Recently, a prison transport van carrying Surette crashed and he is believed dead, but Alafair isn't so sure. Says The Plain Dealer (Cleveland), "Already designated a Grand Master by the Mystery Writers of America, Burke should get another title, say, for sustained literary brilliance in his Dave Robicheaux series." Light of the World is a harrowing novel that examines the nature of evil and pits Dave Robicheaux against the most diabolical villain he has ever faced.
Praise For Light of the World: A Dave Robicheaux Novel…
"Over the years, James Lee Burke's voice has grown more messianic, his books more biblical. He's in full fire-and-brimstone mode in Light of the World. . . . [The] monstrous villain [makes] life a living hell for an expanded cast of the quaintly insane characters who are Burke's specialty. For that alone, let's give the devil his due."
— The New York Times Book Review

"James Lee Burke's Dave Robicheaux, the haunted, all-too-human homicide detective from the Louisiana bayou country, first appeared more than 25 years ago in The Neon Rain. It was apparent, even then, that Burke had given us an extraordinary character, one whose depth, complexity and evocative narrative voice was worth returning to again and again. That has turned out to be the case. Light of the World is the 20th installment in this increasingly ambitious series, and it reaffirms Robicheaux's status as one of the most successfully sustained creations in contemporary crime fiction."
— Washington Post Book World

"Dave Robicheaux [is] a man of action, with the eye of a painter and the tongue of a poet."
— The Wall Street Journal

"James Lee Burke is truly an American treasure, right up there with the Liberty Bell, the Constitution, and apple pie. To say he is a mystery writer is like saying the Atlantic Ocean is a pond."
— The Philadelphia Inquirer

"I long ago exhausted my skimpy store of superlatives on James Lee Burke's exquisite prose and moving plots. . . . Once again, Burke takes us to the best and worst of worlds."
— Margaret Cannon

"Evocative, lyrical, and haunting . . . [Robicheaux] is a complex, thoughtful, damaged and violent man, unlike any protagonist in modern mystery fiction. . . . Mr. Burke's books are beyond traditional procedural mysteries. You won't find better writing in, or arguably out of, the genre. While uncommon in almost every way, his characters are knowable and very real."
— The Pittsburgh Post-Gazette

"This magnificent new novel seems the capstone of a formidable career, an awesome world bristling with references to Elizabethan and Greek tragedy, Roman emperors, the stench of the devil, and the Manichean vision of medieval chronicles."
— The Providence Journal-Bulletin

"[Light of the World] is vintage Burke: a killer plot, flawed but decent heroes, loathsome villains, a keen sense of history and philosophy and prose that leaves the reader in awe. . . . At once lovely and lethal, Light of the World shimmers with Burke's ability to depict the best and the worst of the human family, and to do so with a steady eye and a generous heart."
— Jay Strafford

"Robicheaux [is] arguably the most original and interesting character in contemporary crime fiction."
— The Houston Chronicle

"You can call Burke a crime fiction writer, but I call him a national treasure — he's not just a master of propulsive plots, rich prose and achingly real characters, he's a writer who looks unflinchingly at violence in American culture, at every level from the personal to the corporate. . . . Despite such moments of despair, Dave Robicheaux is an enduring hero, and Burke takes Light of the World pedal-to-the-metal to a hair-raising standoff and a satisfying end."
— Tampa Bay Times

"Terror is unleashed when an escaped serial killer comes looking for revenge . . . Though Burke's tales involve some of the most vile characters and violent situations in popular fiction, his body of work has transcended genre to become what many critics and academicians regard as literature."
— The Sacramento Bee

"Burke remains a clear-eyed realist when it comes to violence and the haunted conscience, but his descriptions of the natural world are just as powerful."
— Christian Science Monitor

"Burke's boldest and most complex novel to date, at once a superb crime story and a literary masterpiece from an author who has been named a Mystery Writers of America Grand Master."
— Associated Press

"Hats off to the Library of Congress cataloger who applied the subject heading 'Good and Evil' to Burke's latest Dave Robicheaux novel. In that simple tag lies the core of this acclaimed series. . . . Occasionally the evil comes in a more chilling, vaguely supernatural form—depravity beyond sociology—giving these novels a darker, more mythic tone . . . but it works, enveloping the reader in the visceral terror of the moment."
— Booklist, starred review

"Burke produces his most sharply focused, and perhaps his most harrowing, study of human evil, refracted through the conventions of the crime novel."
— Kirkus Reviews

"A powerful meditation on the nature—and smell—of evil . . . But even as the stomach roils, the fingers keep turning the pages because the much-honored Burke (two Edgars, a Guggenheim Fellowship) is a master storyteller."
— Publishers Weekly, starred review

"Fans will be thrilled to find Robicheaux and Clete Purcel joined by their respective adult daughters in a hard-hitting, intense battle between good and evil. . . . As the story unfolds, a rodeo cowboy who speaks in tongues, a serial killer who should be dead, ex-cons, rapists, bear traps and evil that dwells in caves in the hills all come together in perhaps the greatest showdown of Burke's career."
— ShelfAwareness.com

"A hellbent death-row inmate escapes and comes gunning for Cajun police detective-troubleshooter Dave Robicheaux, his family and friends. This is the 20th Robicheaux tale by a celebrated master of the thriller genre."
— Sacramento Bee

"James Lee Burke's 20th Robicheaux novel is arguably the best of his prolific career . . . Burke is at the pinnacle of his literary gifts."
— The Louisville Courier-Journal
Simon & Schuster, 9781476710761, 560pp.
Publication Date: July 23, 2013
About the Author
James Lee Burke is a New York Times bestselling author, two-time winner of the Edgar Award, and the recipient of the Guggenheim Fellowship for Creative Arts in Fiction. He's authored thirty-seven novels and two short story collections. He lives in Missoula, Montana.
or
Not Currently Available for Direct Purchase