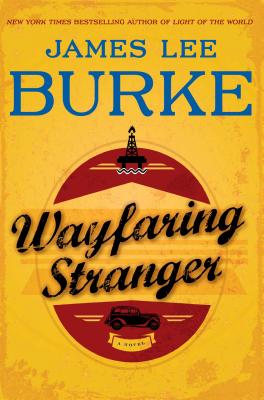 Wayfaring Stranger
A Novel (A Holland Family Novel)
Hardcover

* Individual store prices may vary.
Other Editions of This Title:
Digital Audiobook (7/14/2014)
Digital Audiobook (7/14/2014)
Digital Audiobook (5/13/2015)
Paperback (7/13/2021)
Paperback, Large Print (4/28/2015)
CD-Audio (7/15/2014)
Mass Market (4/28/2015)
Hardcover, Large Print (8/6/2014)
Description
In his most ambitious work yet, New York Times bestseller James Lee Burke tells a classic American story through one man's unforgettable life—connecting a fateful encounter with Bonnie and Clyde to heroic acts at the Battle of the Bulge and finally to the high-stakes gambles and cutthroat players who ushered in the dawn of the American oil industry.

In 1934, sixteen-year-old Weldon Avery Holland happens upon infamous criminals Bonnie Parker and Clyde Barrow after one of their notorious armed robberies. A confrontation with the outlaws ends with Weldon firing a gun and being unsure whether it hit its mark.

Ten years later, Second Lieutenant Weldon Holland barely survives the Battle of the Bulge, in the process saving the lives of his sergeant, Hershel Pine, and a young Spanish prisoner of war, Rosita Lowenstein—a woman who holds the same romantic power over him as the strawberry blonde Bonnie Parker, and is equally mysterious. The three return to Texas where Weldon and Hershel get in on the ground floor of the nascent oil business.

In just a few years' time Weldon will spar with the jackals of the industry, rub shoulders with dangerous men, and win and lose fortunes twice over. But it is the prospect of losing his one true love that will spur his most reckless, courageous act yet—one that takes its inspiration from that encounter long ago with the outlaws of his youth.

A tender love story and pulse-pounding thriller that crosses continents and decades of American history, Wayfaring Stranger "is a sprawling historical epic full of courage and loyalty and optimism and good-heartedness that reads like an ode to the American Dream" (Benjamin Percy, Poets & Writers).
Praise For Wayfaring Stranger: A Novel (A Holland Family Novel)…
"A big, broad, engagingly overstuffed new novel set with rousing confidence in midcentury Texas. . . . Like much of Burke's fiction, it's saturated with the romance of the past while mournfully attuned to the unholy menace of the present. . . . The opening sequence is extraordinarily taut and vivid [and]Burke knows how to keep a story humming along. . . . The novel is full of prose as strong and precise as Hershel Pine's pipeline welds . . . and then there's Burke's sense of place, which is so richly interwoven with his sense of history."
— The New York Times Book Review

"[A] pitch-black, decades-spanning family saga."
— Entertainment Weekly

"Burke seems to get better and better with every book. During the last few years in particular, he has opened up a larger canvas to paint brilliant allegorical plots – involving good and evil, money and power, Christianity and morality – and in some ways he has lifted the work above the level of crime fiction in a way that is more obvious to readers. . . . [Wayfaring Stranger] is one of the most hopeful and ambitious books he's ever written, a sprawling historical epic full of courage and loyalty and optimism and good-heartedness that reads like an ode to the American Dream."
— Benjamin Percy

"[An] epic American saga . . . Burke, best known for his Dave Robicheaux series, writes with great assurance and wisdom."
— Publishers Weekly (starred review)

"The postwar setting allows Burke to dramatize the uncertain early days of big oil, but the characters, their volcanic conflicts and their implacable demons will be instantly recognizable to [his] many fans. Instead of focusing on the wages of long-ago sin, as he generally does, Burke shows the sins actually being committed over several fraught years in the nation's history. The result is a new spaciousness married to his fine-tuned sense of retribution."
— Kirkus Reviews

"An ambitious, deeply satisfying historical thriller. . . . The wartime scenes showcase Burke at his best—vivid, finely wrought, highly evocative writing . . . A wonderful slice of midcentury American life overlaid with the roiling drama of individual lives as only Burke can portray them."
— Booklist (starred review)

"Burke's fans will recognize his lyrical strengths regarding the themes of social justice and class struggle, violence set to a stunning backdrop of natural beauty and destruction, and a Gulf Coast region that includes historically accurate details to delight Texas and Louisiana natives. . . . Perhaps more than any of Burke's previous work, Wayfaring Stranger is a tender love story, proving yet again his versatility and skill in creating gorgeous, luscious, painful stories of the American experience. Beautifully composed and tragic, Wayfaring Stranger is a sweeping historical epic of war and the American dream."
— ShelfAwareness.com

"In the hands of Edgar Award-winning mystery writer Burke, the thriller promises to have the sinister edge missing from the similarly plotted 'Forrest Gump.'"
— The Washington Post

"In Wayfaring Stranger, Burke addresses many of the same themes he grapples with in his crime novels: power and corruption, integrity and depravity, America's indelible heritage of violence and oppression and the valor of those who have stood against it. In this novel, he gives those themes a sweep across several decades, wrapping them in his signature lushly electrifying descriptions and embodying them in intriguing characters in a tale that is a historical novel, a thriller, a romance and an irresistible read."
— Tampa Bay Tribune

"Unlike anything else he has written […] Wayfaring Stranger is the author's hymn to life and the light in us all."
— Austin American-Statesman

"But for all of the stories Burke's told in interviews or fit on the pages of his 36 published books, there's something different about his latest novel, Wayfaring Stranger. Burke, who lives outside of Missoula, acknowledges as much. Whenever the conversation shifts to the book, he sits forward, lowers his voice and sounds less like he's serving up a colorful story and more like he's making a confession."
— Missoula Independent

"The lyrical gravitas of Burke's prose underlines the moral stance of his hero, an absolutist as fixed toward right and wrong as a compass needling true north."
— Kirkus Reviews

"Burke's last three novels, Light of the World, Creole Belle and Feast Day of Fools, were arguably his best. Wayfaring Stranger joins them as one of his most powerful and ambitious novels to date."
— The Associated Press

"[Burke] has produced a magnificent and 'unput-downable' tome that encompasses the whole of his career as a great writer."
— Providence Journal

"My favorite fiction author."
— Bill O'Reilly

"Wayfaring Stranger is a celebration of goodness in the face of evil: a sprawling saga peopled with gangsters, Hollywood types, oil men, old Army buddies haunted by wartime decisions, corrupt lawmen, rigid bureaucrats […] But what elevates a ripping good story to literary achievement is Mr. Burke's lyrical prose. A reader always knows where he is in time and place in a James Lee Burke novel because these are elegantly conveyed in a completely non-fussy way."
— Pittsburgh Post-Gazette

"[M]y immediate reaction upon finishing James Lee Burke's latest book was that, in five decades or so, people will read it, speak of it, and study it in the same manner as they do The Great Gatsby."
— Book Reporter

"Like Babe Ruth, late in his career, pointing toward the center field bleachers at Wrigley Field before sending a ball soaring out of the stadium, James Lee Burke has managed, in one swift maneuver, to confirm and enhance his legacy. At the age of 77, the Edgar Award-winning crime novelist has written his best book."
— The Daily Beast
Simon & Schuster, 9781476710792, 448pp.
Publication Date: July 15, 2014
About the Author
James Lee Burke is a New York Times bestselling author, two-time winner of the Edgar Award, and the recipient of the Guggenheim Fellowship for Creative Arts in Fiction. He's authored thirty-seven novels and two short story collections. He lives in Missoula, Montana.
or
Not Currently Available for Direct Purchase