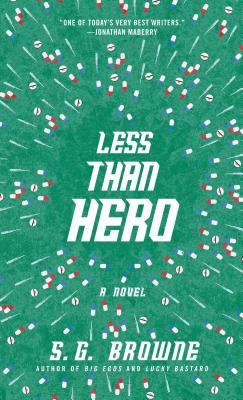 Less Than Hero
Paperback

* Individual store prices may vary.
Description
With the razor-sharp satire that earned him rave reviews for Big Egos and Lucky Bastard, among others, S.G. Browne delivers another irresistible read, about an unlikely band of heroes who use their medical complications to gain fame, confront villains, and bring their own unique brand of justice to New York City.

Faster than a spreading rash! More powerful than dry heaves! Able to put villains to sleep with a single yawn!

Convulsions. Nausea. Headaches. Sudden weight gain. For the pharmaceutical soldiers on the front lines of medical science—volunteers who test experimental drugs for cash—these common side effects are a small price to pay to defend your right to life, liberty, and the pursuit of antidepressants.

Lloyd Prescott, thirty-year-old professional guinea pig and victim of his own inertia, is the first to notice the bizarre, seemingly implausible consequences of years of testing not-quite-legal drugs: his lips go numb, he becomes overwhelmed with exhaustion, and instantly a stranger crumples into a slumbering heap before him. Under cover of night, Lloyd and his guinea pig friends band together to project their debilitating side effects onto petty criminals who prey upon the innocent. When a horrible menace with powers eerily similar to their own threatens the city, only one force can stop this evil: the handful of brave men who routinely undergo clinical trials.

"One of America's best satiric novelists" (Kirkus Reviews), S. G. Browne fills the prescription for a hilarious and biting commentary on our overmedicated society. Citizens, rest assured that tonight, no matter your ailment—anxiety, depression, super villains—there's a pill to save the day.
Praise For Less Than Hero…
"Wickedly sharp and wildly entertaining. S.G. Browne is one of today's very best writers."
— New York Times bestselling author Jonathan Maberry

Readers with a certain seasonal sensibility—one that renders zombies appropriate fare no matter the date on the calendar—will be shouting Ho! Ho! Ho!"
— USA Today

"If your idea of 'heart-warming' involves an organ roasting on a stick, I Saw Zombies Eating Santa Claus is the perfect holiday tale."
— WashingtonPost.com

"Hilarious, horrifying…a must for anyone who can't get enough of the undead."
— San Jose Mercury News

"An endearing storyline….Get out your wallet and secure I Saw Zombies Eating Santa Claus for your nearest and dearest zombie freaks."
— SF Weekly

"Dark, bizarre, very funny, and yes, with a bit of sentimentality thrown in, I Saw Zombies Eating Santa Claus is the perfect Christmas read for those who like VERY black comedy in their holiday reading."
— Feathered Quill

"Springboarding off a traditional noir framework, Browne delivers an insightful, intriguing tale....With twists aplenty, this fast-paced adventure succeeds as both a hard-boiled homage and a paranormal romp."
— Publishers Weekly (starred review & Pick of the Week)

"Browne hits the funny bone hard....Smartly constructed fiction...that sets it apart from the crowd."
— Kirkus Reviews (starred review)

"Full of witty writing and hilarious adventures...I laughed out loud many times. Read the book: it will be your good fortune."
— New York Times bestselling author Kevin J. Anderson

"Lucky Bastard is wonderful San Francisco noir, full of humor, irony, hot women, and cranial trauma. What more could you ask for in a book? The titular bastard may be in for a very bad day, but Browne's readers are the lucky ones."
— New York Times bestselling author Christopher Golden

"A very clever novel....Nick [Monday] is a likable narrator...and the story's lightly noirish feel gives the proceedings an evocatively gritty texture. This one will appeal equally to readers of mysteries and fantasies."
— Booklist

"[LESS THAN HERO] wittily and winningly mixes commentary on the state of the pharmaceutical industry (and American healthcare in general) with a tale of C-level superheroes…it works equally as a critique of a broken and corrupt pharmaceutical industry, one in which medicines often exacerbate the problems they're designed to cure while introducing new ones."
— Publishers Weekly

"[LESS THAN HERO] is a social-satire-meets-amateur-superhero saga that deftly skewers the money-grubbing slickness of the pharmaceutical industry—as well as American culture's propensity to pop a pill for absolutely anything that ails us, regardless of how outrageously unpredictable the side effects may be…This is a funny, inventive exploration of the dangers inherent in our overmedicated culture. Readers who enjoy a dash of sharp wit with their comic-book shenanigans should enjoy tagging along on Lloyd's everyday-superhero exploits."
— Kirkus Reviews

"Browne, the author of such satirical novels as the very clever Lucky Bastard(2012), tackles the superhero genre in this hugely entertaining story of a bunch of regular guys who find out they have rather bizarre powers. These guys probably wouldn't know each other at all if it weren't for their unusual way of earning money: doing drug trials for pharmaceutical companies. Over time, it seems that the side effects of the various drugs have mutated our heroes. Now one of them can make other people go into violent convulsions; another can make people throw up; another—the story's narrator, Lloyd Prescott—can make people fall asleep. But will these admittedly offbeat abilities be enough to stop the unknown villains who are robbing ordinary citizens of their memories and causing them to suffer hallucinations? Can Lloyd reveal his superpower to his girlfriend without causing her to dump him? Will Lloyd ever give up being a guinea pig? It's fair to say that you've never read a superhero story quite like this one; it's also fair to say that readers who enjoy good, weird fun will love [LESS THAN HERO]."
— Booklist
Gallery Books, 9781476711744, 368pp.
Publication Date: March 17, 2015
About the Author
S.G. Browne is the author of Big Egos, Lucky Bastard, Breathers, Fated, and the Breathers novella I Saw Zombies Eating Santa Claus, as well as the ebook collection Shooting Monkeys in a Barrel. He lives in San Francisco. Follow the author on Twitter and Facebook, or visit SGBrowne.com.
or
Not Currently Available for Direct Purchase