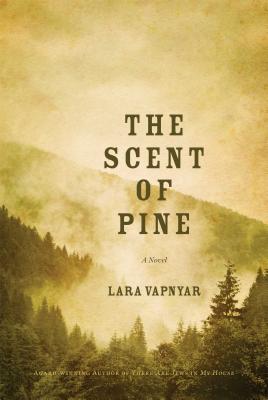 The Scent of Pine
A Novel
Hardcover

* Individual store prices may vary.
Other Editions of This Title:
Paperback (1/13/2015)
MP3 CD (6/7/2016)
Description
In her newest novel, award-winning author Lara Vapnyar—"a talented writer, possessed of an ample humor and insight and a humane sensibility" (The New York Times Book Review)—tells a provocative tale of sexual awakening, youthful romanticism, and the relentless search for love.

Throughout her acclaimed, award-winning career, novelist Lara Vapnyar has consistently impressed critics with her striking honesty, empathy, and humor—yet never before have Vapnyar's talents been as perfectly matched or shone as brightly as in her captivating latest novel, The Scent of Pine.

Though Lena is only thirty-eight, she finds herself in the grip of a midlife crisis. She feels out of place in her adoptive country, her career has stalled, and her marriage has tumbled into a spiral of apathy and distrust—it seems impossible she will ever find happiness again. But then she meets Ben, a failed artist turned reluctant academic, who is just as lost as she is. They strike up a precarious friendship and soon surprise themselves by embarking on an impulsive weekend adventure.

On the drive to Ben's remote cabin in Maine, Lena begins to open up, for the first time in her life, about the tumultuous summer she spent as a counselor in a Soviet children's camp twenty years earlier, when she was just discovering romance and her own sexuality. At a time when Russia itself was in turmoil, the once-placid world of the camp was growing equally unsettled, with unexplained disappearances and mysterious goings-on among the staff; Lena and her best friend are haunted by what they witnessed, or failed to witness, and by the fallout from those youthful relationships. It was a time of intense emotions, confusion, and passions, and ultimately very little turned out to be exactly as it seemed.

As Lena reveals to Ben secrets she has long kept hidden, the lovers begin to discover together not only the striking truths buried in her past, but also more immediate lessons about the urgency of this short, stolen time they have together.

A stirring, sexy, and breathtaking novel with an unforgettable twist, The Scent of Pine is both a poignant love story and a provocative tale of loneliness, longing, youthful romanticism, and the fickle nature of desire.
Praise For The Scent of Pine: A Novel…
"Sly and seductive...A buoyant wit, a sharp-edged Russian melancholy, a fascination with outsiders who long to be insiders...This [is a] slender but provocative novel."

Vapnyar unspools a provocative thread of suspense while charting a compelling tale of cultural displacement and yearning....she writes with searing directness and immediacy, yet she seeds her prose with humor and vivid details...The Scent of Pine shows an impressive gift, not just of language, but of insight into the human condition.

"Enchanting…vivid and rich….Ms. Vapnyar has shown herself to be exquisitely sensitive to the shifting vagaries of emotion, particularly happiness…Each of [her character's experiences] shimmers with possibility but also carries a creeping sense of dread, sort of like adolescent sexuality itself."

Vapnyar can, with a few descriptive strokes, summon images readers will feel keenly....[A] book of elegant writing and propulsive storytelling.

[A] well thought out, deeply realistic book...Vapnyar has created characters that readers will feel for and a story that will keep them guessing, but has done so with a sustained sense of realism that few novels ever achieve.

"Vapnyar gives us a modern Scheherazade, weaving literary allusions, sexual repression and awakening. . . into a darkly funny, lonely love story evoked by the landscapes of Russia and Maine. . . Readers of literary fiction will want to try this surprisingly quick read."

Vapnyar's writing style feels like Lena's camp—everything seems to be in plain sight, but one can sense deeper truths hiding below the surface.

Like the title, promising beautiful sensations, the novel delivers a moody symphony. The characters' experience echoes Chekhov's Lady with a Lapdog, and like Chekhov, Lara Vapnyar is an astute and loving psychologist, creating a wonderful soul-searching and sensual novel.
— Josip Novakovich

"Sharply observed, darkly humorous, and sexy, Vapnyar weaves her tale of mid-life crisis and coming-of-age like a modern-day, Russian Scheherazade."
— Tatjana Soli

"Lara Vapnyar has always written vividly and with a droll sense of humor about personal liberty. In The Scent of Pine Vapnyar takes that singular voice to a new level as she examines a singular character's release from her past and her consequential sexual liberation. The Scent of Pine is an important novel that questions-and miraculously answers--what it really means to be free."
— Jennifer Gilmore
Simon & Schuster, 9781476712628, 192pp.
Publication Date: January 7, 2014
About the Author
Lara Vapnyar moved from Moscow to Brooklyn in 1994. Knowing very little English, she quickly picked up the language and soon began writing in it. She is the author of two story collections, There are Jews in My House and Broccoli and Other Tales of Food and Love, and a novel, Memoirs of a Muse. She lives in New York City with her family.
or
Not Currently Available for Direct Purchase