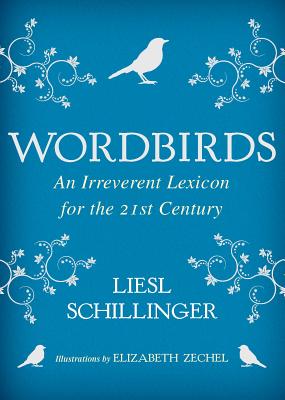 Wordbirds
An Irreverent Lexicon for the 21st Century
Hardcover

* Individual store prices may vary.
Other Editions of This Title:
Paperback (5/22/2018)
Description
This charming and whimsically illustrated book of newly minted words—on politics and the media, love and friendship, work, play, family, fashion, and city life—presents a necessary vocabulary for the ever-changing customs of the young millennium.

If you've escaped binary confinement and find yourself rushing cell-mell to a clusterfete— slurpwalking as you commutikaze—then who are you?

You are a typical citizen of the young millennium, caught up in the fast-paced megatasking socio-professional whirl of our ever-evolving digitally-enhanced lives.

If you've ever wondered what to call it when you answer the TV remote instead of the phone, or wished you had a phrase to capture your supervisor's stealth campaign to stall your career, here is your guide. Now you can say "Oops, droidian slip!" with ease, and call out your boss for the impedimentor that he is. Armed with Wordbirds, you will be able to skillfully talk your way into, or out of, any situation the twenty-first century throws at you.

With 150 gorgeous, Audubony, highly expressive bird illustrations, these neologisms will have you crowing with delight, and show you that fine feathers make fine words. Why birds, you may ask? Hadn't you heard? The bird is the word.

Now stop deliberotting and open this book!
Praise For Wordbirds: An Irreverent Lexicon for the 21st Century…
Literary catnip for bird lovers who also find themselves fascinated – or annoyed – by the quirks of modern life.

Schillinger demonstrates a keen talent for zooming in on expressions missing from our vocabulary....[she has] streamlined our language, fast-tracked awkward situations, and refined the humor of word play....You will want to share these clever coinages with your friends, and many of these words may even make it into our expanding collective lexicon.

Wordbirds is a rare thing: A gift book that's fun, nicely packaged and truly worth reading.

"I am so into "Wordbirds", that from now on, I am going to use these words when playing Scrabble. If anyone challenges me, I will immediately throw the entire board game in the air. And I will say: 'that's for Liesl Schillinger.'"
— Fred Armisen

"A lexicon of witty neologisms for the modern age."

"The Oxford English Dictionary adds a short list of new words once a year ("squee" and "selfie" recently made the cut). Writer Liesl Schillinger finds such a change of pace "glacial," and has written an entire delightful book packed with fresh additions to our language. . . . The result is a collection of neologisms that resonates. Why? Underneath Schillinger's wit lies a more pointed commentary on how rapidly our society is changing, so much so that not even language has time to catch up.Anyone whose gotten "parking spaced"—also known as losing you car in a sprawling multitiered lot after a long, brain-numbing day of shopping at a mall—can relate."

A great gift for pun lovers and playful linguists.

If your friend complains when you blunderschedule, try not to apologibe in response. Liesl Schillinger's witty collection of necessary new words -- with charming avian illustrations from Elizabeth Zechel --will have you on a jollyroll.

"[Schillinger's] lexicon cleverly captures the new normal of the twenty-first century. Some of her neologisms, in fact, may well stand the test of time."
— Glenn C. Altschuler

"Schillinger, an esteemed cultural critic, with illustrator Elizabeth Zechel, has crafted a beautiful book that offers 200 witty, newly claimed words that can help us make our way through the ever-evolving cultural language of the new millennium. . . . The words in Wordbirds are amusing and clever tools that resonate because they are at once original and familiar. Accompanying the words -- all of which are defined and used in a sentence -- are Zechel's stunning illustrations."

"[Schillinger] provides . . . wonderful new words. You'll find yourself plugging them right in to your conversations . . . . [Wordbirds] is great fun."
Simon & Schuster, 9781476713489, 224pp.
Publication Date: October 15, 2013
About the Author
Liesl Schillinger has written for many publications, including The New York Times, The New Yorker, The Washington Post, and The New Republic. She is a regular contributor to The New York Times Book Review and translates fiction from French and German.

Elizabeth Zechel is the illustrator and author of the children's book Is There a Mouse in the Baby's Room? She has created illustrations for children's books and cookbooks, as well as for a variety of magazine and literary journals. She lives in Brooklyn.
or
Not Currently Available for Direct Purchase