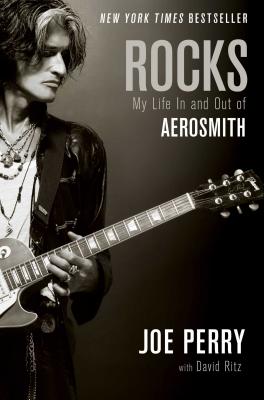 Rocks
My Life in and out of Aerosmith
Hardcover

* Individual store prices may vary.
Other Editions of This Title:
Digital Audiobook (10/6/2014)
Paperback (10/20/2015)
Paperback (10/8/2015)
Hardcover (10/23/2014)
CD-Audio (10/7/2014)
Description
"An insightful and harrowing roller coaster ride through the career of one of rock and roll's greatest guitarists. Strap yourself in." —Slash

"Rocking Joe Perry 'rocks' again!" —Jimmy Page

Before the platinum records or the Super Bowl half-time show or the Rock and Roll Hall of Fame, Joe Perry was a boy growing up in small-town Massachusetts. He idolized Jacques Cousteau and built his own diving rig that he used to explore a local lake. He dreamed of becoming a marine biologist. But Perry's neighbors had teenage sons, and those sons had electric guitars, and the noise he heard when they started playing would change his life.

The guitar became his passion, an object of lust, an outlet for his restlessness and his rebellious soul. That passion quickly blossomed into an obsession, and he got a band together. One night after a performance he met a brash young musician named Steven Tyler; before long, Aerosmith was born. What happened over the next forty-five years has become the stuff of legend: the knockdown, drag-out, band-splintering fights; the drugs, the booze, the rehab; the packed arenas and timeless hits; the reconciliations and the comebacks.

Rocks is an unusually searching memoir of a life that spans from the top of the world to the bottom of the barrel—several times. It is a study of endurance and brotherhood, with Perry providing remarkable candor about Tyler, as well as new insights into their powerful but troubled relationship. It is an insider's portrait of the rock and roll family, featuring everyone from Jimmy Page to Alice Cooper, Bette Midler to Chuck Berry, John Belushi to Al Hirschfeld. It takes us behind the scenes at unbelievable moments such as Joe and Steven's appearance in the movie of Sgt. Pepper's Lonely Hearts Club Band (they act out the murders of Peter Frampton and the Bee Gees).

Full of humor, insight, and brutal honesty about life in and out of one of the biggest bands in the world, Rocks is the ultimate rock-and-roll epic. In Perry's own words, it tells the whole story: "the loner's story, the band's story, the recovery story, the cult story, the love story, the success story, the failure story, the rebirth story, the re-destruction story, and the post-destructive rebirth story."
Praise For Rocks: My Life in and out of Aerosmith…
"An insightful and harrowing roller coaster ride through the career of one of rock and roll's greatest guitarists. Strap yourself in."
— Slash

"Rocking Joe Perry 'rocks' again!"
— Jimmy Page

"Joe Perry has been the AxeMeister longer than some of you have been alive. He's been there, and done that. He has been the consummate six-string gunslinger for a band that has always done things their own way. Joe never went Hollywood. Joe never looked over his shoulder to see who was running behind him. Ever the gentleman rocker, Joe sits high atop of rock royalty. Admit it. You're jealous. When I grow up, I want to be Joe Perry."

— Gene Simmons

"Joe Perry describes with amazing detail and passion the virtual odyssey of his life as the quintessential rock star in America's most famous rock band of all time. Like his riffs, his story is inspired, crisp, and packs a punch. Joe Perry has done for rock and roll what the human genome project and stem cell technology have done for medicine—broken it wide open to inspire and shape our music for many decades to come. I could not stop reading this book!"
— Rudolph Tanzi, professor of neurology at Harvard Medical School and New York Times bestselling coauthor (with Deepak Chopra) of Super Brain

"One might guess that I, Perry Farrell, would admire Joe Perry because he is a legendary guitar ripper, and you'd easily be right on the button—however, what you wouldn't have guessed is that I admire, respect, and have looked up to Joe Perry for years because he is a mad passionate, devoted husband and loving daddy who rocks. Viva familia Joe!"
— Perry Farrell
Simon & Schuster, 9781476714547, 432pp.
Publication Date: October 7, 2014
About the Author
Lead guitarist Joe Perry and singer Steven Tyler wrote the majority of the songs that form the backbone of Aerosmith's catalogue. In 2013, they were inducted into the Songwriters Hall of Fame.

David Ritz is a songwriter who has collaborated with stars like Janet Jackson and Marvin Gaye, as well as a renowned ghostwriter who has authored more than fifty books for some of the biggest stars in music: Aretha Franklin, Marvin Gaye, Ray Charles, Lenny Kravitz, Joe Perry, Smokey Robinson, Don Rickles, and Willie Nelson, to name a few. His articles have appeared in The New York Times, Rolling Stone, Essence, People, Art Connoisseur, and elsewhere. He lives in Los Angeles with Roberta, his wife of nearly fifty years.
or
Not Currently Available for Direct Purchase