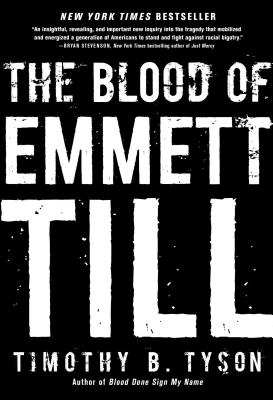 The Blood of Emmett Till
Hardcover

* Individual store prices may vary.
Other Editions of This Title:
Paperback (12/5/2017)
MP3 CD (2/7/2017)
Hardcover, Large Print (3/22/2017)
Description
* Longlisted for the National Book Award * A New York Times Notable Book * A Washington Post Notable Book * An NPR Best Book of 2017 * A Los Angeles Times Best Book of 2017 * An Atlanta Journal-Constitution Best Southern Book of 2017 *

This extraordinary New York Times bestseller reexamines a pivotal event of the civil rights movement—the 1955 lynching of Emmett Till—"and demands that we do the one vital thing we aren't often enough asked to do with history: learn from it" (The Atlantic).

In 1955, white men in the Mississippi Delta lynched a fourteen-year-old from Chicago named Emmett Till. His murder was part of a wave of white terrorism in the wake of the 1954 Supreme Court decision that declared public school segregation unconstitutional. Only weeks later, Rosa Parks thought about young Emmett as she refused to move to the back of a city bus in Montgomery, Alabama. Five years later, Black students who called themselves "the Emmett Till generation" launched sit-in campaigns that turned the struggle for civil rights into a mass movement. Till's lynching became the most notorious hate crime in American history.

But what actually happened to Emmett Till—not the icon of injustice, but the flesh-and-blood boy? Part detective story, part political history, The Blood of Emmett Till "unfolds like a movie" (The Atlanta Journal-Constitution), drawing on a wealth of new evidence, including a shocking admission of Till's innocence from the woman in whose name he was killed. "Jolting and powerful" (The Washington Post), the book "provides fresh insight into the way race has informed and deformed our democratic institutions" (Diane McWhorter, Pulitzer Prize–winning author of Carry Me Home) and "calls us to the cause of justice today" (Rev. Dr. William J. Barber, II, president of the North Carolina NAACP).
Praise For The Blood of Emmett Till…
"The Blood of Emmett Till is a work critical not just to our understanding of something that happened in America in 1955 but of what happens in America here and now. It is a jolting and powerful book... swift-flying and meticulously researched."
— Leonard Pitts

"An insightful, revealing and important new inquiry into the tragedy that mobilized and energized a generation of Americans to stand and fight against racial bigotry."

— Bryan Stevenson, New York Times bestselling author of Just Mercy

"Tim Tyson's genius as a historian, author, and social visionary informs his unique commitment to write truth to power authentically and fearlessly."

— Dr. Benjamin Chavis, former executive director of the NAACP

"What sets Tyson's book apart is the wide-angle lens he uses to examine the lynching, and the ugly parallels between past and present… A terrific writer and storyteller, Tyson compels a closer look at a heinous crime and the consequential decisions, large and small, that made it a national issue."

"A critical book... [that] manages to turn the past into prophecy and demands that we do the one vital thing we aren't often enough asked to do with history: learn from it."
— Vann R. Newkirk II

"The Blood of Emmett Till unfolds like a movie, moving from scene to reconstructed scene, panning out to help the reader understand the racism and bigotry that crafted the citadel of white supremacy and focusing in on intimate exchanges imbued with meaning...."
— Lawrence Jackson

"No American historian working today captures the nuances of white supremacy and the ways in which it engulfs us all more convincingly than Tyson."
— Steve Nathans-Kelly

"Astonishingly relevant.... At once thrilling and agonizing."

"I couldn't stop reading Timothy Tyson's The Blood of Emmett Till. It is civil rights history that captivates the reader like a mystery novel...."
— Patricia Bell-Scott, author of The Firebrand and the First Lady

"Eloquent and outraged.... A stunning success essential for our times."

— Nell Irvin Painter, author of The History of White People

"Tyson's meticulous and absorbing retelling of the events leading up to the horrific lynching in 1955 includes an admission from Till's accuser that some of her testimony was false."

"Tim Tyson has universalized the Emmett Till story to make it an American tragedy. His bracing, granular narrative provides fresh insight into the way race has informed and deformed our democratic institutions."
— Diane McWhorter, Pulitzer Prize-winning author of Carry Me Home

"When good and evil are evident, moral indignation comes easily, and readers might feel self-congratulatory, relieved that we are nothing like that anymore. We need historians like Timothy Tyson to break that spell for us."

"From one of our finest civil rights historians comes this harrowing, brilliant, and crucial book. The full story of Emmett Till has never before been told. It will terrify you; it should. It will inspire you; it must."

— Jeff Sharlet, New York Times bestselling author of The Family

"An account of absorbing and sometimes horrific detail. Comprehensive in scope...."

"Emotional and electric."

"Tyson's powerful narrative sheds new light on the circumstances that led to the murder, makes the case that its influence stretches from the Montgomery bus boycott to the angry protests in Ferguson, Missouri – and argues that the country hasn't yet come to grips with the roots of any of the above."

"Tyson's remarkable achievement is that each thread is explored in detail, backstories as well as main events, while he maintains a page-turning readability for what might seem a familiar tale. Cinematically engaging, harrowing, and poignant, Tyson's monumental work illuminates Emmett Till's murder and serves as a powerful reminder that certain stories in history merit frequent retelling."

"The Blood of Emmett Till is less concerned with the historical cowardice of Bryant and the white men who effectively lynched Till, and much more invested in the bravery of Emmett Till's mother, Mamie, and of the courage of the black activists who worked for voting rights and justice amidst the violent horror of life in Mississippi...."

"Neither lurid tale nor political iconography.... Tyson is best with intimacies, when he writes about local people and their relationship to one another and to place. He takes special care with mise en scene, providing a rich portrait of the world of Emmett Till."

"In many ways, Timothy Tyson is the ideal author to explore new details surrounding the lynching death of Emmett Till...."

"Tim Tyson's profound eloquence and groundbreaking evidence capture the cries of Emmett Till and the rise of a movement, and will call us to the cause of justice today."
— Rev. Dr. William J. Barber, II, president of the North Carolina NAACP and author of The Third Reconstruction: Moral Mondays, Fusion Politics, and the Rise of a New Social Justice Movement

"A scathing re-examination.... [Tyson] makes it all new and relevant."

"Groundbreaking new evidence and Tyson's masterful prose make The Blood of Emmett Till a devastating indictment of America, both past and present."

— Danielle McGuire, author of At the Dark End of the Street

"Tyson gives us a history that challenges everything we thought we knew about Emmett Till."

— Crystal Feimster, author of Southern Horrors

"More than simply a retelling of the story of Till's death and the subsequent trial, the book incorporates new sources into the narrative… In the course of telling this story, Tyson explores larger, more important lessons about America's long, bitter struggle with race."

"Rip-roaring.... Tyson has produced a brief, sharp re-evaluation of the case, reminding us that a murder 61 years ago still has resonance."

"This highly readable book is likely to remain the final account of the Till murder and trial and its impact in the United States and abroad. It will appeal to anyone interested in African American history and the judicial process."

"Ripe for optioning."

"Bolstered by prodigious research... the well-presented details... add atmosphere. In addition, Tyson is masterful at explaining how the Till murder became a major cause of the civil rights movement. Especially resonant today is the author's focus on obtaining voting rights for blacks in Southern states that denied those rights before the Till murder.... Tyson skillfully demonstrates how, in our allegedly post-racial country, a "national racial caste system" remains in place."

"Till's memory burns brighter with each passing year and remains a touchstone for understanding white violence against black men today."
— William Ferris, co-editor of The Encyclopedia of Southern Culture

"Compelling.... With Tyson's new book, and Carolyn Bryant Donham's remarks, we have reason to revisit a period in our history when bigotry, blood, and sacrifice became a call to action. "

"A riveting, richly detailed account of the crime that ignited the civil rights movement."

"Clear, concise and well-documented."

"Apply[s] diligent research, scrupulous perspective and a vigorous aptitude for weaving pertinent public and intimate details."

"Skillfully tells the story of the gruesome murder and its still-resonant aftermath."

"Drawing on Bryant's only interview, Tyson reexamines the crime that launched the civil rights movement."

"Tyson does an admirable job of condensing and updating information about the case, using a 2006 FBI report on Till's murder to weave together a historical tapestry."

"Tyson's profound conclusion moves the Emmett Till tragedy into the present time."


Simon & Schuster, 9781476714844, 304pp.
Publication Date: January 31, 2017
About the Author
Timothy B. Tyson is Senior Research Scholar at the Center for Documentary Studies at Duke University, Visiting Professor of American Christianity and Southern Culture at Duke Divinity School, and adjunct professor of American Studies at the University of North Carolina. He is the author of The Blood of Emmett Till, a New York Times bestseller; Blood Done Sign My Name, a finalist for the National Book Critics Circle Award and winner of the Southern Book Award for Nonfiction and the Grawemeyer Award in Religion, as well as the basis for a feature film; and Radio Free Dixie: Robert F. Williams and the Roots of Black Power, winner of the James Rawley Prize for best book on race and the Frederick Jackson Turner Prize for best first book in US History from the Organization of American Historians, and the basis for the prize-winning documentary Negroes with Guns: Rob Williams and Black Power. He serves on the executive board of the North Carolina NAACP and the UNC Center for Civil Rights.
or
Not Currently Available for Direct Purchase