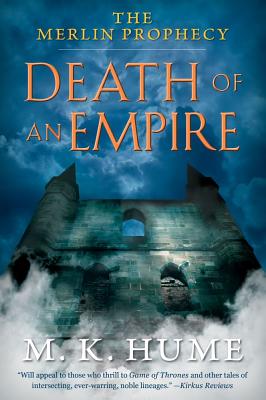 The Merlin Prophecy Book Two (Paperback)
Death of an Empire
Atria Books, 9781476715148, 512pp.
Publication Date: May 21, 2013
* Individual store prices may vary.
Description
"Exciting, violent, and bloody and full of historical facts" (LoveReading.co.uk review)--the historical series for fans of Diana Gabaldon and Bernard Cornwell continues with the legend of Merlin as the gifted healer progresses into a man of great renown. DEATH OF AN EMPIRE-- THE LEGEND OF MERLIN CONTINUES Merlin is the product of a brutal rape. Determined to uncover his father's identity, he sets sail from Celtic Britain with his band of loyal companions. Their journey through war-ravaged France, Rome, and Ravenna to Constantinople will push their strength to the limit and shape Merlin's reputation as a great healer. The Roman Empire is under attack. Bound by an oath to relieve suffering the talented apothecary saves thousands of warriors from total destruction. A bloodier conflict between opposing powers arises, and Merlin must use all his resolve if he wishes to survive the death of an empire. M. K. Hume has won the praise of readers and critics alike with her original take on the beloved and enduring Merlin legend. Her background in Arthurian literature lends historical accuracy to a trilogy wrought with passion, heart, and adventure.
Praise For The Merlin Prophecy Book Two: Death of an Empire…
"Merlin's story, will appeal to those who thrill to Game of Thrones and other tales of intersecting, ever-warring, noble lineages."
or
Not Currently Available for Direct Purchase