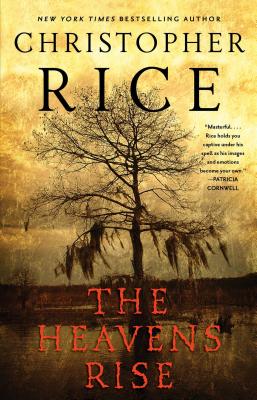 The Heavens Rise
Paperback

* Individual store prices may vary.
Other Editions of This Title:
Hardcover (10/15/2013)
Description
From New York Times bestselling author Christopher Rice: Three friends confront a deadly, ancient evil rising to the surface in a "masterful coming-of-age novel" (Publishers Weekly, starred review).

It's been a decade since the Delongpre family vanished, and still no one can explain the events of that dark and sweltering night. No one except Niquette Delongpre, who left behind her best friends, Ben and Anthem, to save them from her newfound capacity for destruction… She alone knows the source of her very bizarre—and very deadly—abilities: an isolated strip of swampland called Elysium.

Niquette's father dreamed of transforming the dense acreage surrounded by murky waters into a palatial compound befitting the name his beloved wife gave to it, Elysium: "the final resting place for the heroic and virtuous." Then, construction workers dug into a long-hidden well, one that snaked down into the deep, black waters of the Louisiana swamp and stirred something that had been there for centuries—a microscopic parasite that perverts the mind and corrupts the body.

Niquette is living proof that things done can't be undone. Nothing will put her family back together again. But as Niquette, Ben, and Anthem uncover the truth of a devastating parasite that has the potential to alter the future of humankind, Niquette grasps the most chilling truths of all: someone else has been infected too. And unlike her, this man is not content to live in the shadows. He is intent to use his newfound powers for one reason only: revenge.

"Creepy, chilling, and almost impossible to put down" (Booklist), The Heavens Rise is an intense and atmospheric supernatural thriller about the shadowed terrors of the Louisiana bayou.
Praise For The Heavens Rise…
"A masterful coming-of-age novel...Rice's characters are complex and real, his dialogue pitch-perfect, and his writing intelligent and strong. He builds suspense beautifully...amid enduring philosophical questions about what it means to be human."
— Publishers Weekly (starred review)

"Christopher Rice never disappoints with his vivid people and places and masterful prose. He will hold you captive under his spell as his images and emotions become your own."
— Patricia Cornwell, #1 New York Times bestselling author of The Bone Bed

"Christopher Rice is a magician. This brilliant, subtly destabilizing novel inhales wickedness and corruption and exhales delight and enchantment. Rice executes his turns, reversals, and surprises with the pace and timing of a master. The Heavens Rise would not let me stop reading it--that's how compelling it is."



— Peter Straub, #1 New York Times bestselling author of Mrs. God

"Christopher Rice has written an amazing horror novel with more twists and turns than a mountain road. You'll think you know your destination . . . but you'll be wrong."



— Charlaine Harris, #1 New York Times bestselling author of Dead Ever After

"Christopher Rice has crafted a rich and haunting world in The Heavens Rise. This story of a tormented family and the events that have led to their destruction and onward into the future is tense, tight, disturbing and made very real by a very talented author who obviously knows his way around the Big Easy. An excellent read!"



— Robert McCammon, #1 New York Times bestselling author of I Travel By Night

"Creepy, chilling, and almost impossible to put down...a page-turner."
— Booklist

"With rich, multi-layered characters merging into the lush backdrop of pre- and post-Katrina, south Louisiana, Rice had my attention from the start...every twist and unexpected revelation fell into place smoothly and kept me engaged...looking forward to the next amazing story."
— Suspense Magazine

"Deep within the swamps outside New Orleans, Niquette Delongpre and her family unearth a well that brings secrets to the surface – secrets that should have stayed buried in the soils of the Mississippi river. The author – son of Anne Rice – has written a creepy, intriguing and dangerously addictive supernatural novel."
— The Sun

"The Heavens Rise is an entertaining and chilling story published just in time for Halloween."
— BookReporter

"This is Rice's best book to date, with evocative language, recurring themes and rich storytelling that will raise the hairs on the back of the neck. It rivals the best of Stephen King at times and sets a standard for psychological horror."
— Louisville Courier-Journal

"THE HEAVENS RISE is an eerie tale of the supernatural set against the backdrop of the swamps of New Orleans. Christopher Rice does a marvelous job at incorporating the imagery of New Orleans into the tale... [He] expertly weaves together the past and the present as the tale alternates back and forth between the timeframes, giving us the full history of the four main characters and how they ended up as they are today… it is the strength of the character building and the richness of the imagery that makes THE HEAVENS RISE so chilling...I can't recommend THE HEAVENS RISE enough!"
— Fresh Fiction

Rice draws upon his New Orleans roots to create at Louisiana that may seem familiar but is a bit more terrifying, bringing about a perfect blend of spooky and memorable...the depth of character, chilling atmosphere and moral dilemma are all marks of a superb story."
— Shelf Awareness

"Tense, gripping, gory at times, "The Heavens Rise" is every bit the novel one would expect from, well, someone like his mom."
— Huffington Post Books
Gallery Books, 9781476716091, 336pp.
Publication Date: July 15, 2014
About the Author
New York Times bestselling author Christopher Rice is the son of author Anne Rice and the late poet Stan Rice. He lives in Los Angeles.
or
Not Currently Available for Direct Purchase