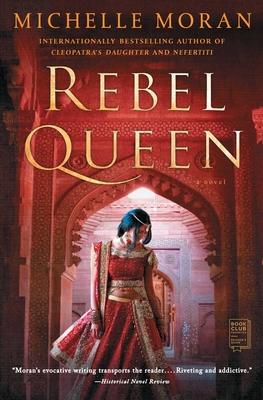 Rebel Queen
A Novel
Paperback

* Individual store prices may vary.
Other Editions of This Title:
Digital Audiobook (3/2/2015)
Hardcover (3/3/2015)
Description
From the internationally bestselling author of Nefertiti and Cleopatra's Daughter comes the breathtaking story of Queen Lakshmi—India's Joan of Arc—who against all odds defied the mighty British invasion to defend her beloved kingdom.

When the British Empire sets its sights on India in the mid-nineteenth century, it expects a quick and easy conquest. India is fractured and divided into kingdoms, each independent and wary of one another, seemingly no match for the might of the English. But when they arrive in the Kingdom of Jhansi, the British army is met with a surprising challenge.

Instead of surrendering, Queen Lakshmi raises two armies—one male and one female—and rides into battle, determined to protect her country and her people. Although her soldiers may not appear at first to be formidable against superior British weaponry and training, Lakshmi refuses to back down from the empire determined to take away the land she loves.

Told from the unexpected perspective of Sita—Queen Lakshmi's most favored companion and most trusted soldier in the all-female army—Rebel Queen shines a light on a time and place rarely explored in historical fiction. In the tradition of her bestselling novel, Nefertiti, and through her strong, independent heroines fighting to make their way in a male dominated world, Michelle Moran brings nineteenth-century India to rich, vibrant life.
Praise For Rebel Queen: A Novel…
"I could not put this book down! Sita's voice as narrator is a strong one, and the time and characters fascinating. Moran's evocative writing transports the reader from small backcountry villages where women live out their lives in purdah to the exotic kingdom of Jhansi whose women freely walk the streets, and finally to the eye of the hurricane as British authority in Jhansi increases. . . . A riveting and addictive glimpse of that era."
— Historical Novel Review

"This often deeply moving novel focuses on its characters, allowing history to play out as a backdrop to the personal story of a young woman who would risk everything, including her own life, for her people."
— Booklist

"Filled with fascinating historical details about a subject that is not often portrayed, the novel looks at both the rights of women and the conflict between the British Empire and India in a fairly unbiased way....Readers who have enjoyed Moran's previous works will not want to miss this."
— Library Journal (starred review)

"Stunning in form, theme, and plot... Don't hesitate to purchase this beautifully written gem, which is certain to shoot to the top of the charts, if not start a craze for 'everything Moran.'"
— Library Journal, on The Second Empress

"Moran expertly balances fact and fiction . . . . Intimate and entertaining."
— Associated Press, on Madame Tussaud

"Certain to be a breakout book for Moran, this superbly written and plotted work is a welcome addition to historical fiction collections. The shocking actions and behavior required of Tussaud to survive the revolution make the novel a true page-turner and a perfect reading group choice."
— Library Journal (starred review), on Madame Tussaud

"Dramatic, engrossing, and beautifully written, this is essential reading, and Moran is definitely an author to watch."
— Library Journal (starred review), on Cleopatra's Daughter

"Moran skillfully weaves into her latest book plenty of political history and detail without ever weighing down the story, which is fast-paced, intriguing, and beautifully written....A subplot about a mysterious 'Red Eagle' who is trying to incite a slave rebellion is riveting....In Cleopatra's Daughter, she once again demonstrates her talent for taking long-forgotten historical figures and bringing them vividly to life."
— Boston Globe, on Cleopatra's Daughter

"Historical fiction enthusiasts will delight in this solid installment from a talented name in the genre."
— Publishers Weekly, on Cleopatra's Daughter

"A solidly researched history lesson ... The book is a satisfying blend of romance, intrigue and fascinating historical fact. Cleopatra's daughter may not share her mother's renown, but Selene's own life story is also worth surviving through the centuries."
— Chicago Sun-Times, on Cleopatra's Daughter

"The tale brims over with rich details of Roman life, historical personages and political turmoil. Add the coming-of-age aspect and you have a novel that will appeal to readers on many levels."
— Romantic Times Book Review, on Cleopatra's Daughter

"Moran's careful attention to detail and her artful storytelling skills bring these people – pharaohs, princesses, and queens; petitioners, servants, and soldiers – to vivid life, imbuing ancient history with suspense and urgency."
— Boston Globe, on The Heretic Queen

"Almost every character in the book is based on a historical figure, and Moran fleshes out their personalities beautifully, highlighting the teenage pharaoh's arrogance and paranoia, underscoring his queen's ambition and insecurity....Inspired by the distinctive bust of Nefertiti at the Altes Museum, in Berlin, Moran has created an engrossing tribute to one of the most powerful and alluring women in history."
— Boston Globe, on Nefertiti

"Mutnodjmet as narrator is a stroke of genius. . . . Beautifully written and completely engrossing, this first novel should enjoy wide readership."
— Library Journal (Editor's Pick of the Week), on Nefertiti

"Nefertiti is a fascinating window into the past, a heroic story with a very human heart. Compulsively readable!"
— Diana Gabaldon, on Nefertiti

"Another enjoyable historical from Moran."
— Publishers Weekly, on The Second Empress

"Michelle Moran has authentically evoked an era, infusing her narrative with passages of gripping and often horrifying drama, set in one of history's most brutal periods. The scope of the author's research is staggering, but you won't need to get to the notes at the end to realise that. As historical novels go, this is of the first rank--a page-turner that is both vividly and elegantly written. I feel privileged to be able to endorse it."
— Alison Weir, author of Innocent Traitor
Atria Books, 9781476716367, 400pp.
Publication Date: January 5, 2016
About the Author
Michelle Moran is the internationally bestselling author of seven historical novels, including Rebel Queen, which was inspired by her travels throughout India. Her books have have been translated into more than twenty languages. A frequent traveler, Michelle currently resides with her husband and two children in the US. Visit her online at MichelleMoran.com.