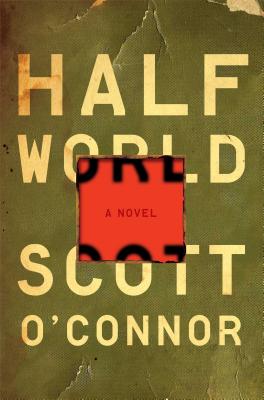 Half World (Hardcover)
A Novel
Simon & Schuster, 9781476716596, 432pp.
Publication Date: February 18, 2014
Other Editions of This Title:
Paperback (2/24/2015)
Compact Disc (2/18/2014)
Pre-Recorded Audio Player (2/18/2014)
Compact Disc (2/18/2014)
MP3 CD (2/18/2014)
* Individual store prices may vary.
Description
Inspired by real CIA operations, the riveting novel of a fraying CIA analyst who conducts secret mind-control experiments and the young agent who, years later, uncovers the appalling legacy of the program and the people destroyed by it.

In the 1950s, the CIA began a clandestine operation known as Project MKULTRA, in which unwitting American citizens were subjected to insidious drug and mind-control experiments. In the two decades the program ran, a nation's trust was betrayed and countless lives—and families—were destroyed.

Haunted and inspired by these real-life events, acclaimed novelist Scott O'Connor has crafted a riveting, tour de force literary thriller that vividly imagines the devastating emotional legacy of such a program through the eyes of one of its more unexpected victims. CIA analyst Henry March, an unassuming "company man" forced to spearhead MKULTRA's San Francisco branch, finds himself bridging an untenable divide between his devotion to his wife and children—his beloved Hannah and sweet autistic Thomas—and the brutality of his daily task. Torn between duty and conscience, Henry's own identity begins to fray, until he finally reaches the ultimate breaking point. Amid the wreckage, Henry March disappears without a trace, taking with him the evidence of his sins and becoming the deepest ULTRA mystery of all.

Twenty years later, as the country struggles under the weight of the Vietnam War, another troubled young agent will risk everything to find Henry, protect Hannah, and piece together the staggering aftermath of the crimes before it's too late.

Hailed as "one to watch" (Los Angeles Times), especially for his ability "to make something beautiful of unspeakable matters" (The New York Times), O'Connor has crafted a stunning, sensitive, and psychologically astute look at the depths to which a government will sink in service of its own power and the strength required of the human spirit to set itself free. Gorgeous and unflinching, Half World is both a page-turning drama and a transcendent celebration of our enduring capacity for hope.
Praise For Half World: A Novel…
"O'Connor writes with vivid descriptive detail and acute psychological insight, as well as flashes of searing, wry humor and occasional moments that simply break your heart."

"O'Connor writes with grace and force."

"Gripping...The perfect book for our present moment."

"O'Connor's spare prose amplifies the horror of his story. It also compels the reader to inhabit his characters' lives. Half World is a stunningly grim and emotionally harrowing read and an astute and evocative portrayal of government paranoia during the Cold War and Vietnam War eras."

"Fascinating…O'Connor is a gifted stylist, and he vividly captures the rabbit hole that swallows agents, their families, and their victims alike."

"An invigorating historical thriller... Intimately gripping... O'Connor writes with fire."

"O'Connor shows the beauty, the complex blend of dirty truth and high ideals that reveal the human in all of us with an intimacy, elegiac gravitas and deep respect. A strong voice."
— Chris Abani

"Half World is all in. A taut and suspenseful narrative. Well-wrought flawed characters. Prose that is pitch perfect. The truth is, Scott O'Connor is a beautiful, sage-like, and terrifying writer."
— Andrew Krivak

"Scott O'Connor's Half World is like being granted clearance to classified files about a bizarre and fascinating moment in our nation's history--this is literary suspense of the highest order, and with every page I was intrigued a bit more, horrified a bit more, until I felt I, too, had been brainwashed and found it impossible to stop reading this beautifully written and utterly compelling novel. Now I must read it again. Now I must..."
— Alan Heathcock

Praise for Untouchable:

"Scott O'Connor speaks softly and somehow manages to make something beautiful of unspeakable matters... a voice so insistently stirring, you want to lean in close to catch every word."

"O'Connor's prose is as beautifully terse as his plot... squeezing the reader's emotions so that when the myth of the "perfect" family begins to dissolve... it feels like the inevitable waking from a halcyon dream."

"Astonishing... Introducing an amazing new talent to the world of fiction."

"Tender, haunting, exquisitely profound… an eloquent celebration of familial love made all the more poignant by tragedy."

"Once in a very long time, a book comes along that resonates and sings with heart. It's characters so real you want to touch them, hug them. . . .And when it is over you wish you could read it all for the first time, again. That is how good this book is."

"Bring[s] the darkness in bold and daring ways…reminiscent of Nathanael West's Day of the Locust."
— Jim Ruland

"O'Connor maps the territory of dread and despair that makes the reader ache, that will not let the reader alone, even long after the last page of this beautifully written novel has been turned. With deft, precise, almost Hemingwayesque language, O'Connor has written a story that is deeply poignant."
— M.C. Wood

"The world of Scott O'Connor's debut novel is tough, worn, and thoroughly lived in, and is as vivid and painfully honest as anything I've read in a very long time. Do not sleep on Untouchable, this is the real thing."
— Nathan Singer

"One of those books you can hardly stand to stuff the bookmark in at the end of the night. Terrific."
— Scott Phillips

Praise for Among Wolves:

"O'Connor is one to watch."
or
Not Currently Available for Direct Purchase