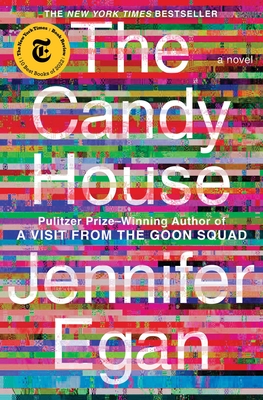 The Candy House
A Novel
Hardcover

* Individual store prices may vary.
Other Editions of This Title:
Digital Audiobook (4/4/2022)
CD-Audio (4/5/2022)
Library Binding, Large Print (4/27/2022)
Description
Named a Most Anticipated Book of the Year by Time, Entertainment Weekly, Vogue, Good Housekeeping, Oprah Daily, Glamour, USA Today, Parade, Bustle, San Francisco Chronicle, Seattle Times, The Boston Globe, Tampa Bay Times, BuzzFeed, Vulture and many more!

From one of the most celebrated writers of our time, a literary figure with cult status, a "sibling novel" to her Pulitzer Prize- and ​NBCC Award-winning A Visit from the Goon Squad—an electrifying, deeply moving novel about the quest for authenticity and meaning in a world where memories and identities are no longer private.

The Candy House opens with the staggeringly brilliant Bix Bouton, whose company, Mandala, is so successful that he is "one of those tech demi-gods with whom we're all on a first name basis." Bix is 40, with four kids, restless, desperate for a new idea, when he stumbles into a conversation group, mostly Columbia professors, one of whom is experimenting with downloading or "externalizing" memory. It's 2010. Within a decade, Bix's new technology, "Own Your Unconscious"—that allows you access to every memory you've ever had, and to share every memory in exchange for access to the memories of others—has seduced multitudes. But not everyone.

In spellbinding interlocking narratives, Egan spins out the consequences of Own Your Unconscious through the lives of multiple characters whose paths intersect over several decades. Intellectually dazzling, The Candy House is also extraordinarily moving, a testament to the tenacity and transcendence of human longing for real connection, love, family, privacy and redemption. In the world of Egan's spectacular imagination, there are "counters" who track and exploit desires and there are "eluders," those who understand the price of taking a bite of the Candy House. Egan introduces these characters in an astonishing array of narrative styles—from omniscient to first person plural to a duet of voices, an epistolary chapter and a chapter of tweets.

If Goon Squad was organized like a concept album, The Candy House incorporates Electronic Dance Music's more disjunctive approach. The parts are titled: Build, Break, Drop. With an emphasis on gaming, portals, and alternate worlds, its structure also suggests the experience of moving among dimensions in a role-playing game.

The Candy House is a bold, brilliant imagining of a world that is moments away. Egan takes to stunning new heights her "deeply intuitive forays into the darker aspects of our technology-driven, image-saturated culture" (Vogue). The Candy House delivers an absolutely extraordinary combination of fierce, exhilarating intelligence and heart.
Praise For The Candy House: A Novel…
Praise for The Candy House

Named a Most Anticipated Book of 2022 by Time, Entertainment Weekly, Vogue, Good Housekeeping, Oprah Daily, Glamour, USA Today, Parade, Bustle, San Francisco Chronicle, Seattle Times, The Boston Globe, Tampa Bay Times, Off the Shelf, Buzzfeed, and Vulture!

"I'm pretty sure there's nothing Jennifer Egan can't do, so a follow-up to her influential Pulitzer Prize–winning 2010 novel, A Visit From the Goon Squad? Hell, yes. Egan being Egan, this is not a traditional sequel, of course—she calls it a "sibling novel"—but it promises to revisit some peripheral characters from the earlier novel and expand upon their stories with a scope and emotional wallop equal to its predecessor."
—Tom Beer, Kirkus

"Described as a sibling novel to her Pulitzer Prize-winning A Visit From the Goon Squad, The Candy House begins with tech entrepreneur Bix Bouton and his venture called Own Your Unconscious, wherein people can download and view their own memories, and share and exchange the memories of others…Technology, intimacy, privacy—these are subjects Egan has tackled before, and with such brilliance and formal daring. I cannot wait!"
—The Millions

"[The Candy House] is a novel that resists form, incorporating tweets and emails from the future in a series of interconnected stories that show the promise of endless intersubjectivity and the perils of finding missed connections. As we continue to make sense of the fractured attachments that social media makes possible in our own world, Egan imagines a present and a future that push us to interrogate what such a collective mind-meld will mean."
—Vulture

"Using the inventiveness that made A Visit From the Goon Squad such a delight, Egan delivers another formally creative novel."
—Buzzfeed

"A complex, compelling read that showcases Egan's masterful storytelling."
—Time

"Another multi-narrator masterpiece about searching for meaning in a crazy world."
—Entertainment Weekly

"A dazzling feat of literary construction that belies the profound questions at its core: Does technology aid our sense of narrative or obscure it?"
—Vogue

"You don't have to read A Visit From the Goon Squad to love this sibling novel to Egan's stellar hit…complex and intimate."
—Good Housekeeping

"Inventive, effervescent… Egan plaits multiple narratives and techniques to underscore the manifold ways our own desires betray us in a brave new coded world."
—Oprah Daily

"Very funny, penetrating, and impactful."
—Glamour

"It's a concept so killer, it's hard to believe such technology doesn't already exist."
—USA Today

"Haunting and often hilarious, this is a wondrous, riotously inventive work of speculative fiction that celebrates the power of the imagination in the face of technology that threatens to do our thinking for us ... a top spring title with magnetic pull for Visit from the Goon Squad admirers and fans of smart, literary speculative fiction."
—Booklist, STARRED review

"An electrifying and shape-shifting story that one-ups its Pulitzer-winning predecessor… Egan cleverly echoes the ambitious, savvy marketing schemes of real-world tech barons with Own Your Unconscious… Twisting through myriad points of view, narrative styles, and divergent voices, Egan proves herself as perceptive an interpreter of the necessity of human connection as ever, and her vision is as irresistible as the tech she describes. This is Egan's best yet."
—Publishers Weekly, STARRED review

"Wonderfully kaleidoscopic…meticulously rendered… Most impressive, however, is the prescience—never resorting to cheap technophobia or didactic moralizing—with which Egan manages to ask: What does it cost us to taste the Candy House? ...A forceful, wonderfully fragmented novel of a terrifyingly possible future, as intellectually rigorous as it is formally impressive, and yet another monumental work from Egan."
—Library Journal, STARRED review

"Egan really dazzles when she turns her formidable gifts to examining the changes to society and individuals wrought by the internet and social media…A thrilling, endlessly stimulating work that demands to be read and reread."
—Kirkus Reviews, STARRED review

Praise for A Visit From the Goon Squad

"It's as if the author has taken an epic novel covering five decades and expertly filleted it, casting aside excess characters and years to come away with a narrative that is wide-ranging but remarkably focused."
—Time Magazine

"Egan introduces a dizzying array of characters…but it all makes brilliant sense in the end. A thought-provoking examination of how and why we change–and what change and constancy mean in a Facebook–era world where 'the days of losing touch are almost gone.'"
—People Magazine

"Whether this tough, uncategorizable work of fiction is a novel, a collection of carefully arranged interlocking stories or simply a display of Ms. Egan's extreme virtuosity, the same characters pop up in different parts of it."
—The New York Times

"A Visit from the Goon Squad flares into flamboyant life. It mulls the sort of big-picture ideas good novels ought to ponder."
—The Miami Herald

"Readers of her three previous novels and story collection have already discovered Egan's unique sensibility and style, which defy easy classification and which some newcomers may find disorienting. Others will come away exhilarated and pleasantly breathless from the unpredictable ride."
—The Boston Globe

"Egan takes a risk on an unusual structure and succeeds in moving the story forward while offering a welcome surprise."
—The Dallas Morning News

"Jennifer Egan is back with A Visit from the Goon Squad, a brilliant and brilliantly enjoyable novel that manages to use the tropes of experimental fiction in a manner that make the book grippingly intense, funny, and endlessly enjoyable to read."
—Bookotron

"If Jennifer Egan is our reward for living through the self-conscious gimmicks and ironic claptrap of postmodernism, then it was all worthwhile."
—Washington Post

"How the private lives of these two characters—and plenty of others—intertwine makes for good, compelling reading, in this un-put-down-able novel."
—The Observer's Very Short List

"Jennifer Egan's bold, thrilling new novel examines the sea change from an analog world to a digital universe as it plays out in the lives of vividly imagined, richly complicated individuals."
—New York Newsday

"It is a great work of fiction, a profound and glorious exploration of the fullness and complexity of the human condition."
—New York Press

"Told with both affection and intensity, Goon Squad stands as a brilliant, all-absorbing novel for the beach, the woods, the air-conditioned apartment or the city stoop while wearing your iPod. Stay with this one. It's quite an original work of fiction, one that never veers into opacity or disdain for the reader."
—Alan Cheuse, All Things Considered

"Egan's expert flaying of human foibles has the compulsive allure of poking at a sore tooth: excruciating but exhilarating, too."
—Entertainment Weekly

"A Visit From the Goon Squad in its way resembles the kind of social novel that Charles Dickens once cranked out regularly. It features more than a dozen disparate but vivid characters, from a powerful businessman to a Latin American dictator to a group of teenage punk rockers; and the action ranges over five decades and three continents."
—The Associated Press

"I expect this brilliant, inventive novel to become enshrined. Such rash speculation is foolish, I know — we live amid a plague of bloated praise. But A Visit From the Goon Squad is emboldening. It cracks the world open afresh."
—Cleveland Plain Dealer

"Her aim is not so much to explode traditional storytelling as to explore how it responds to the pressures and opportunities of the digital age."
—Newsweek

"Jennifer Egan's decision to render portions of her new novel, A Visit From the Goon Squad, as a PowerPoint presentation is: Clever. Edgy. Groundbreaking."
—Chicago Tribune

"Like a masterful album, this one demands a replay."
—San Francisco Chronicle

"It may be the smartest book you can get your hands on this summer."
—Los Angeles Times

"Fans riding high from Jennifer Egan's critically acclaimed The Keep have much to look forward to in her new novel, A Visit from the Goon Squad, which turns away from the neo-gothic and mind-bending while retaining the unexpected humor and postmodern breadth of her earlier work."
—A Dazzling Spin Through Time

"Jennifer Egan's slamming multi-generational San Francisco saga, A Visit From the Goon Squad, pogoes from the romantic, Mohawked youth of the 70s to the present-day hell of selling out."
—Vanity Fair

"[A]n exhilarating, big-hearted, three-headed beast of a story that explores the secret lives of some seriously screwed-up people, most of whom have been in love either with punk rock or with someone who sang it… We see ourselves in all of Egan's characters because their stories of heartbreak and redemption seem so real they could be our own, regardless of the soundtrack. Such is the stuff great novels are made of–even when the hearts in question belong to aging rock stars."
—Marie Claire

"A novel that's a globe-trotting, decade-leaping romp about music-industry people with fashionable foibles."
—Elle Magazine

"Readers will be pleased to discover that the star-crossed marriage of lucid prose and expertly deployed postmodern switcheroos that helped shoot Egan to the top of the genre-bending new school is alive and well in this graceful yet wild novel... this powerful novel chronicles how and why we change, even as the song stays the same."
—Publisher's Weekly

"Egan is a writer of cunning subtlety, embedding within the risky endeavors of seductively complicated characters a curious bending of time and escalation of technology's covert impact."
—Booklist (starred review)

"Time's a goon," as the action moves from the late 1970s to the early 2020s while the characters wonder what happened to their youthful selves and ideals. Egan (The Keep, 2006, etc.) takes the music business as a case in point for society's monumental shift from the analog to the digital age."
—Kirkus

Praise for Manhattan Beach

"A bounteous miracle that makes you feel that past time, and our time, differently; everything becomes freshly energized, infused with humanity, vital, sad, and full of importance. To see the world through Egan's eyes is to be moved, through language, to new adoration of the world. I don't know a better writer working today. There is a generosity in her prose that is vastly enlivening to its reader and brings about that beautiful effect fiction sometimes causes: more, and better-grounded, fondness for reality, just as it is."
—George Saunders

"Manhattan Beach is so rich in detail and atmosphere; such an exploration of underworlds of all kinds, filled with lessons on lifelines and buoyancy and how to bear life's weight by diving deep into it. Jennifer Egan has masterfully conjured an era we are on the cusp of losing. Her novel is an absorbing story, beautifully written. Its strands of subtle intrigue and quiet heroism make you reluctant to leave each page while eager to get to the next."
—M.L. Stedman

"A novel that deserves to join the canon of New York stories."
—Amor Towles, New York Times Book Review

"Manhattan Beach is ambitiously and deliciously plot-driven."
—NPR's Fresh Air

"…dares to satisfy us in a way that stories of an earlier age used to."
—Ron Charles, The Washington Post

"An unusually well written, well researched, emotionally satisfying page-turner . . . Manhattan Beach is the kind of book you can immerse yourself in happily."
—Heller McAlpin, San Francisco Chronicle

"Jennifer Egan . . . continues a string of wildly various and imaginative novels with Manhattan Beach… The thrill of her novels is in the dive to places unknown."
—Alexandra Wolfe, Wall Street Journal

"Rich, brilliant, capacious . . . Egan has every gift a writer can possess . . . . Moving, mournful, and often profound."
—USA Today

"Egan's most remarkable accomplishment yet. . . . At once a suspenseful novel of noir intrigue, a gorgeously wrought and richly allusive literary tapestry, and a transporting work of lyrical beauty and emotional heft, Manhattan Beach is a magnificent achievement."
—Priscilla Gilman, The Boston Globe

"[Egan has a] talent for dazzling, specific descriptions that animate each chapter, and dialogue that rings true to her memorable characters and their era."
—Eileen Weiner, Pittsburgh Post-Gazette

"What Jennifer Egan gives us in Manhattan Beach . . . is good, old-fashioned writing—or old-fashioned good writing, which is something else again."
—Ellen Akins, Minneapolis Star-Tribune

"A story of Dickensian ambition that benefits mightily from [Egan's] meticulous attention to detail and her rich, evocative language."
—St. Louis Post-Dispatch

"Manhattan Beach is… beautifully written throughout… But for an author who won literature's highest accolade for a book based on its uniqueness, it's perhaps even more impressive that she can also write a fantastic novel that is, at least on the surface, as classic as they come."
—GQ

"Pulitzer Prize winner Jennifer Egan makes her maiden deep dive into historical fiction with the vivid Manhattan Beach."
—Vanity Fair

"[Egan's] prose moves in a way that feels effortless, a sure sign that it's anything but. . . . It's the best sort of historical fiction, transporting the reader to another place without ever loosing bonds of the familiar. Egan's characters are vivid, their authenticity a kind of wonder, their losses and joys achingly true. . . . Egan sets the knot, and we are all in thrall."
—O, The Oprah Magazine

"Highly atmospheric... immediate... expertly written"
—Goop

"The novel's crooked politicians, organized-crime bosses, and shady cops make it read like a fast-paced, hard-boiled drama."
—Marie Claire

"Exquisitely wrought."
—Entertainment Weekly

"This truly fine novel, so rich in period and emotional atmosphere and so cunningly plotted, is a joy — one of the standouts of the year."
—Newsday

"A richly imagined portrait of a bygone era."
—Houston Chronicle

"Genuinely affecting and handsomely constructed. It moves for all the right reasons."
—The Independent UK

"A work of remarkable cinematic scope. . . . This is a novel that will pull you in and under and carry you away on its rip tides. . . . Its resonances continue to wash over the reader long after the novel ends."
—The Guardian UK

"Intricately patterned and visionary . . . .Manhattan Beach . . . plunges into the past to discover what lies beneath the surface of our own world."
—The Atlantic

"Reading Manhattan Beach feels restorative . . . deeply imagined . . . [and] very, very welcome."
—Slate

"Excellent . . . .Manhattan Beach is a fleet, sinuous epic, abounding with evocative details and felicitous metaphors . . . . [it] magnificently captures the country on the brink of triumph and triumphalism."
—Bookforum

"Ambitious, compassionate, engrossing."
—Francine Prose, The New York Review of Books

"Egan's first foray into historical fiction makes you forget you're reading historical fiction at all."
—Elle

"Egan's prose is transparent and elegant. . . .But the chief joy of reading Manhattan Beach lies in diving under the surface pleasures of the plot (which are plentiful — it's immersive and compelling), and sinking slowly to its dark and unknowable depths. There are deep truths there."
— Vox

"Manhattan Beach is an enthralling work of historical fiction that weaves together beautiful imagery, an immersive story, and compelling characters into a single story of family secrets and unconditional love."
—My San Antonio

"It's an astutely executed piece of historical literature that's also unafraid to indulge in the thrills of its rich plot."
—Minneapolis City Pages

"Jennifer Egan does everything right as a novelist, with vivid characters and surprising enough plot twists… but she pushes all her work some notches higher with her evocation of what it feels like to be the first woman to experience the previously forbidden world of undersea divers."
—Buffalo News

"Manhattan Beach" is an old-fashioned page-turner that more than delivers on the foreboding promise of its 'Treasure Island'-like opening set piece. The book is a Whitmanesque mosaic that truly does 'embrace multitudes.'"
—Brooklyn Daily Eagle

"Tremendously assured and rich, moving from depictions of violence and crime to deep tenderness. The book's emotional power once again demonstrates Egan's extraordinary gifts."
—Publishers Weekly (starred review)

"After stretching the boundaries of fiction in myriad ways...Egan does perhaps the only thing left that could surprise: she writes a thoroughly traditional novel. Realistically detailed, poetically charged, and utterly satisfying: apparently there's nothing Egan can't do."
—Kirkus (starred review)

"Egan's propulsive, surprising, ravishing, and revelatory saga, a covertly profound page-turner that will transport and transform every reader, casts us all as divers in the deep, searching for answers, hope, and ascension."
—Booklist (starred review)

"This large, ambitious novel shows Egan at the top of her game. Anna is a true feminist heroine, and her grit and tenacity will make readers root for her."
—Library Journal (starred review)
Scribner, 9781476716763, 352pp.
Publication Date: April 5, 2022
About the Author
Jennifer Egan is the author of six previous books of fiction: Manhattan Beach, winner of the Andrew Carnegie Medal for Excellence in Fiction; A Visit from the Goon Squad, which won the Pulitzer Prize and the National Book Critics Circle Award; The Keep; the story collection Emerald City; Look at Me, a National Book Award Finalist; and The Invisible Circus. Her work has appeared in The New Yorker, Harper's Magazine, Granta, McSweeney's, and The New York Times Magazine. Her website is JenniferEgan.com.