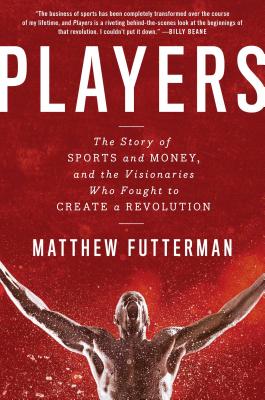 Players
The Story of Sports and Money, and the Visionaries Who Fought to Create a Revolution
Hardcover

* Individual store prices may vary.
Other Editions of This Title:
Digital Audiobook (4/25/2016)
Paperback (4/18/2017)
Description
NEW YORK TIMES BESTSELLER

"The business of sports has been completely transformed over the course of my lifetime, and Players is a riveting behind-the-scenes look at the beginnings of that revolution. I couldn't put it down." —Billy Beane

The astonishing untold story of the people who transformed sports, in the span of a single generation, from a job that required top athletes to work in the off-season to make ends meet into a massive global business.

In the cash-soaked world of contemporary sports, where every season brings news of higher salaries, endorsement deals, and television contracts, it is mind-boggling to remember that as recently as the 1970s elite athletes earned so little money that many were forced to work second jobs in the off-season. Roger Staubach, for example, made only $25,000 in his first season as the starting quarterback for the Dallas Cowboys and wound up selling commercial real estate during the summer. Today, when Fortune reports that every athlete on its Top 50 list makes more than twenty million dollar per year, it's clear that a complete reversal of power has occurred right before our eyes.

Players is the first book to tell the astonishing narrative behind the creation of the modern sports business—a true revolution that moved athletes from the bottom of the financial pyramid to the top. It started in 1960, when a young Cleveland lawyer named Mark McCormack convinced a young golfer named Arnold Palmer to sign with him. McCormack simply believed that the best athletes had more commercial value than they realized—and he was right. Before long, he raised Palmer's annual off-the-course income from $5,000 to $500,000 and forever changed the landscape of the sports world.

In Players, veteran Wall Street Journal sports reporter Matthew Futterman introduces a wide-ranging cast of characters to tell the story of the athletes, agents, TV executives, and league officials who together created the dominating and multifaceted sports industry we know today. Beginning with Palmer and McCormack's historic partnership, Players features details of the landmark moments of sports that have never been revealed before, including how legendary Wide World of Sports producer Roone Arledge realized that the way to win viewers was to blend sports and human drama; the 1973 Wimbledon boycott, when eighty-one of the top tennis players in the world protested the suspension of Nikola Pilic; and baseball pitcher Catfish Hunter's battle to become MLB's first free agent.

Players is a gripping, fly-on-the-wall account of the creation and rise of the modern sports world and the people who fought to make it happen. From the professionalization of the Olympics to the outsize influence of companies like IMG, Nike, and ESPN, this fascinating book details the wild evolution of sports into the extravaganza we experience today, and the inevitable trade-offs those changes have wrought.
Praise For Players: The Story of Sports and Money, and the Visionaries Who Fought to Create a Revolution…
"Masterful . . . A remarkable saga . . . Filled with insights not only into sports, but also into human nature . . . Downright thrilling."
—Dallas Morning News

"Provocative . . . There are also terrific stories."
—Louis Menand, The New Yorker

"Could not be more timely . . . No part of the media and entertainment industry has seen a more substantial economic transformation than sports. . . . Mr. Futterman, a sportswriter for The Wall Street Journal, takes us on a half-century tour spanning a variety of widely recognized and lesser-known sports figures and competitions that have played roles in the industry's development."
—New York Times

"A complex tale, compellingly told . . . Players might be the best book about the business of sports since Moneyball."
—Grace Lichtenstein, The Millions

"Players is an entertaining, illuminating read. . . . Futterman's investigative research reveals insights and insider perspectives that even those highly knowledgeable in the sports featured will find informative, even intriguing."
—New York Journal of Books

"The business of sports has been completely transformed over the course of my lifetime, and Players is a riveting behind-the-scenes look at the beginnings of that revolution. I couldn't put it down."
—Billy Beane

"Finally we have the full story of business and sports, told with a mastery that only a writer of Matthew Futterman's years of experience in both fields could bring to the table. As I read Players I was reminded of Michael Lewis's Moneyball because it's one of those great stories that's been hiding in plain sight, and it also shows us how the games themselves were changed by the action off the field. Anybody with an interest in money or sports will devour this book."
—Jim Nantz

"Sports is big business. We all know that today, but how and why did football, baseball, basketball, and the Olympics become so big? And what does that mean to athletes and fans? Matthew Futterman provides the answers in this revealing and wonderfully readable book. Players is a winner."
—David Maraniss, author of When Pride Still Mattered, Clemente, and Rome 1960

"The magnitude by which athletes have become bigger, faster, and stronger is dwarfed by the degree to which they have become richer. Players is a deeply reported expose of the forces that have so often morphed sports from pure fun into pure business. It's a fascinating read whether you're interested in big time sports, big time business, or the intersection of the two."
—David Epstein, author of The Sports Gene

"A smart, rollicking read about the business of sports, with fresh insight into the breathtaking financial boom that has revolutionized every sport we love and every game we watch. Populated with the boldest pioneers, from Mark McCormack and Arnold Palmer to George Steinbrenner and Marvin Miller, Players is a landmark book that will be consulted, and cherished, for years."
—Don Van Natta Jr., ESPN investigative reporter, Pulitzer Prize winner, and New York Times bestselling author of First Off the Tee, Wonder Girl and coauthor of Her Way

"Fascinating . . . Insightful . . . Despite the multiple sports explored and the large cast of characters, Futterman develops his theme seamlessly in a book that will appeal to casual fans as well as those who live and die according to the accomplishments of athletes."
—Kirkus Reviews (starred review)

"An indispensable volume . . . Smart, insightful, and pleasantly opinionated."
—Publishers Weekly

"An insightful, reader-friendly study of the economic transformation of pro sports in America and beyond."
—Booklist
Simon & Schuster, 9781476716954, 336pp.
Publication Date: April 26, 2016
About the Author
Matthew Futterman is a senior special writer for sports with The Wall Street Journal. He has previously worked for The Philadelphia Inquirer and the Star-Ledger of New Jersey, where he was a part of the team that won the Pulitzer Prize for Breaking News in 2005. He lives in New York with his wife and children. Players: The Story of Sports and Money, and the Visionaries Who Fought to Create a Revolution is his first book.
or
Not Currently Available for Direct Purchase