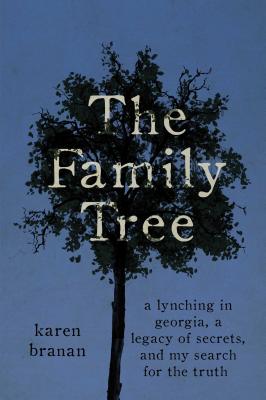 The Family Tree
A Lynching in Georgia, a Legacy of Secrets, and My Search for the Truth
Hardcover

* Individual store prices may vary.
Other Editions of This Title:
Digital Audiobook (1/25/2016)
Paperback (2/28/2017)
Compact Disc (1/26/2016)
MP3 CD (1/26/2016)
Description
In the tradition of Slaves in the Family, the provocative true account of the hanging of four black people by a white lynch mob in 1912—written by the great-granddaughter of the sheriff charged with protecting them.

Harris County, Georgia, 1912. A white man, the beloved nephew of the county sheriff, is shot dead on the porch of a black woman. Days later, the sheriff sanctions the lynching of a black woman and three black men, all of them innocent. For Karen Branan, the great-granddaughter of that sheriff, this isn't just history, this is family history.

Branan spent nearly twenty years combing through diaries and letters, hunting for clues in libraries and archives throughout the United States, and interviewing community elders to piece together the events and motives that led a group of people to murder four of their fellow citizens in such a brutal public display. Her research revealed surprising new insights into the day-to-day reality of race relations in the Jim Crow–era South, but what she ultimately discovered was far more personal. As she dug into the past, Branan was forced to confront her own deep-rooted beliefs surrounding race and family, a process that came to a head when Branan learned a shocking truth: she is related not only to the sheriff, but also to one of the four who were murdered. Both identities—perpetrator and victim—are her inheritance to bear.

A gripping story of privilege and power, anger, and atonement, The Family Tree transports readers to a small Southern town steeped in racial tension and bound by powerful family ties. Branan takes us back in time to the Civil War, demonstrating how plantation politics and the Lost Cause movement set the stage for the fiery racial dynamics of the twentieth century, delving into the prevalence of mob rule, the rise of the Ku Klux Klan and the role of miscegenation in an unceasing cycle of bigotry.

Through all of this, what emerges is a searing examination of the violence that occurred on that awful day in 1912—the echoes of which still resound today—and the knowledge that it is only through facing our ugliest truths that we can move forward to a place of understanding.
Praise For The Family Tree: A Lynching in Georgia, a Legacy of Secrets, and My Search for the Truth…
"[T]his is a story well worth putting yourself through. We live in an age when some African Americans feel compelled to insist that Black Lives Matter and some whites respond, "Why, whatever can you mean?," provoking fury and frustration. It is useful to be reminded that this little dance is as old as the Model T Ford. Branan does such a thorough job of putting the violence at the heart of her story in context that there is no room for ducking and dodging on either side...there is something exhilarating about confronting the past in all its ugliness and realizing that doing so has made you stronger."


"Both a deeply personal narrative infused with a charming Southern flavor and a compelling historical journey...A ghastly, dizzying descent into the coldblooded clannishness of the Southern racist mindset."

"Enlightening...important."

"With resolve, [Branan] fires an explosive charge into her complex genealogy, reforming the blasted shards into a smoldering bush of ghosts."

"The Family Tree offers an in-depth study of the history of Southern race relations, particularly in Georgia. The narrative of the lynching is told thrillingly...but it is Branan's personal perspective and soul-searching that makes this history insightful, relevant and memorable."

"If you think Faulkner made it up, enlighten yourself by reading Karen Branan's nonfiction account of a lynching in the family. What makes this 'past is not past' lesson so moving and admirable is the exacting reportorial clarity with which Branan approaches the confusion of race, sex, murder and myth in her southern bloodlines. A model of truth-seeking."
— Diane McWhorter, Pulitzer-Prize Winning author of Carry Me Home

"'What turns mild-mannered churchgoing family men into cold-blooded killers?' That question sits at the heart of this riveting new book. The Family Tree brings to life the most chilling event ever seen, heard and smelled in Hamilton, Georgia in prose that often borders on poetry. By the end, Branan not only learns the truth behind a lynching, but the truth about how much honesty it will take to heal America's still-raw racial wounds."
— Betty DeRamus, Pulitzer-Prize Finalist and author of Forbidden Fruit: Love Stories from the Underground Railroad

"The Family Tree is a powerful and compelling account of mob violence that highlights the relationship between historical memory and racial violence in America. How easy we forget— Branan forces us all to remember."
— Crystal N. Feimster, Yale University Professor and author of Southern Horrors: Women and the Politics of Rape and Lynching

"Branan has written a book of exceptional courage. She gives us a rare glimpse into the lives and minds of white southerners who lynched their black neighbors, engaged in moonshining, lived desperate lives, and yet were held in high esteem in their communities. As much as any book I know, The Family Tree gives a human face to the tragic human relations of the Jim Crow South."

— W. Fitzhugh Brundage, UNC History Department Chair and author of Lynching in the New South

"Karen Branan goes where few white Southerners dare to tread: to the skeletons in the family closet. Rather keeping the door closed, Branan takes an honest look at her family's connection to a lynching that occurred more than a century ago. The result is a gripping and chilling story of race and a legacy of racism that echoes into the present."

— W. Ralph Eubanks, author of Ever is a Long Time

"Karen Branan didn't listen to the aunt who told her 'not to go shaking those family trees.' Shake them she did. And the fruit her efforts bore is a bold, honest, and healing account of racial injustice, family, and personal growth. The Family Tree is a story that needed to be told and to be shared."

— Patricia Bell-Scott, author of The Firebrand and the First Lady

"The Family Tree is the painfully honest account of a 1912 hanging of four innocent black people in Georgia. With meticulous reporting and a dogged persistence for truth, the author lays bare the roles of one Georgia community and her own great-grandfather who, as sheriff, was charged with protecting the victims--one of whom was related by blood. The book is a brave, unflinching memoir about the South's complicated racial relationships."
— Patsy Sims, author of The Klan and Cleveland Benjamin's Dead!: A Struggle for Dignity in Louisiana's Cane Country

"Karen Branan has succeeded stupendously in telling a story that needs to be told. Her meticulous documentation of an egregious act brought tears to my eyes. Her painful narrative is one that needs to be read by anyone who realizes that, in order to heal the wounds of America's past, we must confront the ugly truth in all of its gory detail."
— Sharon Leslie Morgan, co-author of Gather at the Table: The Healing Journey of a Daughter of Slavery and a Son of the Slave Trade

"I appreciate Karen Branan's courage and integrity. It will take her and many more of similar character to truly begin the healing of our country, which still believes it wears the white hat in the country's melodrama."
— James Hollis, New York Times Bestselling Author

"With the determination of a true investigative journalist, Karen Branan exposes not just her own story but a shocking chapter in American history. The Family Tree is a compelling read, both necessary and unforgettable."

— Warren Read, author of The Lyncher in Me
Atria Books, 9781476717180, 304pp.
Publication Date: January 5, 2016
About the Author
Karen Branan is a veteran journalist who has written for newspapers, magazines, the stage, and television for almost fifty years. Her work has appeared in Life, Mother Jones, Ms., Ladies' Home Journal, Good Housekeeping, The Atlanta Journal-Constitution, and on various television networks. Branan is affiliated with Coming to the Table, an organization founded by the black and white descendants of Thomas Jefferson. She grew up in Columbus, Georgia and now lives in Washington, DC.
or
Not Currently Available for Direct Purchase