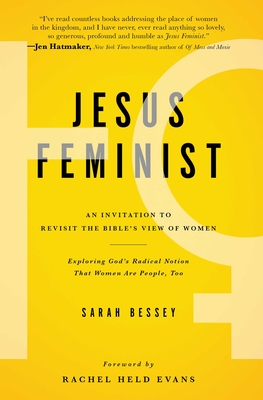 Jesus Feminist (Paperback)
An Invitation to Revisit the Bible's View of Women
Howard Books, 9781476717258, 256pp.
Publication Date: November 5, 2013
* Individual store prices may vary.
Description
Written with poetic rhythm, a prophetic voice, and a deeply biblical foundation, this loving yet fearless book urges today's church to move beyond man-made restrictions and fully welcome women's diverse voices and experiences.

Gender roles have been debated for centuries, and now Sarah Bessey offers a clarion freedom call for all who want to realize their giftedness and potential in the kingdom of God. Through a thoughtful review of biblical teaching and church practices, Bessey shares how following Jesus made a feminist out of her.
About the Author
Sarah Bessey is the author of Jesus Feminist, Out of Sorts, and Ordinary Miracles. She is a sought-after speaker, an award-winning blogger, and a passionate advocate for global women's issues. Sarah serves on the board of Help One Now and Heartline. She lives in Abbotsford, British Columbia, Canada, with her husband, Brian, and their four tinies. You can find her online at SarahBessey.com.
Praise For Jesus Feminist: An Invitation to Revisit the Bible's View of Women…
"Bessey's warm and intimate writing sets this book apart from others focused on similar topics. Her approach and style offer a unique addition to literature on women's role in Christian churches."

"Never strident, Bessy's approach is instead solid and clear....An excellent choice."

"Jesus Feminist is a must read."
— Glennon Doyle, New York Times bestselling author of Love Warrior

"I want to write like Sarah Bessey. What she does with words is extraordinary, and the topic she's chosen is so deeply important. Jesus Feminist is a beautiful, challenging, rich, gutsy book, an absolute must-read."
— Shauna Niequist, author of Bread & Wine

"I've read countless books addressing the place of women in the kingdom, and I have never, ever read anything so lovely, so generous, profound and humble as Jesus Feminist."
— Jen Hatmaker, New York Times bestselling author of Of Mess and Moxie

"Sarah Bessey makes her case—not as a fire-breathing debater—but as a woman utterly captivated by Jesus who will stop at nothing to follow him."
— Carolyn Custis James, author of Half the Church

"A powerful and empowering narrative that both men and women will find compelling and readable."
— Tony Jones, theologian and author of The New Christians

"I love writers who are insightful enough to be cynical but choose not to be. I love books that help me see things I'd never noticed before—in life, in myself, in others, in the Bible, in Jesus. I love writing that makes reading enjoyable and easy, because I know how hard it is to write that way. For these reasons and more, I love Jesus Feminist. It's not 'just a woman's book.' In fact, it's the kind of book that will help both women and men see how unhelpful that distinction is."
— Brian D. McLaren, author, speaker, activist

"Jesus Feminist is a critically important work; a must-read for everyone in the Church."
— Nish Weiseth, author of Speak

"With Jesus Feminist, Bessey is a modern-day Moses, seeking to not only free a Church held captive by dogma but also to redeem generations of women who have been stifled and silenced far too long."
— Matthew Paul Turner, author of Our Great Big American God

"Jesus Feminist is a revelation, a genre-defying tour-de-force that soars above the caustic rhetoric that has defined these conversations in the Church."
— Jonathan Martin, author of Prototype

"Sarah's voice is prophetic and she will free other women to speak and act with power, love, and courage."
— Adam S. McHugh, author of Introverts in the Church

"With grace, humility, and confidence (even in the unknown), Sarah Bessey's Jesus Feminist masterfully humanizes one of the most controversial topics of the day."
— Andrew Marin, author of Love Is an Orientation

"Jesus Feminist is a book that needed to be written! With honest vulnerability and a strong biblical foundation, Sarah Bessey shares her very personal journey and insight regarding the roles and qualifications for women in ministry."
— Helen Burns, author of Miracle in a Mother's Hug and What Dads Need to Know About Daughters and Moms Need to Know About Sons

"Sarah Bessey makes me want to get to know Jesus all over again, but this time specifically through my womanly flesh, engaging God with the glorious gift of being a woman rather than in spite of it."
— Enuma Okoro, author of Silence and Reluctant Pilgrim

"Jesus Feminist summons the Church to join in a conversation about women in God's Kingdom. Sarah Bessey disarms us and then hands us a cup of tea. She creates a safe space for deep discussion, gentle reflection and holy imagination. She calls, converses and commissions us into the wild ways of Jesus. This is a holy invitation for all my sisters to come to the table at last. A must read!"
— Kelley Nikondeha, co-founder of Amahoro Africa