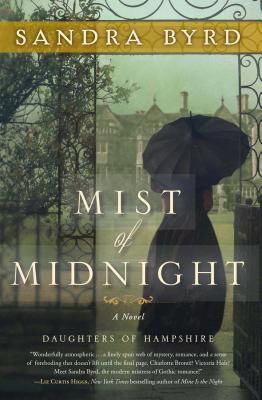 Mist of Midnight
A Novel (The Daughters of Hampshire #1)
Paperback

* Individual store prices may vary.
Other Editions of This Title:
Digital Audiobook (4/16/2015)
Description
In the first of a brand-new series set in Victorian England, a young woman returns home from India after the death of her family to discover her identity and inheritance are challenged by the man who holds her future in his hands.

Rebecca Ravenshaw, daughter of missionaries, spent most of her life in India. Following the death of her family in the Indian Mutiny, Rebecca returns to claim her family estate in Hampshire, England. Upon her return, people are surprised to see her...and highly suspicious. Less than a year earlier, an imposter had arrived with an Indian servant and assumed not only Rebecca's name, but her home and incomes.

That pretender died within months of her arrival; the servant fled to London as the young woman was hastily buried at midnight. The locals believe that perhaps she, Rebecca, is the real imposter. Her home and her father's investments reverted to a distant relative, the darkly charming Captain Luke Whitfield, who quickly took over. Against her best intentions, Rebecca begins to fall in love with Luke, but she is forced to question his motives—does he love her or does he just want Headbourne House? If Luke is simply after the property, as everyone suspects, will she suffer a similar fate as the first "Rebecca"?

A captivating Gothic love story set against a backdrop of intrigue and danger, Mist of Midnight will leave you breathless.
Praise For Mist of Midnight: A Novel (The Daughters of Hampshire #1)…
"Infusing her story with mystery, tension, and emotion, Byrd strikes a fine balance between the darkness of a Gothic mystery and the sweetness of a captivating love story."
— Publishers Weekly

"Just the right mix of mystery and romance to keep the reader guessing until the end. Shady characters along with a strong heroine transport the reader to a different time and place. The rich prose will remind readers of Jane Eyre or Wuthering Heights."
— RT (Romantic Times)

"Reminiscent of the Bronte sisters... A captivating Gothic love story that intertwines mystery and intrigue with romance, this novel grabs readers from its opening lines until its last page."
— CBA Retailer + Resources

"Mist of Midnight is a subtly haunting, beautifully atmospheric, and decadently romantic story that will find a comfortable home among the best Gothic romances of days gone by."
— USA Today

"Reminiscent of Victoria Holt, [Mist of Midnight] includes an intriguing mystery that is so ingeniously planned that, upon finishing, readers will spend time flipping back to see how the clues were laid. The atmosphere of the setting will delight gothic romance audiences, while the inclusion of relatable scripture, gleaned from the protagonist's missionary roots, will satisfy inspirational readers. Richly detailed descriptions of life in British-occupied India cement this historical account, though perhaps take second place to the author's immensely engaging characters.
— Historical Novel Society (Editor's Choice)

"A marvelous mingling of mystery and deeply moving family and romantic love, Mist of Midnight kept me guessing until the very end. A house on a cliff, a Victorian-Gothic atmosphere, a cast of suspicious characters including a dark, brooding hero and a strong heroine: shades (or mists) of Jane Eyre and Rebecca! I look forward to the next novel in this compelling new series."
— Karen Harper, New York Times bestselling author of Mistress of Mourning

"Mist of Midnight is wonderfully atmospheric, with all the right elements for a true Gothic novel, from sounds that go bump in the night to characters who are not at all what they seem. The spiritual underpinning is solid, comforting, even as we're trapped in the author's finely spun web of mystery, romance, and a sense of foreboding that doesn't lift until the final page. Charlotte Brontë? Victoria Holt? Meet Sandra Byrd, the modern mistress of Gothic romance!"
— Liz Curtis Higgs, New York Times bestselling author of Mine Is the Night

"Among the many things I love about reading a Sandra Byrd novel is knowing that her words will transport me to another place and time, that she will win me over with intriguing and complex characters, and that I'll savor every word. Mist of Midnight is no exception. I loved this book! Sandra Byrd could belong to the writing group of the Bronte sisters if they'd had one. Wuthering Heights and Jane Eyre along with crumbling mansions, mysterious distant cousins, and one woman's journey to prove who she really is are just few layers that ripple through the mists. Bravo, Sandra! Another winner."
— Jane Kirkpatrick, award-winning author of A Light in the Wilderness

"Richly written and multi-layered, Mist of Midnight blends traditional England and exotic India in a historical feat worthy of Victoria Holt. Breathless danger, romance, and intrigue made this series opener by the ultra-talented Sandra Byrd a compelling must-read!"
— Laura Frantz, author of Love's Reckoning

"Once again, Sandra Byrd delivers a richly layered story that will leave you eagerly awaiting the next book in this brand-new series. Mist of Midnight has it all: intriguing and memorable characters—including a central female protagonist who is both complex and inspiring—a plot chock-full of mystery and suspense, and a Victorian gothic setting, impeccably researched and artfully and evocatively relayed. Prepare to be transported!"
— Karen Halvorsen Schreck, author of Sing For Me

"Mist of Midnight is a beautiful, haunting tale. Sandra Byrd masterfully weaves together both romance and suspense among a cast of mysterious characters. I was immediately swept into the wonder of this story, and I loved unraveling all the secrets and discovering exactly what happened at the old Headbourne House."
— Melanie Dobson, author of Chateau of Secrets and The Courier of Caswell Hall

"Sandra Byrd's trademark attention to historical accuracy combines with an eerily building intrigue to envelope readers in a sense of dark foreboding that hinges precariously between hope and desperation. Mist of Midnight is a subtly haunting, beautifully atmospheric, and decadently romantic Victorian tale that will find a comfortable home among the best Gothic romances of days gone by."
— Serena Chase, author of The Ryn and contributor to USA Today's Happy Ever After blog

"Not since Jane Eyre have I read a Gothic romance that has captured my heart so completely. From the exotic India to an English estate shrouded in mystery, Byrd's eye for detail shines through on every page. Romance lovers are sure to devour the tale of Rebecca Ravenshaw and her search for the truth behind the mysteries of Headbourne House and the handsome young captain who lives on the estate."
— Renee Chaw, reviewer at Black 'n Gold Girl's Book Spot

"From the first word to the last, Mist of Midnight is a completely absorbing romantic, and mysterious, novel. Ms. Byrd's writing is splendid, and her characters are so complex and endearing that they leap off the pages. I couldn't put it down. An absolutely irresistible read!"
— Anne Girard, author of Madame Picasso
Howard Books, 9781476717869, 384pp.
Publication Date: March 10, 2015
About the Author
Award-winning and bestselling author Sandra Byrd has published four dozen books in the fiction and nonfiction markets, including Mist of Midnight, Bride of a Distant Isle (A Romantic Times Book Reviews Top Pick), and her most recent, A Lady in Disguise. For nearly two decades, Sandra has shared her secrets with the many writers she edits, mentors, and coaches. She lives in the Seattle, Washington area.