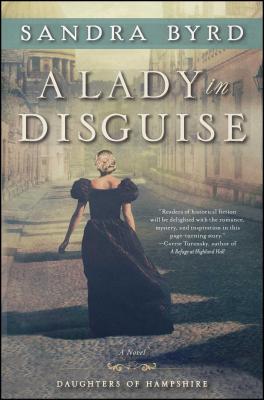 A Lady in Disguise
A Novel (The Daughters of Hampshire #3)
Paperback

* Individual store prices may vary.
Other Editions of This Title:
Digital Audiobook (3/20/2017)
Library Binding, Large Print (4/1/2017)
Description
In this intriguing novel of romance, mystery, and clever disguise set in Victorian England, a young woman investigates the murder of her own father.

After the mysterious death of her father, Miss Gillian Young takes a new job as the principal costume designer at the renowned Theatre Royal, Drury Lane. But while she remembers her father as a kind, well-respected man of the Police Force, clues she uncovers indicate he'd been living a double life: a haunting photograph of a young woman; train stubs for secret trips just before his death; and a receipt for a large sum of money. Are these items evidence of her father's guilty secrets? His longtime police partner thinks so.

Then Gillian meets the dashing Viscount Thomas Lockwood. Their attraction is instant and inescapable. As their romantic involvement grows, Gillian begins to suspect even Lockwood's motives. Does Lord Lockwood truly love her? Or is his interest a front for the desire to own her newly inherited property? And what should she make of her friend's suggestion that Lockwood or men like him were involved in the murder of her father?

Soon Gillian is convinced that her father has left evidence somewhere that can prove his innocence and reveal the guilty party. But someone wants to stop her from discovering it. The closer she comes to uncovering it, the more menacing her opposition grows. With her life on the line, Gillian takes on an ingenious disguise and takes on the role of a lifetime to reveal the true killer—before it's too late both for her and for those that she loves.
Praise For A Lady in Disguise: A Novel (The Daughters of Hampshire #3)…
"Capturing a distinctively gothic feel, the third standalone novel in Daughters of Hampshire series beautifully pairs mystery with romance. Byrd's research into the traditions, culture and dark underbelly of England in the 1800s resonates on each page to help readers become immersed in the era. Descriptions of lavishly sewn gowns and the fascinating world of the theater are brought to life by Byrd's superb writing."
— RT Reviews

"This Victorian inspirational romance features everything fans of the genre expect: a plucky, relatable heroine with a visible Christian faith, a dashing but kind love interest, and a mystery element to foster tension until the dénouement and 'happy ever after' epilogue."
— Booklist

"With impeccable research and elegant writing, Sandra Byrd brings Victorian England to life in her latest novel, A Lady in Disguise. Readers of historical fiction will be delighted with the romance, mystery, and inspiration in this page-turning story, and they will be kept guessing until the end to see how the heroine will uncover the truth behind her father's death. Well done and highly recommended!"
— Carrie Turansky, the author of A Refuge at Highland Hall and Shine Like the Dawn

"Sandra Byrd's talent for keeping readers on the edges of their seats once again shines throughout this well-written tale. Brimming with mysteries from the very first page, lovers of historical fiction and historical suspense will adore discovering the startling truths alongside the heroine in A Lady in Disguise."
— Dawn Crandall, award winning author of The Everstone Chronicles

"Fans of historical Victorian and Gothic romance will feel right at home in these tightly-spun, suspenseful pages. Highly recommended!"
— Serena Chase, USA Today's Happy Ever After, author of The Ryn

A Lady in Disguise has everything I love in a good read - a page-turning mystery, engaging characters, shadowy figures, the hope of romance (or is the attraction misplaced?), and many secrets to be revealed. I was engaged to the very end!"
— Cindy Coloma, bestselling author of Orchid House

"Sandra Byrd's latest novel, A Lady in Disguise, explores the darker side of Victorian London. When Gillian Young's policeman father dies in suspicious and incriminating circumstances, she sets out to investigate the true facts of the matter. Helped along the way by the charming Viscount Lockwood, Gillian uncovers a trail of secret letters, mysterious money, and turncoat friends, bringing her to the realization that although the truth is there, sometimes it is hiding in disguise. This is a strong conclusion to the Daughters of Hampshire series and a novel I would heartily recommend to lovers of romantic suspense."

— Rosanne E. Lortz, author of The Duke's Last Hunt

"The vivid historical details and thrilling plot make A Lady in Disguise a perfect choice for readers of both historical romance and romantic suspense."
— BookPage
Howard Books, 9781476717937, 384pp.
Publication Date: March 21, 2017
About the Author
Award-winning and bestselling author Sandra Byrd has published four dozen books in the fiction and nonfiction markets, including Mist of Midnight, Bride of a Distant Isle (A Romantic Times Book Reviews Top Pick), and her most recent, A Lady in Disguise. For nearly two decades, Sandra has shared her secrets with the many writers she edits, mentors, and coaches. She lives in the Seattle, Washington area.
or
Not Currently Available for Direct Purchase