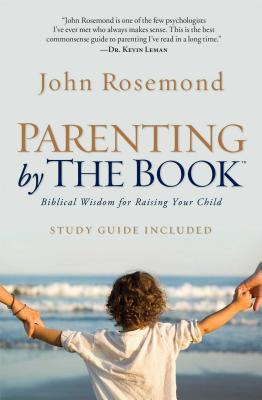 Parenting by The Book
Biblical Wisdom for Raising Your Child
Paperback

* Individual store prices may vary.
Other Editions of This Title:
Hardcover (9/25/2007)
Description
With a down-to-earth, warm, and humorous style, one of America's top family psychologists sets forth a virtually stress-free, biblically based system of childrearing that encourages family growth in harmony with God's Word.

Picture respectful, responsible, obedient children who entertain themselves without television or video games, do their own homework, and have impeccable manners. A pie-in-the-sky fantasy? Not so, says family psychologist and bestselling author John Rosemond.

In the 1960s, American parents stopped listening to their elders when it came to child rearing and began listening instead to professional experts. Since then, raising children has become fraught with anxiety, stress, and frustration. The solution, says John, lies in raising children according to biblical principles, the same principles that guided parents successfully for hundreds of years. They worked then, and they still work now!

In this book you'll find practical, Bible-based advice that will help you be the parent you want to be, with children who will be, as the Bible promises, "a delight to your soul" (Prov. 29:17).
Praise For Parenting by The Book: Biblical Wisdom for Raising Your Child…
"John Rosemond is one of the few psychologists I've ever met who always makes sense. This is the best common-sense guide to parenting I've read in a long time."
— Dr. Kevin Leman, author of Making Children Mind without Losing Yours

"If you think 'new' is always better, this is not the book for you. John does all parents a huge service by skillfully illuminating the timeless wisdom of Scripture that has served generations in raising healthy, happy, obedient human beings. I was struck, both as a parent and a professional, at how simply and practically John presents these biblical truths for mothers and fathers. Parenting by The Book could start a parenting revolution, and I pray it does for the sake of our children."
— Glenn T. Stanton, director, Global Family Formation Studies at Focus on the Family and author of Marriage on Trial and My Crazy Imperfect Christian Family

"Truly a masterpiece. John's concepts are consistent with both biblical principles and the best parenting research. As such, they work! A must-read for parents and professionals who work with parents."
— DuBose Ravenel, MD, FAAP, pediatrician and emeritus member of Focus on the Family medical advisor team

"John Rosemond is my all-time favorite parenting authority. This book is chock-full of practical advice for raising children of character, and because it's solidly grounded in biblical principles, the guidance is fail-safe. A must read!"
— Jim Burns, PhD, President, Homeword Radio, and Author of Confident Parenting and Creating an Intimate Marriage
Howard Books, 9781476718712, 288pp.
Publication Date: October 15, 2013
About the Author
John Rosemond is a family psychologist who has directed mental-health programs and been in full-time private practice working with families and children. Since 1990, he has devoted his time to speaking and writing. Rosemond's weekly syndicated parenting column now appears in some 250 newspapers, and he has written 15 best-selling books on parenting and the family. He is one of the busiest and most popular speakers in the field, giving more than 200 talks a year to parent and professional groups nationwide. He and his wife of 39 years, Willie, have two grown children and six well-behaved grandchildren.