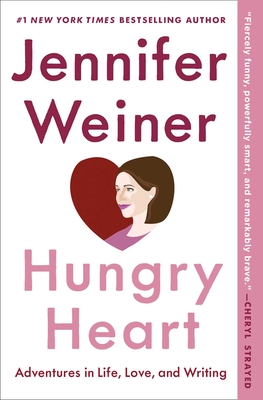 Hungry Heart (Paperback)
Adventures in Life, Love, and Writing
Washington Square Press, 9781476723426, 416pp.
Publication Date: June 6, 2017
* Individual store prices may vary.
Description
"Generous and entertaining." —Publishers Weekly (starred review)

Finalist for the PEN/Diamonstein-Spielvogel Award for the Art of the Essay * Nominated for "Best Memoir & Autobiography" by Goodreads Choice Awards 2016 * Named a "Best Book of the Year" by New York Post

"You'll laugh, you'll cry, you'll want to read it again." —TheSkimm

"I'm mad Jennifer's Weiner's first book of essays is as wonderful as her fiction. You will love this book and wish she was your friend." —Mindy Kaling, author of Why Not Me?

"Fiercely funny, powerfully smart, and remarkably brave." —Cheryl Strayed, author of Wild

Jennifer Weiner is many things: a bestselling author, a Twitter phenomenon, and an "unlikely feminist enforcer" (The New Yorker). She's also a mom, a daughter, and a sister, a clumsy yogini, and a reality-TV devotee. In this "unflinching look at her own experiences" (Entertainment Weekly), Jennifer fashions tales of modern-day womanhood as uproariously funny and moving as the best of Nora Ephron and Tina Fey.

No subject is off-limits in these intimate and honest essays: sex, weight, envy, money, her mother's coming out of the closet, her estranged father's death. From lonely adolescence to hearing her six-year-old daughter say the F word—fat—for the first time, Jen dives into the heart of female experience, with the wit and candor that have endeared her to readers all over the world.
About the Author
Jennifer Weiner is the #1 New York Times bestselling author of over twenty books, including Good in Bed, The Littlest Bigfoot, and her memoir Hungry Heart: Adventures in Life, Love, and Writing. A graduate of Princeton University and contributor to the New York Times Opinion section, Jennifer lives with her family in Philadelphia. Visit her online at JenniferWeiner.com.
Praise For Hungry Heart: Adventures in Life, Love, and Writing…
Praise for Hungry Heart:

"You'll laugh, you'll cry, you'll want to read it again."

"In this generous, entertaining memoir, novelist Weiner, known for her plus-size heroines, authentic voice, and hilarious one-liners, offers her fans and others a front-row seat to the drama of her life. Weiner doggedly pursues her dream of becoming a writer who speaks to women's lives, insisting—and proving—that women's stories matter, and not just those of the slim and beautiful. Like her enormously popular commercial fiction, from its very first page this memoir will enthusiastically reach out to female readers and swiftly draw them close."

"Hungry Heart is a fiercely funny, powerfully smart, and remarkably brave book. With candor, wit, and insight, Jennifer Weiner writes beautifully about her darkest struggles and brightest triumphs, about growing up and getting on with it, about gaining and losing, about herself and also—ultimately—about all of us. I was spellbound by Hungry Heart from the first page to the last."
— Cheryl Strayed, New York Times bestselling author of Wild

"In her new memoir, Hungry Heart, Weiner turns her understanding eye on her most compelling character yet—herself—and reveals the story behind some of her most beloved books. You'll laugh, you'll cry—and in true Jen style, there's a happy ending."

"Weiner lays her heart bare in this memoir, which is insightful and affecting and affirms exactly why she is so popular—she is gifted in the ability to write honestly and easily."

"I'm mad Jennifer's Weiner's first book of essays is as wonderful as her fiction. You will love this book and wish she was your friend."
— Mindy Kaling, author of Why Not Me?

"Haven't we all wondered exactly how the many-splendored Jennifer Weiner became so many-splendored? This candid, poignant, and very funny memoir tells all, and I'm confident other readers will be as fascinated and moved by it as I was."
— Curtis Sittenfeld, New York Times bestselling author

"Funny, fierce, feisty!"

"Brave."

"This isn't a flossy, sherbet-hued real-life version of one of Weiner's best-selling novels. It's an unflinching look at her own experiences that will make you realize why she writes so persuasively about her characters' complicated issues: She's faced them herself. With the chatty, disarming frankness of a best friend, she tackles tough subjects like her decision to have gastric bypass surgery, her father's death from a heroin overdose, and the miscarriage of a much-wanted baby. Lest you think this sounds a bit grim, know that Weiner mines her life for comic gold, too--and throws in some parenting advice and body-image pep talks for good measure."

"For the first time, Weiner releases a collection of essays, and they are just as warm and funny as you'd imagine (and want) them to be. In Hungry Heart she takes on marriage, love, parenthood, and that one Summer that she was called 'the fat Jennifer' with grace, humor, and intelligence."

"The essays investigate what it means to live as a woman today, navigating these labels and roles and how they all fit together."

"Weiner's mixture of pathos and humor fits right into the current cultural moment, in which funny women are writing memoirs left and right. But unlike some of the lady comedians cashing in on the trend, Weiner has the goods, and the talent to make the formula work."

"A beautifully heartfelt new memoir. Her honesty, charm and buoyant spirit come through on every page of this hilarious, wise, putting-it-all-out-there book."

"Witty, insightful."

"The New York Times best-selling mastermind behind fictional characters such as Cannie ­Shapiro bares her soul in a series of essays about family, writing, and body image. Weiner's first journey into nonfiction, this aptly titled memoir chronicles her childhood and adult life with a dose of wit. Like the protagonists of her novels, Weiner's voice is relatable and poignant as she shares the struggles that shaped the woman she is today."

More Praise for Jennifer Weiner:

"Weiner handles sorrow with a deft touch, blossoms in beautifully descriptive passages, and keeps readers glued to the page with curiosity and delight."

"Hilarious, heartbreaking, and insightful, Weiner shows she can write with exquisite tenderness as well as humor."

"One of her generation's best literary voices."

"Bestselling novelist Weiner has hit it out of the park with this moving collection of autobiographical essays."