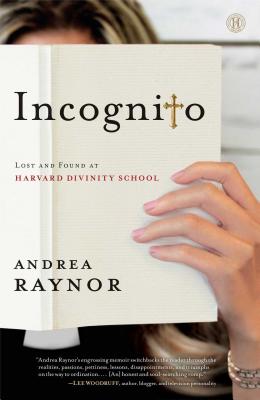 Incognito (Hardcover)
Lost and Found at Harvard Divinity School
Howard Books, 9781476723457, 320pp.
Publication Date: March 4, 2014
Other Editions of This Title:
Paperback (7/18/2015)
* Individual store prices may vary.
Description
Filled with humor, insight, and faith, this true story tells how one young woman overcame challenges, stereotypes, and personal struggles at Harvard Divinity School and emerged an ordained minister.

Filled with humor, insight, and faith, this true story tells how one woman overcame challenges, stereotypes, and personal struggles at Harvard Divinity School and emerged an ordained minister.

As a bright young girl from Ohio, Andrea Raynor always wanted to be a doctor. Instead, she landed— almost by accident—at Harvard Divinity School, which, she quickly discovered, was no typical semi­nary. When she attended, in the 1980s, HDS was a place overflowing with creative expression and freedom of thought. Her classmates included two men who were undergoing sex changes and a woman who fancied herself a geisha. There was a lively gay and lesbian caucus, marches on Washington, civil disobedience, and more sexual intrigue than could be found in a stereotypical college fraternity house.

Providing a bird's-eye view of life within the hallowed halls (and beneath the crimson robes), Incognito is a humorous and poignant glimpse inside one of the nation's most revered institutions. It begins with the long drive from Ohio to Cam­bridge and ends at the bedside of a dying young woman. But the real story is about the challenges, surprises, and ultimately life-changing experi­ences Andrea faced on the road to understanding God's call for her life. From navigating relation­ships to exploring whether a pretty girl can truly wear a collar, Incognito tackles our assumptions about spirituality, the church, morality, and identity, and affirms that God often works in ways—and in people—we least expect.
About the Author
Andrea Raynor received her Master of Divinity from Harvard Divinity School and served as a chaplain at Ground Zero after the September 11, 2001 terrorist attacks. A cancer survivor herself, she now continues helping others through her hospice work. She lives in Rye, New York.
Praise For Incognito: Lost and Found at Harvard Divinity School…
"Disarmingly candid…an engaging, often amusing memoir."

"Andrea Raynor's engrossing memoir switchbacks the reader through the realities, passions, pettiness, lessons, disappointments and triumphs on the way to ordination... Whatever your perceptions are of the men and women who wear the collar, they will be challenged in this honest and soul searching romp."
— Lee Woodruff, author, blogger, and television personality

"In her wonderful memoir, Incognito, there is nothing disguised about the heartfelt way Andrea Raynor shares her life, faith, doubts and unlikely path to ministry. Get ready to be inspired, entertained, disturbed and maybe just a little changed by this refreshingly honest take on a world few get to glimpse with such clarity."
— -Edward L. Beck, Faith and Religion Contributor for CNN and author of God Undernea

"A finely wrought narrative about stepping into the realm of faith. She shows us how following a hunch can lead to a life of beauty, purpose, and yes, adventure. This is an inspiring read." –
— Barbara Hall, creator and executive producer of Joan of Arcadia

"Incognito is a refreshingly candid glimpse into the sometimes mysterious and always miraculous making of a minister… Sprinkled with humor and insight, it is a divinely warm and inspiring story that opens a window onto life behind the collar, and will leave you wishing for more."
— Roberta Gately, author of Lipstick in Afghanistan

"With humor and hope, Andrea Raynor takes us from the hallowed halls of Harvard to the mean streets of Boston in her journey to discover whether a leather-and-lace loving 1980s girl can heed the call to ordination. A wonderfully engrossing read."
— Sophfronia Scott, author of All I Need to Get By.
or
Not Currently Available for Direct Purchase