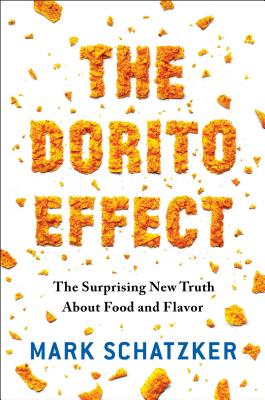 The Dorito Effect
The Surprising New Truth About Food and Flavor
Hardcover

* Individual store prices may vary.
Other Editions of This Title:
Paperback (3/15/2016)
MP3 CD (5/5/2015)
Compact Disc (5/5/2015)
Description
A lively and important argument from an award-winning journalist proving that the key to reversing America's health crisis lies in the overlooked link between nutrition and flavor.

In The Dorito Effect, Mark Schatzker shows us how our approach to the nation's number one public health crisis has gotten it wrong. The epidemics of obesity, heart disease, and diabetes are not tied to the overabundance of fat or carbs or any other specific nutrient. Instead, we have been led astray by the growing divide between flavor—the tastes we crave—and the underlying nutrition.

Since the late 1940s, we have been slowly leeching flavor out of the food we grow. Those perfectly round, red tomatoes that grace our supermarket aisles today are mostly water, and the big breasted chickens on our dinner plates grow three times faster than they used to, leaving them dry and tasteless. Simultaneously, we have taken great leaps forward in technology, allowing us to produce in the lab the very flavors that are being lost on the farm. Thanks to this largely invisible epidemic, seemingly healthy food is becoming more like junk food: highly craveable but nutritionally empty. We have unknowingly interfered with an ancient chemical language—flavor—that evolved to guide our nutrition, not destroy it.

With in-depth historical and scientific research, The Dorito Effect casts the food crisis in a fascinating new light, weaving an enthralling tale of how we got to this point and where we are headed. We've been telling ourselves that our addiction to flavor is the problem, but it is actually the solution. We are on the cusp of a new revolution in agriculture that will allow us to eat healthier and live longer by enjoying flavor the way nature intended.
Praise For The Dorito Effect: The Surprising New Truth About Food and Flavor…
"Illuminating and radical."

"Mark Schatzker's book comes at a time when healthful eating and sustainability are increasingly on everyone's minds. The Dorito Effect is a quick, engaging read that examines the essential role that flavor plays in the way we eat today. As a chef, I know that people want to eat delicious food, but Schatzker goes further and investigates how we engage with flavor to address the growing health crisis."
— Daniel Boulud, Chef/Owner, The Dinex Group

"Mark Schatzker has done something monumental in The Dorito Effect, he explained how the American food industry has interfered with our body's conversation with itself. The use of flavor to change this conversation is one of the major reasons for the decline in the American diet leading to major health issues. The Dorito Effect is one of the most important health and food books I have read."
— David B. Agus, M.D., author of The End of Illness and A Short Guide to a Long Life

"In The Dorito Effect Mark Schatzker explores a novel - and to my mind, key – theory to explain our increasing consumption of the low-quality food that is undermining health. Modern food production has made much of what we eat flavorless, and a multibillion dollar flavor industry has stepped in to fool our senses, leaving us unsatisfied and craving more and more. I strongly agree with his advice to go back to eating real food."
— Dr. Andrew Weil, M.D. New York Times bestselling author of Healthy Aging

"I don't know when this much science has been this fun to read. Brilliant."
— Joel Salatin, author of Folks, This Ain't Normal and farmer at Polyface Farm

"After decades of conflict over sugar, carbs and fat, this extremely well researched book journeys to the heart of the food problem—flavor—and delivers the perfect solution."
— Dr. Richard Bazinet, Department of Nutritional Sciences, University of Toronto

"If you want to understand why the future of healthy eating is delicious eating, read this book."
— Howard Moskowitz, inventor of Prego Extra Chunky Spaghetti Sauce and food industry legend

"Mark Schatzker knows food. He is dedicated to quality and is always looking for the best ingredients. This is an important book that tells us why good food is so essential for everyone."
— Bonnie Stern, bestselling author of HeartSmart Cooking for Family and Friends

"A sobering account of humanity's attempt to overcome modern food blandness with flavor compounds, at the expense of nutritional integrity. Schatzker's engaging chronicle of how naturally occurring food flavor is as an evolutionary tuned sensory marker of nutritional value is bound to give consumers and scientists a new perspective on judging food quality and health effects."
— Dr. Ameer Taha, Department of Food Science and Technology, UC Davis

"This book is important, possibly life altering for anyone who eats!! In The Dorito Effect, Schatzker gets to the heart of where our relationship with food has gone wrong. Through lively storytelling and proficiency he points out the many issues we are facing and that the solution is right in front of us."
— Jonathan Gushue, Principal, Gushue Hospitality Inc.

"Entertaining storytelling… After reading this engaging book, readers may wonder with every bite of food if what they are tasting is real."

"Schatzker dishesup a 5 star serving!"
Simon & Schuster, 9781476724218, 272pp.
Publication Date: May 5, 2015
About the Author
Mark Schatzker is an award-winning writer based in Toronto. He is a radio columnist for the Canadian Broadcast Corporation and a frequent contributor to the Globe and Mail, Condé Nast Traveler, and Bloomberg Pursuits. He is the author of The Dorito Effect: The Surprising New Truth About Food and Flavor and Steak: One Man's Search for the World's Tastiest Piece of Beef.
or
Not Currently Available for Direct Purchase