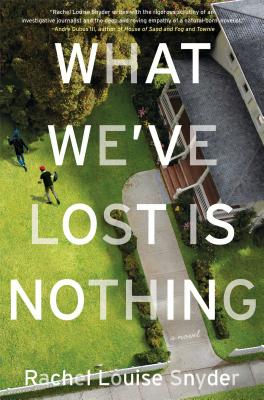 What We've Lost Is Nothing (Hardcover)
A Novel
Scribner, 9781476725178, 320pp.
Publication Date: January 21, 2014
Other Editions of This Title:
Paperback (6/9/2020)
* Individual store prices may vary.
Description
From an NPR contributor, investigative journalist, and one of Library Journal's "outstanding new voices," a striking debut novel that chronicles the first twenty-four hours after a mass burglary in a suburban Chicago neighborhood and the suspicions, secrets, and prejudices that surface in its wake.


One of Vogue.com's "Ten Best Suspense Books"

In her striking debut novel, Rachel Louise Snyder chronicles the twenty-four hours following a mass burglary in a Chicago suburb and the suspicions, secrets, and prejudices that surface in its wake.

Nestled on the edge of Chicago's gritty west side, Oak Park is a suburb in flux. To the west, theaters and shops frame posh houses designed by Frank Lloyd Wright. To the east lies a neighborhood still recovering from urban decline. In the center of the community sits Ilios Lane, a pristine cul-de-sac dotted with quiet homes that bridge the surrounding extremes of wealth and poverty.

On the first warm day in April, Mary Elizabeth McPherson, a lifelong resident of Ilios Lane, skips school with her friend Sofia. As the two experiment with a heavy dose of ecstasy in Mary Elizabeth's dining room, a series of home invasions rocks their neighborhood. At first the community is determined to band together, but rising suspicions soon threaten to destroy the world they were attempting to create. Filtered through a vibrant pinwheel of characters, Snyder's tour de force evokes the heightened tension of a community on edge as it builds toward one of the most explosive conclusions in recent fiction. Incisive and panoramic, What We've Lost is Nothing illuminates the evolving relationship between American cities and their suburbs, the hidden prejudices that can threaten a way of life, and the redemptive power of tolerance in a community torn asunder.
About the Author
Rachel Louise Snyder is a journalist and professor of creative writing at American University. The author of No Visible Bruises—winner of the prestigious 2018 Lukas Work-in-Progress Award from the Columbia School of Journalism and Harvard's Nieman Foundation—and Fugitive Denim: A Moving Story of People and Pants in the Borderless World of Global Trade. Her writing has appeared in The New Yorker, The New York Times Magazine, Slate, Salon, The Washington Post, the Chicago Tribune, and the New Republic. Originally from Chicago, she currently lives in Washington, DC.
Praise For What We've Lost Is Nothing: A Novel…
"Veteran journalist Snyder crafts a muscular and fearless debut novel that boldly tackles the heady themes of prejudice, self-preservation, poverty and privilege. Deftly underscored by a steady drumbeat of denial and discontent, Snyder's drama provocatively reveals the escalating tensions of a community about to implode."
— Booklist

"Snyder's debut is smooth and engaging, and reads like the work of a veteran novelist."
— Publishers Weekly

"In What We've Lost Is Nothing, Rachel Louise Snyder tackles a difficult subject, the effects of crime on a community. By exploring the lives of victimized neighbors, she shows how well-meaning people can fall prey to their fears and prejudices. It's a story about an at-risk community skirting the west side of Chicago, but the themes are universal. It's a compelling and important novel about family and neighborhood, about individuals when ideals and values are thrown into harsh contrast. A marvelous book."
— Mark LaFramboise

"Rachel Louise Snyder's debut novel marks the arrival of an important new voice in fiction. With sharp prose and compelling insight, What We've Lost is Nothing brings readers to a neighborhood in a moment of public crisis that unmasks a range of private crises. Snyder renders a beautiful portrait of both the complex world of Ilios Lane and the gulf between the way that we imagine our worst fears, and the way that they come to pass and demand that we survive them."
— Danielle Evans

"Rachel Louise Snyder writes with the rigorous scrutiny of an investigative journalist and the deep and roving empathy of a natural-born novelist; the result is a bold and mesmerizing exploration of daily truths we don't talk about nearly enough: class prejudice and racism; the chasm between newly arrived immigrants and those of us who've been here for generations; the painful division between husbands and wives and the children they've made; and that razored air between what we believe and what is. What We've Lost is Nothing is a stellar debut by an important and necessary new voice among us."
— Andre Dubus III

"A powerful, page-turning debut that dares to delve below the surface of our glossy American lives. You may never look at your neighbors—or yourself—the same way again."
— David Goodwillie

"Snyder offers us an unflinching and complicated portrait of a community that is afraid to look back at itself, and she does so with grace, wit and tenderness of heart. This book is stunning and so incredibly relevant."
— Alison Espach

"Riveting . . . Snyder's portrayal of the disintegration of this one quiet block is masterful, forcing the reader to examine the possibility of his own stereotypical behavior if faced with a similar situation."
— Bookpage

"Ideas abound in this thoughtful story, a demonstration of the author's years of experience as a community organizer. What We've Lost Is Nothing has the stamp of authenticity."
— Washington Post

"Keenly observed."
— Minneapolis Star-Tribune

"Snyder's character development is astounding, as are the complexities of her writing. She manages to tackle some big issues including racism, city vs. suburb, violence, and the enigma of the human psyche -- all while telling a spectacular story."
— Bookslut

"[Gives] compelling expression to relevant and pressing issues of our time."
— San Francisco Chronicle
or
Not Currently Available for Direct Purchase